(App) Wingstop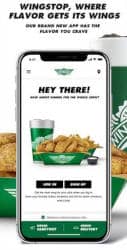 App Description :
Our app just got an upgrade. Come get your flavor and check out what's new:
Improved app stability
Wingstop, Where Flavor Gets Its Wings
You bring the appetite, we'll bring the flavor. Our brand-new mobile app makes it easier than ever to satisfy your craving by ordering ahead for delivery or carryout. Choose your made-to-order masterpiece featuring any of our 11 iconic flavors from your favorite Wingstop location.
Download the official Wingstop mobile app to get first-class treatment. No account is needed to order ahead or get delivery. But when you do create one, we promise to remember your favorite orders so you can reorder anytime with a tap of the finger. We got your back.
App Features :
Order wings ASAP or up to 7 days in advance with our streamlined quick-n-easy flow for delivery or carryout
Customize your mix of iconic flavors and protein styles on each order
Personalize your experience by setting your favorite locations, delivery addresses and in-app payment methods
Easily get directions and store info for any Wingstop location
Registered users can save and reorder favorite menu items
Download now!
Ordering functionality is for U.S. residents only
Additional Information :
Size 98 MB
Requires iOS 14.0 or later.
User Reviews :
Wow is all I can start with
Call Jay even though they were all going through this epidemic and we're trying to revive ourselves and come to a new living environment and having or locals restaurant owners or just business owners am literally just drowned but still survive than done things that they've never done before for employees to continue to be able to survive in this epidemic situation that were in but it was really really nice to see a brand new menu more choice is more more different choices than what it used to be and then the website is a lot more friendlier than what it was so kudos to the webmaster on that but I will net my experience with you guys as always been awesome and now it's even gotten better thank you so much kudos to you and I'm on my way to pick up my order
Recently disappointed
My husband and I love WingStop. Love the food and love the fact that, twice a month, we can come home and relax and not have to worry about cooking dinner because we order from the app to have wings delivered. Recently however, the app is not allowing delivery. It allows us to choose the delivery option, but when I put in the order and click to pay, a prompt comes up stating: 'orders over $20 cannot be delivered.' We thought that was strange, as most places want to you to order more food and therefore spend more money, which were completely fine with in this wing situation. However, when we made the order smaller and under $20 and then clicked to pay, a similar prompt came up stating: 'orders under $20 cannot be delivered.' Which makes more sense but is a lie since we had tried to place an order over $20 and it still wouldn't allow us to order.

Unfortunately, with this new update or 'bug', we, at this time, have decided that we will get our wings somewhere else. If the app is updated back to the way it should be working and allows orders over $20 to be delivered then we will consider ordering again.

We just thought the developers of the app ought to know that they are losing the company money.

Also, anyone who reads these comments before deciding to order ought to know that when considering a delivery order, you won't be able to.
Developer Response ,
Thanks for sharing your experience with us! We're so sorry you ran into an issue. We'd love to learn more. From your review it sounds like this issue is likely specific to your local restaurant. Please contact us at www.wingstop.com/contact-us so our team can look into this further.
Easy to use but options are scarce
It's super easy and quick to order from the app but I don't like that we don't get a lot of different options. Every time I order I have to call in to the restaurant immediately afterwards to make changes because the app doesn't have enough options to choose from. I like the hot lemon wings, extra wet. But the app doesn't give me the option for either of these things. There's so many different flavours that aren't available through the app. Another issue is when you select "more options" and it just says "extra well done". Where's the option for extra wet wings? Y'all need to give more options to choose from to keep customers from having to call in after using the app. Even the drink menu is scarce. My local Wingstop has a drink machine with so many things to choose from like Powerade, Vitamin Water, or even flavoured Coke. I know not all locations have such a variety but it would be awesome if the app could reflect the options of the store we choose to order from. Aside from these issues, though, the app is great. I just feel some improvements could be made.
Get Wingstop from App Store
What is your opinion about Wingstop
Bitcoin
Ethereum
MetaMask (ETH)
Xrp
Polkadot
Binance coin
Stellar
Dogecoin
Tron
Elrond
Donate Bitcoin to this address
Scan the QR code or copy the address below into your wallet to send some Bitcoin
Donate Ethereum to this address
Scan the QR code or copy the address below into your wallet to send some Ethereum
Donate Xrp to this address
Scan the QR code or copy the address below into your wallet to send some Xrp
Donate Polkadot to this address
Scan the QR code or copy the address below into your wallet to send some Polkadot
Donate Binance coin to this address
Scan the QR code or copy the address below into your wallet to send some Binance coin
Donate Stellar to this address
Scan the QR code or copy the address below into your wallet to send some Stellar
Donate Dogecoin to this address
Scan the QR code or copy the address below into your wallet to send some Dogecoin
Donate Tron to this address
Scan the QR code or copy the address below into your wallet to send some Tron
Donate Elrond to this address
Scan the QR code or copy the address below into your wallet to send some Elrond