(App) Bobby Approved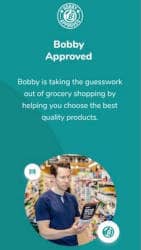 App Description :
Learn how to buy the best quality products from the grocery store with the Bobby Approved app.
App Features :
Just point your camera, scan the barcode, and find out if that box of pasta, loaf of bread, or box of cereal is made with best-in-class ingredients, or if you should put it back.
Additional Information :
Size 34.3 MB
Requires iOS 11.0 or later.
User Reviews :
LOVE
Oh my greatness! I'm in love with the app! It takes away the concern from purchasing something with questionable ingredients! Now I wish products had UPC codes on front of the packages I had been purchasing a butter alternative that was not Bobby approved but with the apps help I have found another option. I did find and item that had not been uploaded so I sent pictures of the product and ingredients in but felt guilty knowing Bobby would to stay up and research the product. It just shows the dedication and love of what he represents. Thank you for sharing your knowledge and family with us. The people with negative reviews apparently aren't aware Bobby stated it's a work in progress and he is trying to add and evolve the app but it takes time. Rome wasn't built in a day and in no way does anyone have to adhere to his Keto lifestyle he offers so much useful information along with what he has chosen for himself. Take away what is useful for yourself or move along to something else. Just make the app icon Rose
I don't shop without this app!
I was recently diagnosed with an autoimmune issue and have chosen to completely overhaul my diet. It was so tough at first to figure out what foods/ingredients are good and what are not. Then I found this little gem of an app! This app has helped me in more ways than I ever thought possible to reduce inflammatory foods, increase my knowledge on what foods I should be putting in my body and help me advocate for myself when it comes to what I choose to buy for myself and my family. Thank you for all the hard work you have put into this. It makes shopping and eating so much more enjoyable and I feel more confident that I am on a journey of healing my body. Thank you Bobby!
Intentions are good
I like the the concept of this app on the surface, and the intentions are good. However, it is disorganized and not easy to use at times, especially when searching for "approved" products. There are many times you scan a product and it comes up as "not approved" but you don't know know what ingredient(s) are the issue. This is unfortunate, as Bobby does a good job in his videos describing why certain ingredients he finds are an issue. Then you can make a decision about whether you agree or if that is important to you . There are other times when you want to search for "approved" products in a certain product category and you will see the same product not only listed multiple times, but also also as "approved" AND "not approved". It is the same product, label, ingredients. Can be confusing for users looking for advice or want to to compare products.
Useful and lots of potential
This app has been helpful for me at the grocery store. I also like how you can search by category (e.g., "cheese"), and it will give you an overview of what to buy and avoid in that category.

This app has so much potential to be even better in the future too. One thing I would like to see is explanations for why some foods are still Bobby approved when it includes a banned ingredient. Bobby has explained in his videos why this is sometimes the case, but it would be helpful to see that explained on the app.

Bobby personally approves all "Bobby approved" items in the app. Thanks Bobby for putting in so much work and providing us with this useful tool.
Great app!
Before this app I was spending several hours at the grocery store every week reading labels. This has saved me so much time! You just scan the barcode and wait for the product to come up. It will tell you if it is Bobby approved or not. Then it will tell you why and give you other options to buy instead if it is not approved. I love this app for the convenience and the explanations. I have learned so much from watching Flavcity videos. This app is what I was waiting for.

If an item isn't in the app, it asks you to take a picture of it and says waiting for approval. I like that I can contribute to the progress of this app.
Get Bobby Approved from App Store
What is your opinion about Bobby Approved
Bitcoin
Ethereum
MetaMask (ETH)
Xrp
Polkadot
Binance coin
Stellar
Dogecoin
Tron
Elrond
Donate Bitcoin to this address
Scan the QR code or copy the address below into your wallet to send some Bitcoin
Donate Ethereum to this address
Scan the QR code or copy the address below into your wallet to send some Ethereum
Donate Xrp to this address
Scan the QR code or copy the address below into your wallet to send some Xrp
Donate Polkadot to this address
Scan the QR code or copy the address below into your wallet to send some Polkadot
Donate Binance coin to this address
Scan the QR code or copy the address below into your wallet to send some Binance coin
Donate Stellar to this address
Scan the QR code or copy the address below into your wallet to send some Stellar
Donate Dogecoin to this address
Scan the QR code or copy the address below into your wallet to send some Dogecoin
Donate Tron to this address
Scan the QR code or copy the address below into your wallet to send some Tron
Donate Elrond to this address
Scan the QR code or copy the address below into your wallet to send some Elrond