(App) Nespresso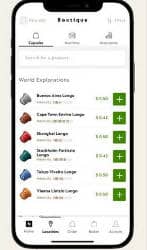 App Description :
Experience the world of Nespresso on your iPhone or iPad.
The Nespresso app allows you to buy coffee capsules, machines and accessories on-the-go or at home on your iOS device.
App Features :
Enjoy the Nespresso shopping experience anytime, anywhere:
Refill your stock of capsules and explore new coffees
Find the right machine for you, and exclusive accessories to complete your coffee corner at home
Stay up to date with the latest Nespresso Limited Edition coffees
Discover the nearest Nespresso points of interest on the store locator (Nespresso Boutiques, retail stores selling Nespresso coffee machines, and coffee capsule recycling points)
Do even more with the app with one of our 'connected' machines:
Get notified when your capsule stock is running low to ensure you never run out
Navigate through recipes to nurture your inner barista
Ensure the best coffee experience cup after cup through regular notifications from your machine on when descaling is needed, or the water tank is nearly empty
Get direct access to machine "How-to" videos
Take advantage of our extensive delivery services*, such as:
Free Standard or Pick Up Point delivery on purchases of coffee capsules and machines
Nespresso Boutique Pick-Up
Nespresso Express delivery
Nespresso Saturday & Sunday delivery
Nespresso Your Time (choose the most convenient date and time of your delivery)
*Availability and conditions of each service depend on your geographical area
Additional INformation :
Size 181.6 MB
Requires iOS 12.3 or later.
User Reviews :
Many bugs, and Touch ID is BROKEN!
Overall excellent. HOWEVER, the only reason I'm detracting one star is that it won't let me select which of my saved addresses is my default shipping address. One time I shipped a new machine to my sister as a gift in NY and ever since it doesn't default to my home address across the country in CA anymore. I wasn't paying enough detailed attention while placing an order, and my $250 capsule order went to NY instead of to me. I called customer service within a day of realizing it and there was "nothing we can do" which is pretty ridiculous—come on. I ended up calling the shipper, tracking down the package after two days of calls, and paying good money to reroute the package across the country. Just let me identify my default shipping address in the app! Otherwise, I do love the convenience and interface of the app, works really well, and I can get my order settled while having my morning coffee. Nespresso, pls fix the address issue — should be easy. I've been a loyal Nespresso user for ~14yrs and am just on my 3rd (high end) machine.
Quite possibly one of the most fluid user designed apps
So, without going too deep into my background I'll let you know just a few things. One, I work at a five star-five diamond urban hotel and have access to fantastic traditionally made espresso on a daily basis. Two, Nespresso coffee is as good if not better than this espresso. Also, the milk frothing device that came with our Vertuo bundle is amazingly consistent at providing fantastic foamed milk. I know the amount of technique and patience it takes for an individual to master using a steam wand and IT IS NOT AN EASY technique to perform. So, that a machine can produce professional results with the touch of a button is the sign of some highly intellectual engineering; kudos on that. Lastly, for the app itself, its a joy to use. From remembering previous orders, keeping information secure, streamlining the ordering process and ease of use, and (admittedly not a result of the app, per se) the timeliness of the orders arriving is hands down some of the best customer service around. If you're thinking about an upgrade from your single serve coffee machine, look no further. Also, beware when you travel from the comfort of your kitchen and are forced to drink lesser coffees again, as it will most likely be all the time. Nespresso is THAT good.
A great machine
I think the taste of the Coffee is great, but I agree with the Reviewer that mentioned the Sample Coffee offered and then described how they were out of stock! I think this is an easy fix and suggests the lack of concern for the customer! I am currently on my third Frother, each one simply quit Frothing! They replaced it each time after a long telephone routine… with full history online… and the last time they acted like they were doing me a favor, pointing out the Warranty was nearly at its end! I asked what happens when this 3rd machine quit Frothing and was told, "You may be given a coupon to buy a new one!" Each Customer Service Agent was nicer than the next and I elevated the discussion the last two times to a Supervisor and a Technical Service person… again… one nicer than the next! What that tells me is the company simply does not care about the actual complaints and resolving internal issues to the Customers satisfaction! They have convinced me of a perception of care, but perhaps I am a little to gullible! Perhaps it is time to shop for a new machine, even though I like the Coffee… I actually bought the machine originally, at a Demonstration, BECAUSE of the FROTHER!!! I love a good Cappuccino!
Get Nespresso from App Store
What is your opinion about Nespresso
Bitcoin
Ethereum
MetaMask (ETH)
Xrp
Polkadot
Binance coin
Stellar
Dogecoin
Tron
Elrond
Donate Bitcoin to this address
Scan the QR code or copy the address below into your wallet to send some Bitcoin
Donate Ethereum to this address
Scan the QR code or copy the address below into your wallet to send some Ethereum
Donate Xrp to this address
Scan the QR code or copy the address below into your wallet to send some Xrp
Donate Polkadot to this address
Scan the QR code or copy the address below into your wallet to send some Polkadot
Donate Binance coin to this address
Scan the QR code or copy the address below into your wallet to send some Binance coin
Donate Stellar to this address
Scan the QR code or copy the address below into your wallet to send some Stellar
Donate Dogecoin to this address
Scan the QR code or copy the address below into your wallet to send some Dogecoin
Donate Tron to this address
Scan the QR code or copy the address below into your wallet to send some Tron
Donate Elrond to this address
Scan the QR code or copy the address below into your wallet to send some Elrond