(Game) Rolling Sky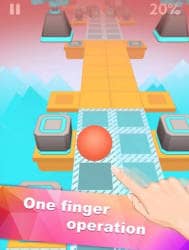 Game Description :
Stunn scenes with amazing 3D effects; one-touch operation, easy to use!
Swipe left and right to control the ball. Follow the music, dodge the obstacles, and conquer the world!
Game Features :
Abundant game scenes for you to unlock: Mountains, Universe, Forest, Snowhill, Inferno…
Stay tuned for more surprises and bonuses!
Wed love to hear your precious feedback and suggestions. Please contact us: rollingskyfeedback[at]conew.com
Business Cooperation:
Cheetah Mobile is now sincerely looking to cooperate with all the amazing mobile game developers globally and achieve mutual success! We are looking forward to your excellent games!
Contact us on: cheetahgames[at]cmcm.com
Privacy Policy:  www.cmcm.com/protocol/site/privacy.html
Additional Information :
Size 247.9 MB
Requires iOS 9.0 or later.
User Reviews :
Great game, but need a few things…
I love this game. I would say that in this category of gaming: touch sensetivity, memorization, and challenging gameplay, you are second to geometry dash, but that is only because of two things. The first thing isn't that major. Robtop took the time to make their game have so much more gameplay. You make new levels all the time, which is great, but you have to watch a video, or use the keys to permanently unlock the level, which gets really annoying, because after you beat all the levels you can, there are so many more to play, but you can't play them with out watching a video. In the 3.99 kit, I would replace that with the unlimited balls upgrade. Which brings me to the second problem.

One of, if not the main reason geometry dash is better than rolling sky is because you don't have to wait, or watch a video after you run out of "balls." In geometry dash, you get to play until you get bored, without having to wait for like three or four minutes to play again after losing 10 times.

So those are my two requests. 1) remove the unlimited balls as an add on purchase, so the people who want to get really good at the game, but don't mind the adds can just keep practicing. Second, replace the unlimited balls add on purchase with a full access to every level. That's all you need to do to get this game better than geometry dash. Other than those two problems, great game. Oh and do something about the lag.
I preferred it before the update
OK this game has was my favorite when I was like I was around five I want to say yeah probably five and my dad will play this game and I will try I could be most of the levels at age 5 not because it was in fact it was quite hard but because I played it so much I stopped playing because I want to teach kindergarten all that other stuff and then sat in first and second and third and there was a lot going on drama I didn't have that much time to do this type of game because I was busy doing other things they made an updateAnd the older version had the first songs it was amazing they had an easier way to get to the songs it looked better they have better quality songs and other things while this update just made all those disappear and also they rarely ever I asked for your money they also have better graphics and now they're like grab your money but the other game was amazing and better I am now nine and it's not a game anymore I still have it just in case they undo the update but please takeoff the update please takeoff the update or undo the update please best with my childhood favorite thing to do or I'm still in my childhood also they took away some of the best songs
Well…
Hello, just your average 13 year old here. I came back to this game for a taste of nostalgia to see what has changed and well, a ton. This was legitimately my favorite game back then. I would play this all the time. I'm back here again, a while later to see that well… not so much is good anymore. It's just not the same. And I get that some of the levels were removed. That's disappointing. Also the fact that my favorite level, e-labyrinth, which I mastered and played all the time.m, randomly locked itself and it costed money to get it back. What the heck? I also wonder why. Just why. WHY does all of the new levels cost money? These levels used to be free! Even with the keys, i didn't mind it. But now.. all of the levels cost money and it seems like you guys over at cheetah aren't doing to swell. I also came back to this review section just to see a comment I was about to post about how much I loved this game years ago. I just wish.. the old rolling sky came back. I don't like this game anymore because they ruined it in so many ways, and let down so many people, it's ridiculous. I used to be a pro at the game until they added extremely hard levels I absolutely couldn't beat. Somehow I did beat 3rd birthday and 4th birthday. Also one final thing, I noticed you guys haven't updated in a while, and I see that well… the game must be coming to an end. And the other games too. And well, I just want to say… goodbye..
Get Rolling Sky from App Store
What is your opinion about Rolling Sky
Bitcoin
Ethereum
MetaMask (ETH)
Xrp
Polkadot
Binance coin
Stellar
Dogecoin
Tron
Elrond
Donate Bitcoin to this address
Scan the QR code or copy the address below into your wallet to send some Bitcoin
Donate Ethereum to this address
Scan the QR code or copy the address below into your wallet to send some Ethereum
Donate Xrp to this address
Scan the QR code or copy the address below into your wallet to send some Xrp
Donate Polkadot to this address
Scan the QR code or copy the address below into your wallet to send some Polkadot
Donate Binance coin to this address
Scan the QR code or copy the address below into your wallet to send some Binance coin
Donate Stellar to this address
Scan the QR code or copy the address below into your wallet to send some Stellar
Donate Dogecoin to this address
Scan the QR code or copy the address below into your wallet to send some Dogecoin
Donate Tron to this address
Scan the QR code or copy the address below into your wallet to send some Tron
Donate Elrond to this address
Scan the QR code or copy the address below into your wallet to send some Elrond