(Game) Scrabble GO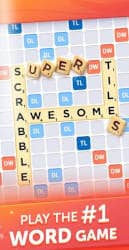 Game Description :
Welcome to Scrabble GO, the new and updated version of the world's favorite word game!
Game Features :
CLASSIC SCRABBLE
Play the classic Scrabble game you know and love! With the official board, tiles, and Scrabble word dictionaries, only Scrabble GO delivers the authentic crossword game experience.
PLAY WITH FRIENDS AND FAMILY
Easily play games with your Facebook friends and family! Expand your Scrabble friends with the new Favorite feature, which makes staying connected a snap. Express yourself in-game with fun and easy-to-use chat emojis and phrases.
COLLECT PLAYABLE TILES
Personalize your Scrabble experience with custom tiles! Unlock chests to collect a variety of visually stunning tiles, then show off your new tiles to other players in-game as you compete!
NEW WORD GAMES!
Feeling competitive? Test your skills in one of four exciting new word games:
Duels – A fast-paced, head-to-head Scrabble! You'll be matched up against players of similar skill and play five turns each. But hurry up, because each turn is on a timer. Victories in Duels unlock prize chests!
Word Drop – An ever-changing word search game. Your used tiles are replaced, shifting the remaining letters and opening up new possibilities!
Tumbler – Like anagrams? This new mode challenges you to find as many high-scoring words from a rotating set of letters in a limited amount of time. Score bonuses for word length and unique words!
Rush – In this solo Scrabble mode, your only ally – or enemy – is yourself. Play off your own words and try to set up high-scoring plays on a smaller 11×11 board. With a limited amount of time and turns, every move counts!
LEAGUES
Climb your way up the League leaderboards by playing in Arena Tournaments! Leagues are updated weekly, and the higher you rank, the more XP and chests you gain, as well as an exclusive League Frame to show off your progress.
PRACTICE MODE
Play Scrabble one-on-one against the computer with Practice Mode! Designed to match your skill level, it's a great way to test out new strategies.
TRACK STATS
See how your Scrabble skills are progressing with our in-depth profile page! View your scoring averages, longest words, best plays, and more! Visit another player's profile to see Head-to-Head stats.
SCRABBLE CLUB
Enjoy a wealth of benefits with a Scrabble Club subscription!
Ads-free experience
Access exclusive content and rewards for Weekly Challenges
Unlimited use of the new Scrabble Scholar boost
Full Access to the new Word Power Meter boost
An additional Arena Ticket delivered daily to their inbox
The Scrabble Club subscription is available for a monthly cost charged to your iTunes account at the end of each 30-day subscription period, at the price displayed to you at the time of purchase, unless auto-renew is turned off 24 hours prior to the renewal date.
A Scrabble Club one-week Free Trial will convert to a Paid subscription unless auto-renew is turned off 24 hours prior to the end of the trial. Unused portions of free trials will be forfeited upon purchase of a subscription. You can manage subscriptions and turn off auto-renewals in your device account settings, as described in our FAQ on "How to Cancel a Subscription."
Like us on Facebook: www.facebook.com/ScrabbleGO/
Follow us on Twitter: twitter.com/ScrabbleGO
Follow us on Instagram: www.instagram.com/ScrabbleGO/
Privacy Policy: scopely.com/privacy/
Terms of Service: scopely.com/tos/
By installing this game you agree to the terms of the license agreements.
The MONOPOLY name and logo, the distinctive design of the game board, the four corner squares, the MR. MONOPOLY name and character, as well as each of the distinctive elements of board and playing pieces are trademarks of Hasbro, Inc. for its property trading game and game equipment. © 1935, 2021 Hasbro.
Additional Information, Rights, and Choices Available to California Players: scopely.com/privacy/#additionalinfo-california.
Additional Information :
Size 207.6 MB
Requires iOS 11.0 or later.
User Reviews :
Creeps use this platform to solicit people
Game play is great. The chat feature is nice too- it's fun to chat with your opponent HOWEVER, there are many, many, many people who use this platform to get information from people, for ill purposes no doubt.

Their questions and information are ALL very similar and they ultimately all ask for personal information to be able to "talk" somewhere else. Their profile pictures are always of good looking middle aged white guys (stock google pics), they claim to be from the states but speak in broken-ish English- they say hi after the first move and want to know where you live, if you're married, how many kids you have, your hobbies, and your email address. They ask all that within the first five seconds it seems. My poor elderly aunt was duped by one of them and she ended up giving him a lot of information. It was a mess to get him to stop harassing her. I don't know if it's possible to make the chat safer, or what, but i hope the developers take the reported users seriously and make it harder for them to con people.

I block and report those users but before I do, I string them along with bogus answers and made- up email addresses which confuses and annoys them. Mission accomplished.
Why even call it Scrabble. What an abomination.
15 minutes. That's all it took. 15 minutes before I realized some underage gamer had destroyed what was one of the best games ever invented – so I deleted it. I'm not a prude. I'm not technically challenged. I see younger generations struggling every day with attention span issues. I get it. But not everybody needs bells and whistles and jewels and God knows what else is imbedded in the Scrabble Go app to be entertained. If it's about money then charge me more for the app, but to destroy a simple quality intellectual game like Scrabble and turn it into a moronic video game is asinine. You clearly could have included an option for people to choose the classic version – which, if it is available, I was unable, well unwilling, to wade through the nonsense to find it. That would have met everybody's needs. We're getting far enough along in the technology craze that not every computer geek or technology buff or game player is a 15 year old kid with the attention span of a goldfish. And the need to pander to said demographic while ignoring others may be at the detriment of your company. Consider there are actually older people -with money – who enjoy technology, that you may want to address in your product development and marketing efforts. If you're designing a new game – no problem. But to destroy such a classic for no apparent reason is just ridiculous. I'm only giving one star because I have to in order to send my review.
Get Scrabble GO from App Store
What is your opinion about Scrabble GO
Bitcoin
Ethereum
MetaMask (ETH)
Xrp
Polkadot
Binance coin
Stellar
Dogecoin
Tron
Elrond
Donate Bitcoin to this address
Scan the QR code or copy the address below into your wallet to send some Bitcoin
Donate Ethereum to this address
Scan the QR code or copy the address below into your wallet to send some Ethereum
Donate Xrp to this address
Scan the QR code or copy the address below into your wallet to send some Xrp
Donate Polkadot to this address
Scan the QR code or copy the address below into your wallet to send some Polkadot
Donate Binance coin to this address
Scan the QR code or copy the address below into your wallet to send some Binance coin
Donate Stellar to this address
Scan the QR code or copy the address below into your wallet to send some Stellar
Donate Dogecoin to this address
Scan the QR code or copy the address below into your wallet to send some Dogecoin
Donate Tron to this address
Scan the QR code or copy the address below into your wallet to send some Tron
Donate Elrond to this address
Scan the QR code or copy the address below into your wallet to send some Elrond