(App) Traeger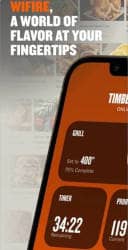 App Description :
The Traeger App puts a world of flavor at your fingertips. Control your grill anytime, anywhere with WiFIRE®, access over 1000 wood-fired recipes, learn from the pros, and receive curated content that helps you become a better cook, all right from your phone.
App Features :
WiFIRE® Control: Adjust grill temperature, monitor internal food temps, set alerts and timers, & more directly through the App.
Learn From the Pros: Detailed videos featuring recipes and tips & tricks put you in the kitchen with your favorite pitmasters and chefs.
Over 1000 Recipes: Access amazing wood-fired recipes that cover everything from BBQ to baked goods.
Follow Your Favorites: Never miss a new recipe from your favorite pitmasters & chefs.
Shop: Order pellets, sauces, rubs, accessories, and everything else the Traeger website has to offer right from the App.
Dealer Locator: Find dealers near you for all of your Traeger needs.
Additional Information :
Size 153.7 MB
Requires iOS 14.1 or later.
User Reviews :
Skip the essays
You ever try and google a recipe and have to sit there and scroll through a 10 page essay on the history of the authors grandma and the passage of her secret baked ziti recipe just to find out you don't have an emulsifier (what even is that) and you can't do it. So it's on to the next essay just to try and find an ingredients list.
Well those days are behind you now. Just a picture of the food and a name saying "hey, does this look bomb to you? Here's how you make it." The app is extremely intuitive and user friendly. Hide what you don't want to see, open what you do. Save recipes that you want to come back to later. I save my recipes and go to the store with nothing but the Traeger app. Just open up the recipes I want to make as I shop and look at the ingredients. Easy. I went from cooking almost nothing to doing ALL the cooking in my household. Every night before bed my wife prays and thanks Jesus for inventing the Traeger because now she doesn't have to cook anymore. 10/10 would recommend.
Not totally happy
I got my Traeger around October of last year… I have used it so far just 5 times.
The problems started the second time I used it…in the middle of the cooking session the unit "turned off" and I had to pull everything out start all over after vacuuming the fire box and calling your service department for instructions..I cleaned the thermostat with vinegar as instructed and managed to re-start it again and finished my meal.. they sent me a new fan motor and I replaced it. Yesterday (the fifth time I use it) it did the same thing…it set my cooking back 1 1/2 hours because that's what it took for me to realize it had turned off…although the blower was working and the wood-chip hopper was full and so was the gure box with unburnt chips…called customer service again and could hardly understand the rep because of his heavy accent…after trying to talk with him for about 20 minutes we finally gave up….I proceeded to clean everything up and was able to restart the unit and finished cooking my pork butt…it has been very annoying to have to ho thru these restarts …on a fairly new (only used five times) unit…
Life Changing!
I have owned a basic Traeger grill purchased impulsively on HSN for over a year ago with surprisingly amazing results time after time. This includes an unprecedented confidence developed after consistently spot-on results from routine family meals to high pressure holiday and party events. This includes Traeger 3-2-1 ribs, seafood, and numerous summer veggies that might be the most incredible foods I've ever cooked. I have also used this simple grill as a supplemental oven for every holiday due to its amazing consistency and results; We depend on it unconditionally. Today I received my new Ironwood 650, purchased for me by my wife for my birthday, that raises the bar even higher. After I synced the grill with my Traeger app and used the probe to cook filet mignon to wood-fired perfection, I now understand the potential that lies ahead for me and my family. Bottom line: Thank you Traeger for helping me become an unbridled, confident griller with noboundaries to what I'm able to cook to perfection. Sign me up to be a Traeger evangelist. Boom!
Get Traeger from App Store
What is your opinion about Traeger
Bitcoin
Ethereum
MetaMask (ETH)
Xrp
Polkadot
Binance coin
Stellar
Dogecoin
Tron
Elrond
Donate Bitcoin to this address
Scan the QR code or copy the address below into your wallet to send some Bitcoin
Donate Ethereum to this address
Scan the QR code or copy the address below into your wallet to send some Ethereum
Donate Xrp to this address
Scan the QR code or copy the address below into your wallet to send some Xrp
Donate Polkadot to this address
Scan the QR code or copy the address below into your wallet to send some Polkadot
Donate Binance coin to this address
Scan the QR code or copy the address below into your wallet to send some Binance coin
Donate Stellar to this address
Scan the QR code or copy the address below into your wallet to send some Stellar
Donate Dogecoin to this address
Scan the QR code or copy the address below into your wallet to send some Dogecoin
Donate Tron to this address
Scan the QR code or copy the address below into your wallet to send some Tron
Donate Elrond to this address
Scan the QR code or copy the address below into your wallet to send some Elrond