(Game) Solitaire 3D Fish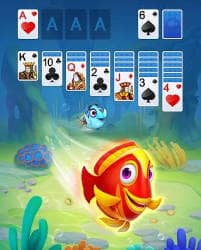 Game Description :
Solitaire 3D Fish is a BRAND-NEW & CREATIVE solitaire card game with UNIQUE 3D graphics and interfaces. It provides you the MOST vivid and lively 3D effects on the scenes and fish when you play this classic solitaire game (also known as Patience or Klondike game).
You can collect dozens of different ocean fish(Clownfish, Blue Tang, Yellow Tang, Bluecheek Butterfly, Holacanthus Africanus, Bannerfish, Peppermint Angelfish, Powder Blue Tang, Azure Damselfish, Dottyback, Anglerfish, Undulate Triggerfish) by the "Gashapon Machine" in the game. More fishes are coming in the next updates.
Game Features :
HIGHLIGHTS
CREATIVE SOLITAIRE GAME
Based on the classic solitaire (also known as Patience or Klondike), we've added a CREATIVE aquarium world with the unique "Star Chest" feature.
BEAUTIFUL UNDERSEA THEMES
While enjoying the classic solitaire games, you will be totally immersed yourself in an amazing unique aquarium world with delicate undersea surroundings and creatures.
THOUSANDS OF CHALLENGES
Together with Daily Challenges, there are over tens of thousands of classic solitaire challenges for you to play anytime and anywhere!
SURPRISING BOOSTERS & ANIMATIONS
If you get stuck, you can use the "Magic Wand" for help to continue the game. And there are different kinds of animations when you win certain deals.
HOW TO PLAY
Up to 10 top records
Klondike Solitaire Draw 1 card or 3 cards
Standard or Vegas Casino scoring
Single tap or drag&drop to move cards
Daily challenges with different levels
Auto-collect cards on completion
Feature to Undo moves
Feature to use Hints
Timer mode available
Left-handed mode available
Offline game! No wifi required
Like playing Patience or Klondike solitaire games? it must be the BEST classic solitaire game with CREATIVE 3D fish themes for you! Download and enjoy it NOW!
Additional Information :
Size 250.7 MB
Requires iOS 10.3 or later.
User Reviews :
They don't check their ads!

Great game, but they have a disproportionate amount of fraudulent ads promising to give you huge payouts on bingo games. None of us knows ANYONE winning thousands a week on any online Bingo games…or we would all quit our jobs and just play bingo, duh??? You just have to keep the volume off on your phone all the time that you play.  I would play a lot more if I didn't have to do this. Can you imagine if they actually advertised things that we wanted to buy?? Why are 90 % of the ads annoying or just outright lies?? Isn't there a law against boldly lying to the consumer?? I want to listen to Audible while I play. I'm unable to because of the nature of the ads!!  I desperately want ANY of my game owners to have some standards, and not just accept any ad that pays!! But my FAVORITE part yet, is the advertisement that crashes the game, and leaves some stupid woman wailing for help the rest of the time you play the game until you restart your phone. YAY!! It's on every game that I play. As soon as THAT ad plays, the stupid woman wails for help until you restart your device. Someone's idea of great fun!!

So…if you're committed to the game, play with your volume off to keep your sanity. Otherwise, delete the game!!
Developer Response ,
Thank you very much for your feedback. The source of these advertisements is from the third party, so we could not decide the content. You could report the advertisement if you consider it contains false information to the consumers. Thank you very much for your cooperation and understanding in advance. Have a nice day!
Fish Frustration!
I love this game better than practically all of my games..really into my fishies..lol..I love everything about this one, except that from day one I have a problem with some 'glitch' that is causing the game to freeze up. It happens almost every single day. Right after a game has ended and the screen will show 'you won' and there's an option to go on or collect extra points..the entire screen freezes up, I can't make a choice, can't get out of there and sometimes it stays frozen for a day or two. I just keep checking off and on all day until finally, it's back. I have a feeling alot of folks are having the same problem. Please fix it…I miss my fish!
Developer Response ,
Sorry for the inconvenience. Our production team is making endeavors to find out the problems. It will be fixed in the later version. Thank you very much for your support and understanding in advance. Have a nice day!
Get Solitaire 3D Fish from App Store
What is your opinion about Solitaire 3D Fish
Bitcoin
Ethereum
MetaMask (ETH)
Xrp
Polkadot
Binance coin
Stellar
Dogecoin
Tron
Elrond
Donate Bitcoin to this address
Scan the QR code or copy the address below into your wallet to send some Bitcoin
Donate Ethereum to this address
Scan the QR code or copy the address below into your wallet to send some Ethereum
Donate Xrp to this address
Scan the QR code or copy the address below into your wallet to send some Xrp
Donate Polkadot to this address
Scan the QR code or copy the address below into your wallet to send some Polkadot
Donate Binance coin to this address
Scan the QR code or copy the address below into your wallet to send some Binance coin
Donate Stellar to this address
Scan the QR code or copy the address below into your wallet to send some Stellar
Donate Dogecoin to this address
Scan the QR code or copy the address below into your wallet to send some Dogecoin
Donate Tron to this address
Scan the QR code or copy the address below into your wallet to send some Tron
Donate Elrond to this address
Scan the QR code or copy the address below into your wallet to send some Elrond