(Game) Backgammon – Lord of the Board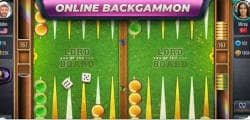 Game Description :
Play Backgammon – Lord of the Board, the #1 Free Backgammon App! Enjoy backgammon quick play with our great board games! Outsmart your opponent and play to win online backgammon with friends!
Challenge yourself or play online games with friend to master the backgammon rules with one of the most popular board games that has ever existed!
Download Backgammon – Lord of the Board today and get your free welcome bonus! Compete in challenging online board games and put your skills to the test! Chat with your friends in one of the best multiplayer strategy games – Backgammon – a classic board game.
Forget all you know about board games and other multiplayer games. Backgammon – Lord of the Board is one of the most competitive and addicting games out there! The adrenaline rush of winning backgammon tournaments and advancing to a top spot in the leaderboard is simply unbeatable. Join our community of online multiplayer games and get started today!
Backgammon – one of the oldest strategy board games in the world.
Play with backgammon masters in one of the top 10 board games. Play online games with friends and practice your strategy development. Learn to outsmart your opponent and become a backgammon champion. Play for free the best new board games and have fun playing with friends online.
Download one of the best backgammon app and play backgammon with friends!
Game Features :
New Feature! Play Backgammon with friends
Looking for backgammon games to play with your friends? Now you can compete with your Facebook friends online! Invite and play online games with friends.
Roll the Dice & Join the Fun!
Everyone is competing in one of the best board games on the App Store! While some may call it Nardi or Narde, Tavla or Tabla or shesh besh, the rules are the same and the fun is universal. Beginner backgammon player or seasoned expert, rookie bets will get you started right away. Play free backgammon live alongside thousands of competitors worldwide. Roll dice, move pieces, win BIG! Enjoy Backgammon free download to become #1 place on the board!
Join our backgammon tournaments and be the backgammon champion today!
Become the Backgammon Master
Play backgammon online and master this game of dice, gain experience, earn coins and make your way to the top! Enjoy our one on one gameplay and multiplayer backgammon tournaments, which are all free to play. Unlock new and exciting content as you progress within the backgammon game, level up and lead the board in a highly popular game. Challenge other skilled players and see if you have what it takes to beat the competition and become the Lord of the Board!
Invest in Strategy
When you're playing against other backgammon masters, in one of the most challenging thinking games out there, every second counts! Reach your true potential by focusing on your backgammon game strategy and leave the rules and regulations to the app. Instead of wasting time on counting steps, plan your next move and outsmart your opponent!
Built by Pros
Backgammon – Lord of the Board is brought to you by the creators of some of the leading online social games out there! Enjoy incredible features such as:
Enticing Graphics
Easy Enjoyable Gameplay
Exciting Game Progression
Playful Chat Options
Live Tournaments
Player Statistics Profiles
Dice Roll – Completely Random! (Sophisticated RNG)
Lots of Free Bonuses, Rings, Trophies, Prizes & More!
Unique Competitive Leaderboards
Have any suggestions for the game? Contact us at support[at]bbumgames.com.
This game is intended for adults and does not offer real money gambling or any opportunities to win real money or prizes. Success within this game does not imply future success at real money gambling.
Additional Information :
Size 258.3 MB
Requires iOS 10.0 or later.
User Reviews :
Not a good game for people with short temper
Nothing new to say here, I'm sure you have all read the countless reviews on dice algorithms. The game developers promise this is randomized but there's an odd pattern to it that makes it look purposely done. If the 1 and 6 spots are blocked at the opposing players side I promise you'll roll a 6 1 and be stuck there. This can't be random. For people who play this in real life they know exactly what random dice combos look like. This game will give a player 3-4 doubles in a row. Statistically if you take 2 dice throw it the odds of rolling doubles a SINGLE time is 16.6%…. the fact that some people get it 3 or 4 times in a row is not impossible but statistically not probably at all. That's a 1 in 1296 occurrence and you can look this up. I've played about 600 games on the app and this has happened multiple times so developers please realize that when we say it's not randomized we don't mean you guys rig the games but the algorithm for the dice are extremely unrealistic and you should find the proper solution. I know I'm gonna get a message saying " we can assure you we use the best dice algorithm blah blah blah". I know you guys tried but please look for a better way of doing this because it ruins the game.
Fun, but algorithm is not random.
I have several backgammon apps, and this one is my favorite. It has good graphics and is well developed – for the most part, EXCEPT that the algorithms and dice roll are not REALLY random. Now the developer is going to respond to this by saying, "we assure you that each dice roll is random." But you don't have to be a statistician to realize that it is not. I've played thousands (literally) of games of backgammon – on live boards with live people, and also online. My win rate is typically around 60%. But as other users and reviewers have written, the win rate on this app is significantly lower – Mine is around 50% on this app. Most concerning and frustrating is that the rolls that come up seem to be fixed. I've seen the competitor get the exact roll they needed exactly when they needed it. It has happened repeatedly – to the point where it falls outside of the realm of a "fluke" or "random probability". And it has happened for me and also against me. So this is not me being bitter over losing a game or two. (Even though the developer may claim that like I've seen on other reviews. I just question the algorithm and "randomness" of this app. I still use it because it's still fun, but I don't have any expectation of it representing a true, and random, game play. Enjoy!
Developer Response ,
Thank you for taking the time to post your review. Our players from around the world enjoy a game that's innovative, fun, and above all, fair, as our dice are based on a random number generator (RNG), which means that the numbers on the dice on each player's turn cannot be predetermined.

And since the games' outcomes depend on the dice and your experience, they cannot be predicted.

Wishing you a lucky day
Get Backgammon from App Store
What is your opinion about Backgammon
Bitcoin
Ethereum
MetaMask (ETH)
Xrp
Polkadot
Binance coin
Stellar
Dogecoin
Tron
Elrond
Donate Bitcoin to this address
Scan the QR code or copy the address below into your wallet to send some Bitcoin
Donate Ethereum to this address
Scan the QR code or copy the address below into your wallet to send some Ethereum
Donate Xrp to this address
Scan the QR code or copy the address below into your wallet to send some Xrp
Donate Polkadot to this address
Scan the QR code or copy the address below into your wallet to send some Polkadot
Donate Binance coin to this address
Scan the QR code or copy the address below into your wallet to send some Binance coin
Donate Stellar to this address
Scan the QR code or copy the address below into your wallet to send some Stellar
Donate Dogecoin to this address
Scan the QR code or copy the address below into your wallet to send some Dogecoin
Donate Tron to this address
Scan the QR code or copy the address below into your wallet to send some Tron
Donate Elrond to this address
Scan the QR code or copy the address below into your wallet to send some Elrond