(Game) Too Good To Go – End Food Waste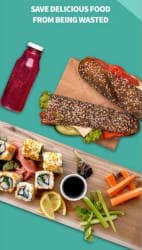 App Description :
Join millions of food waste warriors by downloading Too Good To Go – the world's number 1 app for fighting food waste. Pick up delicious meals and ingredients from local stores.
Each year, 40% all edible food in the US is thrown away. At Too Good To Go we want to put an end to food waste by creating a world where food produced is food consumed.
Millions of meals have already been saved through Too Good To Go! Do you love great food at a good price? Do you care about the environment? Then download the app right away.
App Features :
Find. Collect. Enjoy – it's as easy as 1 – 2 – 3
Find a store and place your order through the app
Collect your meal at the store at the specified time
Enjoy your meal a little bit more knowing you just helped the planet
Check if there's a Surprise Bag available nearby and discover stores you didn't know before. Show some love to your favorite stores by sharing meals with your friends and family. You can also make a list of favorites in the app so you never miss out on a great deal, and when you're going somewhere new, you can use the built-in map to spot stores nearby.
We help restaurants, bakeries, supermarkets, and more reduce their daily food waste. A community of food waste warriors is awaiting you…
Additional Information :
Size 179.9 MB
Requires iOS 11.0 or later.
User Reviews :
App is great but some places don't give much
This app is awesome and my complaints aren't their fault hence the 5 star! However, I will say there are places that are consistently cheaping out! For example I had zero degrees twice! It stated $12 value and purchased at 3.99. I ordered it, and came to pick it up. I got a cup of tea. On their menu tea was like $4 so I basically just paid for menu price without picking what I got haha. I thought it was a one off and ordered a second time and same thing. Cup of tea. I understand I am saving it from getting wasted but there should be some way of tracking which places should be taken off TooGoodToGo, or to have us read the comments we submit before other people order from that location. Besides that I would say the app is great and helps save food while getting a good deal on it! (Most of the time)
Developer Response ,
Thank you for fighting food waste with us! We always want to make sure that Surprise Bags meet their listed value, so we're very sorry to hear that you had a disappointing experience. We would love to look into this further, so please contact us through your in-app receipt or hello@toogoodtogo.com. Thank you!
Fantastic initiative, should be the norm. Usability could improve.
The concept of this app is great. Food waste is a massive problem and bringing awareness/sustainably reducing it is great!

T he one star docked is only because (as other reviewers mentioned) the filters and map variables could be greatly expanded. Things like keywords, food sensitivities, and better options to section/parse the map would make the user experience much better. Encouraging vendors to list/update their offerings would make customers easier to find (and vice-versa), and it'd be less overwhelming than browsing the many dots on the map.

Basically: You find restaurants with extra food, and pay for it at an extremely reasonable price. Every place I've gone to gives a really generous amount of food for the cost, and can last a couple days especially if it's a bakery or grocery store (disclaimer: I've been at 90%+ rated places so far, so it could be hit or miss). Needless to say it's amazing for those on a budget, and it's benefiting small shops as well. I really hope this concept becomes widespread because we waste so much while many have very little.
Great idea but a long way to go
This review is for San Francisco. The concept is a great idea but it's not very practical in SF. First, there aren't many restaurants participating so in order to get food you often have drive across the city at a specific time. Waste of gas, time and a parking nightmare. Second, the portions are horribly small. You have to order two to three orders to complete a real meal. Thus, you're paying full price for mystery food that you might not even like. Last, the apps review system is misleading which is a big strike against the app. You'll see the reviews say something like "80% of users give this restaurant at least three stars". That sounds like a good review "80%". But it's not. Three stars isn't a good rating. And you can't see comments about why that restaurant got such poor reviews.

I ordered from two restaurants in one day and like one and the other was a joke. I spent over an hour driving around town to pick up the food. Not worth it in any sense.

Great idea but not practical as current set up.
Developer Response ,
Thank you for fighting food waste with us! We're sorry to hear about these disappointing experiences. So that we can best assist, please contact us through your in-app receipt, and we'll be happy to look into this for you. Thank you!
Get Too Good To Go from App Store
What is your opinion about Too Good To Go
Bitcoin
Ethereum
MetaMask (ETH)
Xrp
Polkadot
Binance coin
Stellar
Dogecoin
Tron
Elrond
Donate Bitcoin to this address
Scan the QR code or copy the address below into your wallet to send some Bitcoin
Donate Ethereum to this address
Scan the QR code or copy the address below into your wallet to send some Ethereum
Donate Xrp to this address
Scan the QR code or copy the address below into your wallet to send some Xrp
Donate Polkadot to this address
Scan the QR code or copy the address below into your wallet to send some Polkadot
Donate Binance coin to this address
Scan the QR code or copy the address below into your wallet to send some Binance coin
Donate Stellar to this address
Scan the QR code or copy the address below into your wallet to send some Stellar
Donate Dogecoin to this address
Scan the QR code or copy the address below into your wallet to send some Dogecoin
Donate Tron to this address
Scan the QR code or copy the address below into your wallet to send some Tron
Donate Elrond to this address
Scan the QR code or copy the address below into your wallet to send some Elrond