(Game) Spades Plus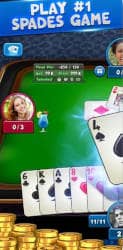 Game Description :
Let's join the LARGEST SPADES COMMUNITY in the world to play with millions of online players!
Spades Plus offers you a great experience against many Spades players from all around the world! You can play in many different game modes such as Classic, Solo, Mirror and Whiz.
Now playing Spades is much better with Tournaments, Knock-Out and many other different modes!
Spades is one of the traditional trick-taking card games like Bid Whist, Hearts, Euchre & Canasta, but this game is played in pairs in which spades is always the trump.
Game Features :
FREE COINS
Get 20,000 Free Coins as a "Welcome Bonus", and get even more coins by collecting your "Daily Bonus" every day!
DIFFERENT MODES
Play Spades however you want!
CLASSIC: Make your bid with your partner and challenge other teams
VIP: Play the classic Partnership Spades in custom Tables
SOLO: There is no partnership. Each player gets his/her own points
MIRROR: You bid the number of your Spades Cards in your hand
WHIZ: You can bid "NIL" or the number of your Spades Cards in your hand
TOURNAMENTS & CHALLENGES
Win the 16 player-Tournament or Knock-Out Challenge to get amazing prizes!
GREAT SOCIAL EXPERIENCE
Meet new people and add them as friends to be their best partner or challenge them in games!
Use Public or Private Chat to stay in touch with other players.
CREATE YOUR OWN TABLES
You can create tables in different modes. Choose your "Game Rule" type, set the "Bet Amount" and the "Final Point" or decide if there will be "Nil", "Blind Nil" or "Chat" options. If you don't want to be found, create your own "Private Table" where games are "Invite Only".
GET NEW DECKS
Join the seasonal competitions to get new deck designs. Show your new decks to other users while playing against them!
Additional information:
Make sure you have a good internet connection to get the best experience.
The game is free to play; however, in-app purchases are available for additional content and in-game currency. In-app purchases range from $0.99 to $99.99 USD.
Use of this application is governed by Zynga's Terms of Service, found at www.zynga.com/legal/terms-of-service.
Spades Plus has monthly Subscriptions that allow you unlock Emoji, Table Colors and Remaining Cards features unlimited and get additional game currencies every day.
Prices are in United States dollars and will be converted to the local currency or your country of residence. Pricing and other subscription details are subject to change upon prior notice by Zynga.
Account will be charged for renewal within 24-hours prior to the end of the current period, and identify the cost of the renewal. Additionally, auto-renewals may be turned off in your Device Settings after purchase. Your iTunes Account will be charged when the purchase is confirmed. Refunds will not be provided for the unused portion of any term.
©2017 Zynga Inc.
Additional Information :
Size 226.9 MB
Requires iOS 11.0 or later.
User Reviews :
Getting Greedy!
The app is definitely superior to the other ones I've tried except lately I keep getting thrown out of an active game when my next move is either critical and/or it's my last game$$ to play which can really be infuriating. I have been really loving the KnockOut Challenge where u have to win 3 games in row to double your bet amount and that was challenging enough. I won't lie that when your on your 3rd game and u get the option to pay for another chance that I haven't been tempted once or twice and $1-$3 wasn't a big issue for me BUT NOW ALL OF A SUDDEN you have to win 5 games in a row! I mean come on! Did u notice u we're getting us with the scenario I just mentioned and u decided to take advantage. I just think the game now went and made it less likely for me to keep playing the knock out challenges. There are some talented spades players on this app which is great for someone like me but come on, FIVE wins in a row for a player regardless of their skill level is a bit much to ask for. Sometimes you go through DAYS of the worst dealt hands by the game and we have zero control. It just made me disappointed to see that the best feature for me now got taken away! Boo for you! Three consecutive wins was perfect! 5 straight wins with medium-high connectivity issues is kinda messed up!
Fun, professional but Greedy scams
I am a good spades player… and love the game to the point where I'll pay if I need extra coins. But I've observed a scam. When I pay I often get many many consecutive hands with almost zero books.. and Ofcourse they will give you an Ace of spades to make a nil impossible. I thought it was coincidence, but I realized I keep getting horrible draws when I pay money. It didn't happen earlier on but when they see a pattern formed where you keep buying when you run out of coins… you will start to realize that your hands become very bland. The scam is that they know you will buy more tokens to play. I don't know if it's their Algo or what but I have observed it consistently. It's so set up and predetermined sometimes that you can't even call it random. Again, this is a top app, very good and amazing variety of games when I kept seeing this trend I had to speak out. This is why I don't rate apps earlier on…. now I'll consider deleting it. I rather save my money. I don't mind losing fait and square.. but when I play 16 consecutive games with the same hands.. like literally… while the person next to me keeps getting 7,6,8, 4, 5 draws and to then give me one card like ace of spades where I can't even counter with a nil to compete or catch up.. then that no longer becomes skill or even luck. It's a phony Algo.
Developer Response ,
Hello,

Our game is designed with a computer algorithm. The mechanism of the game works through this algorithm and the cards are determined randomly by the choice of this mechanism. Because of this situation, we don't have any chance to interfere with the game system.
Get Spades Plus from App Store
What is your opinion about Spades Plus
Bitcoin
Ethereum
MetaMask (ETH)
Xrp
Polkadot
Binance coin
Stellar
Dogecoin
Tron
Elrond
Donate Bitcoin to this address
Scan the QR code or copy the address below into your wallet to send some Bitcoin
Donate Ethereum to this address
Scan the QR code or copy the address below into your wallet to send some Ethereum
Donate Xrp to this address
Scan the QR code or copy the address below into your wallet to send some Xrp
Donate Polkadot to this address
Scan the QR code or copy the address below into your wallet to send some Polkadot
Donate Binance coin to this address
Scan the QR code or copy the address below into your wallet to send some Binance coin
Donate Stellar to this address
Scan the QR code or copy the address below into your wallet to send some Stellar
Donate Dogecoin to this address
Scan the QR code or copy the address below into your wallet to send some Dogecoin
Donate Tron to this address
Scan the QR code or copy the address below into your wallet to send some Tron
Donate Elrond to this address
Scan the QR code or copy the address below into your wallet to send some Elrond