(App) Subway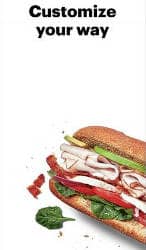 App Description :
Hungry? Eating fresh just got a whole lot better with the new Subway app.
App Features :
Customize Your Way: Like extra cheese? Us too. Build your own Footlong just like you do in the restaurant. Swap your condiments, pick your toppings, or toast your bread — the opportunities are endless.
 Find Rewards: Join MyWay and earn every time you order. You'll get access to exclusive deals, promos, and member-only rewards. Saving is easier than ever.
 Rapid Re-Order: Find your favorites in a snap. Get your last order in a single tap, right from the dashboard.
 Get Fresh Fast: Choose Pick Up, Curbside, or delivery. What are you waiting for?
Additional Information :
Size 119.4 MB
Requires iOS 12.0 or later.
User Reviews :
Convinient and has rewards
I used this app a lot for the rewards program, and now I use the mobile ordering even more since COVID restrictions in my town. You can select all items from the menu and indicate the specific bread, meat, toppings and sauces. I love how you can even indicate whether you want the regular amount or if you'd rather have more of a topping or less of the amount. You can also add on " make it a meal" or side items individually. It is great that after you make an item you can select it as a favorite and put a name on it. This makes it easier the next time you are ordering for a family you just go to your favorites and you can find all your items already built to suit for each person. Additionally, you automatically earn points toward your reward tokens with later turn into cash rewards toward your purchase. The only downside the the rewards is that they do expire so don't forget to use them. Last perk…well you can skip the line of course. It indicates what time your order will be ready and you can skip the line and go to the register to pick it up. Your all done because you already payed online. Great app!
"Just wait a hot minute" says the girl who…
So I already had problems from the start of my desire to order my subway sandwiches from one store for curbside pickup and was told when I called there that they had to cancel my order because Covid showed up with two of their staff and they couldn't give me my order. I totally get that and was sorry to hear they were affected and pray they'll get through it unscathed. So I asked if they could forward it to another store and they said know. So I placed an order at another store on my way home. When I got there there was no one in the store and the young man started my order from what I could tell and completed it and put it to the side because a family walked in along with a female employee. I'm in parking lot watching this. So she joins him to help with family order but I'm wanted to get going tsp I called to ask about my order and she answered the phone. I told her I was ready for my order to pickup. She said, "Just wait a hot minute" and proceeded to hang up on me. I feel I had ordered way before the family walked in and should have mine completed and delivered first before starting in another. Then I get home and my sandwiches were not prepared according to what I had ordered. Very disappointed. Don't appreciate the disrespect either. I was nice when I called, didn't deserve it. Won't go there again!
A beginner
I just signed up and it was pretty painless. I'm typically very frustrated by the time I'm finished unless I Chuck my Phone out the window before I'm done. The application/ sign up process was easy. Ordering sandwiches was a step by step process and the pictures make it easy to follow. I forgot to order my choice of cheese but in the checkout yiu have one last chance to add or subtract items. Also the locations chapter was easy to follow and subway allows Apple Maps so I'm not forced to download another map app I don't necessarily want, thanks for that consideration. To summarize; my lengthy review; signing up is breeze just read the instructions & follow the steps. If you're not on your own turf Locating a store is a cinch if you know where you are. If you don't know where you are it's likely you need more than a sandwich. I found this app to be problem free. Besides there really isn't a Cadillac problem that can't be fixed with a stomach full of Subway is there? Slow your roll (wheat , Italian, or artisan lol couldn't help it ) slow your roll you'll be unwrapping that delicious 12 inches of Yummy in no time. Cant eat the whole thing? Wrap in some plastic and BAM! Lunch tomorrow cuz its stays fresh even overnight. You're welcome, k&g Henson Murrieta Ca
Get Subway from App Store
What is your opinion about Subway
Bitcoin
Ethereum
MetaMask (ETH)
Xrp
Polkadot
Binance coin
Stellar
Dogecoin
Tron
Elrond
Donate Bitcoin to this address
Scan the QR code or copy the address below into your wallet to send some Bitcoin
Donate Ethereum to this address
Scan the QR code or copy the address below into your wallet to send some Ethereum
Donate Xrp to this address
Scan the QR code or copy the address below into your wallet to send some Xrp
Donate Polkadot to this address
Scan the QR code or copy the address below into your wallet to send some Polkadot
Donate Binance coin to this address
Scan the QR code or copy the address below into your wallet to send some Binance coin
Donate Stellar to this address
Scan the QR code or copy the address below into your wallet to send some Stellar
Donate Dogecoin to this address
Scan the QR code or copy the address below into your wallet to send some Dogecoin
Donate Tron to this address
Scan the QR code or copy the address below into your wallet to send some Tron
Donate Elrond to this address
Scan the QR code or copy the address below into your wallet to send some Elrond