(Game) Numpuz – Number Puzzle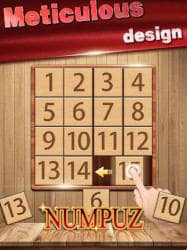 Game Description :
Swipe and place the tiles orderly.
Challenge the number maze quickly.
a classic math puzzle game. Tap and move the wood number tiles, enjoy the magic of digit, coordinate your eyes, hands and brain. Challenge your logic and brainpower, have fun and enjoy it!
How to play ?
Sliding puzzle game consists of a frame of numbered square tiles in random order, with one tile missing, The object of the puzzle is to place the tiles in order by making sliding moves that use the empty space. Endless challenge mode that challenges your logical thinking and mental limits
Game Features :
6 levels of difficulty (3,4,5,6,7,8 modes)
Wooden retro style of user interface
Simple to control, hard to master
Timer function: record your playtime
Test your logic and reaction speed
Realistic animation and tiles sliding
Combination of number and Puzzle
Traditional educational puzzle game
No wifi need, play in anytime anywhere
Best casual game to kill time
6 different sizes:
3 х 3 – for beginners and kids;
4 х 4 – classical mode for all ages;
5 х 5 – for those who like to think.
6 х 6 – complex mode for veteran
7 х 7 – difficult level to challenge
8 х 8 – design for master players
classic intelligence digital game, challenge your brainpower! User-friendly operation and simple interface make you experience the unique charm of slide puzzle game! Go for enjoy it and have fun!
Additional Information :
Size 432.4 MB
Requires iPadOS 10.0 or later.
User Reviews :
THANK YOU
I haven't played this game yet bu THANK YOU SO MUCH it might be a crappy game and I might delete it later and leave my opinion about the game but I got this beacuse THERE WAS A AD THAT ACTUALLY LOOKED LIKE WHAT THE GAME WOULD DO!!! I saw a different ad of this and it said "the more moves you make the less IQ you have" and it was stupid let me tell you I personally am not going to get a game like that but when I saw a harder puzzle the ACTUAL GAME SETUP and "simple but addicting" thats why I downloaded it if you read this thank you for listening to my rage anyway I have something to say to the developers or whoever makes the ads

Dear Developers or Whoever,

If you make other games don't put on weird filters or captions like "the more moves you take the less IQ" or only 2% can finish in blahbalahbalah… make ads like the "simple but addicting" do other ones but just a little message: if you advertise something the game doesn't do then you might get a lot of downloads but then they'll delete it and write a terrible review, to save yourselves from that, advertise what the game really dose. Thank you if you listen.
This app would do anything to rid you of your life
When you take too long solving a puzzle that interests you, the app gets bored of collecting information on that front and directs your attention to "more interesting games" that deserve your attention. These kinds of demeaning, belittling tactics used by these games are bad for your wellbeing, and a physical version would be more suitable for a smarter person like anyone who reads this.

On a separate note, to the developer, please stop using disturbingly corrupt references to the intelligence quota in your adverts. Contrary to popular opinion during this decade, two plus two is NOT equal to five, war is NOT peace, and freedom is NOT slavery.

On a separate separate note, to all who hate ads, just turn off your internet and cellular and you should be fine. Don't interpret it as your choice, view it as another, ultimately MORE SATISFYING PUZZLE to deny the ads from ruining your day. Revenge has never been so sweet!
Highly Recommend This Game!!
This game is unlike any other because it has many mini games that involve math. This game makes learning new things fun and refreshing. I highly recommend this game for kids so you can continue to learn while having fun. I also recommend this game for adults so you can challenge yourself to learn more things day by day. This game helps me be creative in math class and I developed the process of quick thinking and the process of an educational guess. If you have downloaded this game and don't know where to start, I would recommend Sudoku. Sudoku is a fun and addictive game that encourages people to think outside the box. This game does take time and patience which is great to learn.

Download this game. You won't regret it.
I highly recommend this game!
This game is SO FUN! But I have one problem. ADS. There are a million ads per hour. It's so annoying! Please lower the amount of ads. Also, could you add more games? Just a small suggestion. So more about ads. Could you make it so that there are only ada of f you ask for an ad? I personally LOVE the game "Space Shooty". IT'S SO FUN. And it's also my number one most recommend mini-game in this game. So I would really love it if you took away the "Million ads per hour" thing. And make it so that you can choose to watch an ad to get stuff in your mini-games! And please add more boss fights in space shooty. So thats all! I love this game and highly recommend it. Thanks and, please read this comment! Bye!
Get Numpuz from App Store
What is your opinion about Numpuz
Bitcoin
Ethereum
MetaMask (ETH)
Xrp
Polkadot
Binance coin
Stellar
Dogecoin
Tron
Elrond
Donate Bitcoin to this address
Scan the QR code or copy the address below into your wallet to send some Bitcoin
Donate Ethereum to this address
Scan the QR code or copy the address below into your wallet to send some Ethereum
Donate Xrp to this address
Scan the QR code or copy the address below into your wallet to send some Xrp
Donate Polkadot to this address
Scan the QR code or copy the address below into your wallet to send some Polkadot
Donate Binance coin to this address
Scan the QR code or copy the address below into your wallet to send some Binance coin
Donate Stellar to this address
Scan the QR code or copy the address below into your wallet to send some Stellar
Donate Dogecoin to this address
Scan the QR code or copy the address below into your wallet to send some Dogecoin
Donate Tron to this address
Scan the QR code or copy the address below into your wallet to send some Tron
Donate Elrond to this address
Scan the QR code or copy the address below into your wallet to send some Elrond