(Game) Words With Friends 2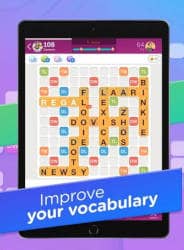 Game Description :
ONE OF THE WORLD'S MOST POPULAR MOBILE WORD GAMES is better and smarter than ever before! Unscramble letters, train your brain and indulge in a plethora of word games and puzzles in Words With Friends 2! Connect with loved ones, expand your vocabulary, and show off your spelling bee skills as you search for the highest scoring word in this beloved classic free word game. May the Best Friend Win.™
Game Features :
CREATE A GAME
The word games showdown starts here. Challenge your friends and family members to play, or use Smart Match to find your perfect opponent. Unscramble and search for the highest scoring words on the board and fill in the crossword style puzzle!
COMPLETE GOALS AND GET REWARDED
Play your best words to complete daily, weekend, and weekly goals to earn keys and unlock exclusive collectible rewards with Rewards Pass! With a new theme every 6 weeks, there is always something new and exciting to collect! Climb the rewards track and collect them all!
PLAY WORDS AT FULL SPEED WITH QUICK PLAY EVENTS!
The brain train is moving at full speed! Check out Quick Play, the new home for competitive minigames such as Duels! Tap on over to the Events tab to learn more.
BOOST YOUR WORD GAME IN SOLO CHALLENGE
Play against themed WordMaster characters to test and improve your spelling, vocabulary and word skills in this word puzzle ladder. Stay sharp, because as you move up, the WordMasters will get tougher to beat.
COMPETE IN LIGHTNING ROUND
Collaborative meets competitive gameplay in this new, multiplayer fast team mode. Play on a team of 5 players, and face off in a match to play your best words and be the fastest to score the most points!
SWITCH IT UP WITH WORD WHEEL
Do you love crossword puzzles? Do anagrams get your brain wheels turning? Unscramble and challenge your brain by playing solo in this easy-to-play, limited time text twist mini-game.
CUSTOMIZE YOUR WORD STYLE
Show off your word game persona and play words with flair through Stickers, Tile Styles and Profile Frames! You can now also equip Widgets to stay updated with your ongoing matches and favorite events!
Play Words With Friends 2 without third party ads between moves if you previously purchased either Words With Friends Pro or no third-party ads in the original Words With Friends on any mobile device. Be sure to login with Facebook or the email account you used to make the previous purchase to continue to play without third party ads between moves.
Already an accomplished Wordie? Follow us to stay up-to-date on game news, contests, polls and other fun stuff.
www.facebook.com/WordsWithFriends
twitter.com/WordsWFriends
instagram.com/wordswithfriends
youtube.com/wordswithfriends
Play one of the most fun, social word puzzles on mobile! Download Words With Friends 2 today!
The game is free to play; however, in-app purchases are available for additional content and in-game currency.
For more information, see our Terms of Service:  www.zynga.com/legal/terms-of-service and Privacy Policy:  www.zynga.com/privacy/policy
Additional information :
Size 221.6 MB
Requires iOS 11.0 or later.
User reviews :
Get rid of the stickers
I still love this game but am writing again to complain. Do not play the Daily Word Play as it always causes me to shut down my IPad and restart it. Today is different. I had to shut down and restart but I have watched six videos to complete the game, and each time it tells me I need to watch another video. I will continue to play but not the Daily Word Play. I'm hooked on the game. My suggestion is don't get hooked!

I've always loved this game until they put these stupid stickers on the screen. I cannot get rid of it and there doesn't appear to be a way to get rid of it. When I take a screenshot it is no longer recognized as a true screenshot of words with friends. Get rid of it and I will be back to being a happy camper giving a 5 star rating. Not sure what their work around was, but it's all good once again. Happy once again. I'm back because I have a question. Why have you discontinued the word choices like ESQ, DI and JE to name a few. These have been acceptable words until just recently. I even have a few games I'm playing now with those words in them and I cannot use within the same game. Once again, I'm not happy with this game. Again there seems to be a problem with this app. I love playing and play every day but every day the game locks up and I either have to shut down my IPad completely or delete the app and then reinstall it to be able to continue! Otherwise I would give it 5 stars
Developer Response ,
Hello, thanks for bringing this matter to our attention and we're sorry to hear about your experience. Your feedback helps us improve the game for the better. Rest assured that we are diligently working to make Words With Friends 2 more enjoyable to play. Thanks for your time and patience!
Delays and catfish
I play this game often and I enjoy it, but I have been noticing that when I play the lightning rounds with groups, I get an overwhelming amount of men sending me 1:1 games. I know for certain that some of them are Nigerian catfish masquerading as U.S. servicemen and surgeons who are working for the UN and on assignment overseas. I am extremely resourceful when it comes to investigating and can say without any uncertainty that the men are catfish. If anyone from WWF ops wants to discuss, I would be happy to reveal my sources. Also, when I play QuickPlay, my game lags – majorly. My board will still be loading and the opponent has 50 points before I can even look at my letters. Then, in between words, the board will load and load and by the time it finally does, the game is over and I have lost. Other times, it will say it's searching for an opponent and I will close out of the game to restart and try again and a game is in progress and I'm about to lose, which wastes a turn. There are a lot of glitches and the catfishing needs to be addressed. For the time being, I have changed my photo to one of my dog to deter weirdos from sending me games. I have still received quite a few and I'm thinking I may need to be a bit of a catfish myself and change my photo to a sumo wrestler and my name to "Butch" or something of the like to play unscathed.
Developer Response ,
Hi, sorry to hear that you're having issues with your game. Please get in touch with our Player Support team at https://zynga.my/WWF2CSinGame so we can take a look at your account and the issues you mentioned. Please make sure to provide your Player ID also: https://zynga.my/WWF2_PID_PIN when contacting us. Thanks for your time and patience.
Get Words With Friends 2 from App Store
What is your opinion about Words With Friends 2
Bitcoin
Ethereum
MetaMask (ETH)
Xrp
Polkadot
Binance coin
Stellar
Dogecoin
Tron
Elrond
Donate Bitcoin to this address
Scan the QR code or copy the address below into your wallet to send some Bitcoin
Donate Ethereum to this address
Scan the QR code or copy the address below into your wallet to send some Ethereum
Donate Xrp to this address
Scan the QR code or copy the address below into your wallet to send some Xrp
Donate Polkadot to this address
Scan the QR code or copy the address below into your wallet to send some Polkadot
Donate Binance coin to this address
Scan the QR code or copy the address below into your wallet to send some Binance coin
Donate Stellar to this address
Scan the QR code or copy the address below into your wallet to send some Stellar
Donate Dogecoin to this address
Scan the QR code or copy the address below into your wallet to send some Dogecoin
Donate Tron to this address
Scan the QR code or copy the address below into your wallet to send some Tron
Donate Elrond to this address
Scan the QR code or copy the address below into your wallet to send some Elrond