(App) Smoothie King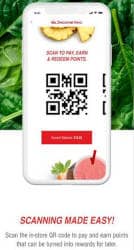 App Description :
Smoothie King Healthy Rewards will be an integral part of your health and fitness journey. Download the Smoothie King app today to order ahead for pickup or delivery, and pay, earn and redeem your rewards.
App Features :
Order ahead for Delivery, Curbside or Pickup to get your favorite smoothie based on your preferred time and location.
Enable background location services to immediately access your rewards account at any store and to receive personalized recommendations.
Enjoy the convenience of using Apple Pay in the app.
Get a special Welcome Offer when you download the app and create an account.
Earn points for every purchase.
Use your points to redeem rewards whenever you choose.
Save your favorite smoothie orders for easy ordering next time.
Stay motivated by unlocking additional benefits with Champion status.
Additional Information :
Size 76.5 MB
Requires iOS 13.0 or later.
User Reviews :
Terrible Rewards System, Good for only Ordering Ahead
The app says that if you order through the app you get points. The points are automatically used and you don't get to choose when to use them. On top of that, the points are used on coupons that you can never use. The life span of that coupon as soon as you unlock is the literal time you unlock it. Let's say you order at 3:27 pm through the app, if you have enough points it "gives" you a 2$ off your next order which expires 3:27pm that exact same day. Don't expect to use their reward system except if you want them to spam your email with promotions even if you have achieved their "Champion" status. All it's good for is it's main purpose of ordering ahead.
Order Ahead Option Only Good When People Show Up For Work
I wonder if openers could have the ability to switch on the app when they are ready to start taking orders. I've found out the hard way (a few times) that you can order and pay ahead and then show up to a closed store. Smoothie King won't refund in these situations so you go on to purchase another breakfast somewhere else, double dipping your emergency breakfast fund and putting you behind schedule. Then you have to go back another time and explain the situation and find proof that you ordered them, totally putting the burden on the customer because someone didn't show up for their shift a week ago. I gave 3 stars bc it is super convenient when it works AND when the employees unlock the door so you can come in and pick up your online order rather than waiting in the car line as if you didn't order ahead.
Ordering Online
I enjoy the convenience of ordering online and I definitely enjoy the smoothies. The ease of selecting an item online in the contactless pick up is wonderful. However, I think when a customer orders online they should get their orders before someone that walks in afterwards.

Case in point, I placed an online order while sitting in the parking lot. Then, a few minutes later, I watched a customer go inside to the counter and place their order and they received their order before I did. This is happened to me on two separate occasions. Once I went inside to let the employees know that I was waiting on an online order they appear to prioritize things at that time.
Has Potential to Be a Must-Have App
I love the design of this app, but there are a few areas that fall short for me.

1. The reward system itself doesn't drive consumer loyalty. Smoothie King needs stronger incentives.

2. Emailed offers (which begin to arrive in your inbox after you've registered on the app) do not include instructions on how to redeem the promotion. I supposedly have a free 20 oz smoothie calling my name… how do I claim it? And what would prevent me from showing the cashier the same email over and over if there are no disclaimers or fine print?

3. Most frustrating of all is not being able to schedule an advance order during closed hours. I have to place my order during my commute if I want my order to be ready to pick up on my way to work in the morning, which is highly inconvenient.

I love Smoothie King. I see value in an app rewarding customers for their loyalty and the ability to pick up your order without the wait. And the smoothies are delicious and nutritious enough to keep me coming back. For now I only plan to use the app to have an in-depth look at the menu as needed. If a few tweaks were made to strengthen the overall functionality, this would be a must-have app.
Get Smoothie King from App Store
What is your opinion about Smoothie King
Bitcoin
Ethereum
MetaMask (ETH)
Xrp
Polkadot
Binance coin
Stellar
Dogecoin
Tron
Elrond
Donate Bitcoin to this address
Scan the QR code or copy the address below into your wallet to send some Bitcoin
Donate Ethereum to this address
Scan the QR code or copy the address below into your wallet to send some Ethereum
Donate Xrp to this address
Scan the QR code or copy the address below into your wallet to send some Xrp
Donate Polkadot to this address
Scan the QR code or copy the address below into your wallet to send some Polkadot
Donate Binance coin to this address
Scan the QR code or copy the address below into your wallet to send some Binance coin
Donate Stellar to this address
Scan the QR code or copy the address below into your wallet to send some Stellar
Donate Dogecoin to this address
Scan the QR code or copy the address below into your wallet to send some Dogecoin
Donate Tron to this address
Scan the QR code or copy the address below into your wallet to send some Tron
Donate Elrond to this address
Scan the QR code or copy the address below into your wallet to send some Elrond