(Game) Hey Color – Paint by Number Art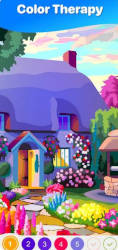 Game Description :
Plunge into the fascinating world of coloring with Hey Color app — a perfect tool to relieve stress & release your inner artist.
Want to take your mind off & relax after a busy day? Let stunning artworks help you beat anxiety, fall asleep quickly or simply pass the time!
Just follow the numbers to bring them to life and get relaxed.
Game Features :
10 000 + COLORING PAGES TO PAINT. Animals, Flowers, Nature, People, Places, Mandalas, Birds, Patterns, Fantasy, Fashion, Lifestyle, Yummy, Messages, Marine, Holidays, For Kids, Transport, Home and Garden, and more.
SPECIAL IMAGES. Color stunning rare images with special effects.
NEW ACHIEVEMENTS. Complete daily missions and get more rewards.
DAILY UPDATES. 8 new artworks are added every day for your joy.
MYSTERY MAGIC IMAGES. Play secret images – unveil the pictures as you color them and enjoy vivid paintings.
EXCLUSIVE BONUS PACKS. We collaborate with a team of artists, who design exclusive pictures especially for you.
ONE-HAND COLORING. Unlike other similar apps, colors change automatically when you move the palette, so you don't need to make 2 taps.
USEFUL HINTS. Enhanced zoom-in helps you find tiny hard-to-spot cells.
QUICK SHARING. Share your finished artworks on all social networks with friends.
BONUSES. Play games on our Facebook page and get bonuses!
NEW WIDGETS. Add our amazing daily pic widget.
HOW TO PLAY
Choose the picture you like.
Color pieces by their numbers.
Done!
Share with friends on Facebook or Instagram.
Relieve stress with color-by-number art book!
Privacy Policy: zephyrmobile.com/privacy/
Terms of Use: zephyrmobile.com/terms/
Additional Information :
Size 314.5 MB
Requires iOS 12.0 or later.
User Reviews :
Keeps Cutting out
Like this app but deleted it. Worked well first 4 pics. But last one impossible to finish. Just a little corner left but can't finish. Can see picture in my works. Press continue and it loads pic. Then ad comes up saying can play for free by watching ad. I do this. Then it lets me click on a color and area to complete, but after one or two clicks, it disconnects back to beginning page. Then repeat this over and over but impossible to complete because it won't stay open. Am going to try reinstalling to see if I that helps.

UPDATE: Response to Developer who wanted to know which picture this was. When I deleted app, I lost my "work " but it was a lovely pic of a woman in silhouette holding a cup of tea, colored in except for tiny section at top. Since reinstalling app, I also powered off my Apple iPad and, though I lost my saved works, this app seems to be working correctly now. Haven't been able to find that specific picture again, but am enjoying doing new ones. Responding here because there also was no way to directly reply to your email asking me to reach out with more info.
Developer Response ,
Appreciate your honest feedback Can you please reach out to support@zephyrmobile.com and tell us which image exactly causes this issue? Thanks.
10/10 Coloring App
I love this app!! These types of apps help me with my slowing down my anxiety throughout the day. I've tried many different ones, but this one is the most useful to me! I don't mind having to watch an ad every here or there, I'm just glad that we have tons of pictures to color for free in result! The artwork is beautiful and I love that it is separated in different categories.

I do have 2 suggestions, though. First, It would be cool if there was a "random" button where, if you clicked it, you would get a random picture to color from any category! Lastly, being the type of person who needs to be organized to function, it would be nice if when after you complete a picture, it is "archived" from the category in which it falls under, and moved to the corresponding completed category in your completed pictures!

These are merely suggestions, and even if they are not fulfilled, I will still continue to be 100% satisfied with this app!! Thank you developers!
Developer Response ,
We are glad to have you as our colorist. Thank you for sharing your kind words with us. It means a lot to our entire team We'll take your suggestions in consideration along with other ideas from our community and try to implement them in future app versions.
Best art game I have ever done!
I have been playing this game for a really long time. It is amazing how you finish it and it looks so real with the shades, the colors that pop out, and the ones that mix in too!

I am guessing that the editors of this game had put a lot of hard work into this game. At first, I thought this game would be like any other pixel art game. But I was wrong!! Yes, it may cut out, or log you out, but it really is a wonderful art game!

Face it. We all love having time on our phones, computers, iPads, and sometimes, even iPods. Some people play battle games like, Fortnite, Battlelands, war robots, or other games some people have never heard of. But some people don't ever sit down, open a calming app, like this game, and play it for a couple of hours. I am glad you made this game so I could be one of the people that does exactly the opposite.

Therefore, I would not consider this a game. I'd consider it a calming, relaxing, art app.

Especially, in this crisis, we all need a app to let all our worries and anxiety go at one point. There are many games where you can do this, but about three years ago, I got this game and fell in love with it.

Many people aren't to good at art, and this game doesn't let you draw anything.

Some people may say this game is dumb or stupid, but for me it is the opposite. Thanks for letting me and my mind go crazy over this game and how good it is. Super relaxing game. I highly recommend it to everyone.
Developer Response ,
Hi, Bob! Thanks for your warm feedback These kind words inspire our artists and developers By the way, if there's any picture you'd like to color on the app, you can send it to us to support[at]zephyrmobile.com – we'll try to create a coloring page from it.
Get Hey Color from App Store
What is your opinion about Hey Color
Bitcoin
Ethereum
MetaMask (ETH)
Xrp
Polkadot
Binance coin
Stellar
Dogecoin
Tron
Elrond
Donate Bitcoin to this address
Scan the QR code or copy the address below into your wallet to send some Bitcoin
Donate Ethereum to this address
Scan the QR code or copy the address below into your wallet to send some Ethereum
Donate Xrp to this address
Scan the QR code or copy the address below into your wallet to send some Xrp
Donate Polkadot to this address
Scan the QR code or copy the address below into your wallet to send some Polkadot
Donate Binance coin to this address
Scan the QR code or copy the address below into your wallet to send some Binance coin
Donate Stellar to this address
Scan the QR code or copy the address below into your wallet to send some Stellar
Donate Dogecoin to this address
Scan the QR code or copy the address below into your wallet to send some Dogecoin
Donate Tron to this address
Scan the QR code or copy the address below into your wallet to send some Tron
Donate Elrond to this address
Scan the QR code or copy the address below into your wallet to send some Elrond