(App) QuikTrip – Coupons, Fuel, Food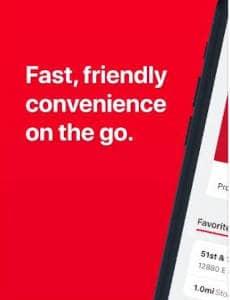 App Description :
Order ahead. Exclusive offers.
App Features :
Make your QT run even faster and easier. Order snacks, drinks & fresh food for curbside delivery or in-store pickup.
Mobile Order & Pay
Order ahead & have it ready when you get here. Select from hundreds of items including chips, candy, bottled drinks & freshly made breakfast, pizza, pretzels, sandwiches & frozen treats from QT Kitchens. More items are constantly being added.
Curbside or In-Store Pickup
Select "Curbside Pickup" to have your order delivered to you at the pump or parking space or select "In-store pickup" to pick your order up at the QT Kitchens counter.
Coupons
Get app exclusive offers & browse in-store & in-app deals.
Fuel Prices & Store Locations
Find nearby locations to view fuel prices, get directions, filter by amenities or place an order.
Save Your Favorites
Set your favorite stores & orders for easier access & quick reordering.
QT. More than a gas station.
Additional Information :
Size 55.2 MB

Requires iOS 12.1 or later.
User Reviews :
New version is harder to use
Love the app and use it weekly. Deals are great, coupons are not bad and finding stores is easy. My only problem is it is now harder to order food and now there is no favored stores on the home page. Why change it when it worked so well?? Ordering food takes longer and I have had freezes but it's no deal breaker. I don't use it that much to begin with, only when I am on a time crunch. My main beef is with your 3 favored stores not on the start up/home screen. You can still save them, but you have to search for all stores in order to see them and what the gas prices are. Why even offer favored stores if you are going to have to search all stores to see them anyway?? Just makes no sense at all. I wish I could have the previous version back…

Update: they have received my review and sent feedback as well. Said they were taking it into future considerations since I wasn't the only one not pleased with the favorites being omitted on the home screen. 2 new updates later…. still no change. No change on their part, no rating change on my part. Only thing holding it back…

Final update: they have FINALLY put favorites on the home screen. It's took long enough. Now it's back to being a useful app again.
Developer Response ,
Hi! We will pass along your concerns about the favorites on the home page going away. Thank you for providing us feedback! Have a great night.
Always open! Always friendly!
Nearly always the same. (Older QTs are spoilers)

I love the new GEN 3 stores. I really love that all of the products are in the exact same place in the store so it truly is a quick trip for me to walk into any of them get exactly what I want and be out the door super fast.

It would be great if there was more promotion about customers can use both sides of the register at the same time. Some people don't know that and I feel awkward stepping in front of them to prove the point.

• My one and only suggestion is when I try to re-order food it puts the food you want into the cart but it also attaches it to the exact QT you were shopping at last time. I drive for a living and so are use multiple QTs in the KC metro area. But I always order the same food. Could you possibly make a choice that allows ordering the same food and allows selecting nearest QT?
Developer Response ,
Hello! Thanks for an awesome review, we're glad that you enjoy the app. We've forwarded your feedback to our developers. Thanks for the suggestion! -Tariq
Opening an account fail
I've tried everything to open an account with no luck. I get to the account verification and it throws out an error Qt3000i. I went in through FB and it tells me, unable to complete.

Please help, I'd really like to give the app a chance and change my review..

I apologize I wasn't able to call you back. I wanted to let you know that the app didn't like my primary email account. I was able to open an account with my secondary email. I will improve my star review because I believe this is a fantastic app, lots of options… however I think if you're going to make it possible to purchase store items like a loaf of bread there should be more than 6 items. I'm seeing that as maybe something you are working on? I would like to add there is no option for ordering your fantastic fresh brewed Iced tea (my absolute favorite thing to drink) if I have my young kids with me while I gas, there is no way I'm going inside to grab a tea or sandwich. I would love to see the entire store in the app along with your huge candy and snack options! I would definitely buy more if I'm not standing in there telling my kids to hurry up and pick! Thank you for listening!
Developer Response ,
Please give us a call @ 800.247.3452 option 6. We would like to help.
Get QuikTrip from App Store
What is your opinion about QuikTrip
Bitcoin
Ethereum
MetaMask (ETH)
Xrp
Polkadot
Binance coin
Stellar
Dogecoin
Tron
Elrond
Donate Bitcoin to this address
Scan the QR code or copy the address below into your wallet to send some Bitcoin
Donate Ethereum to this address
Scan the QR code or copy the address below into your wallet to send some Ethereum
Donate Xrp to this address
Scan the QR code or copy the address below into your wallet to send some Xrp
Donate Polkadot to this address
Scan the QR code or copy the address below into your wallet to send some Polkadot
Donate Binance coin to this address
Scan the QR code or copy the address below into your wallet to send some Binance coin
Donate Stellar to this address
Scan the QR code or copy the address below into your wallet to send some Stellar
Donate Dogecoin to this address
Scan the QR code or copy the address below into your wallet to send some Dogecoin
Donate Tron to this address
Scan the QR code or copy the address below into your wallet to send some Tron
Donate Elrond to this address
Scan the QR code or copy the address below into your wallet to send some Elrond