(Game) Infinity Loop Hex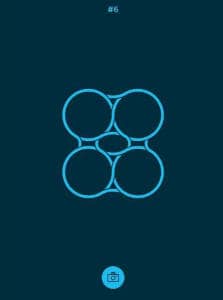 Game Description :
Looking for a simple and clean game? The new version of Infinity Loop is here! Now you have a whole new collection of infinite levels to play within an hexagonal board. Enjoy this new relaxing game!
Game Features :
This Hexagonal-based game allows you to build loops in a new way. We have kept the same structure of the Infinity Loop game: a clean and simple game that helps you improve your focus and attention levels.
Infinity Loop: HEX allows you to create closed shape patterns by connecting all of the pieces. It is a puzzle game but carefully built to provide moments of relaxation and joy.
We strongly believe that this Hexes game may relieve you from moments of stress as there is no pressure to solve the levels and no timers at all. We keep it without timers as we understand that everyone has their own pace and time shouldn't be a measure of intelligence: The ability of solve the puzzle in the end is the sole extent of someone's capacity and intelligence.
If you are looking for a relaxing game type, enjoy the new loop with this hexa game.
Say no to "stress" and enjoy the loop!
How to play Infinity Loop: HEX?
The basics are the same from our main game, because the goal is the same (Reach perfection):
Connect all of the lines and corners to create closed shapes
Watch our video trailer to see how it works
Do you like our work? Connect below:
Like: www.facebook.com/infinitygamespage
Follow: twitter.com/8infinitygames
Visit: www.infinitygames.io/
Additional Information :
Size 127.8 MB
Requires iOS 11.0 or later.
User Reviews :
Great Way to Practice Mindfulness/Meditation
This app has relaxing music and simple design. It easy to play. No score or timer. It's a great way to train you brain to focus on something to think about instead of your worries which is what meditating is as well as mindfulness. You are being present in the moment listening to the music and noticing the shapes you are making. You are training your brain to think about something else because you brain is working to solve the pattern.
Love the animations but the ad positioning
Like I said in the other review for loop (original).

How the ads show up are good. Right when you finish a level and you tap the screen to go to the next level. When there's an ad, it plays and then done. Then it brings you back to the same level and THEN you can tap and see the animation to the next level, but for this game the ad skips the animation so when you return to the level it's on the next level and you don't get to see the nice, simple, relaxing animation to the next level.

To me if the devs could put the same ad positioning from loop (original) (where the ad spit doesn't interpreted the animation to the next level) into this game it'd be better.
Yes, Yes, and more Yes!
I absolutely love this game! I have a hard time with puzzles and get stressed over them easily, but every time I open this app I always make progress because the developers know how to make a good game.

My only, and I mean ONLY, complaint is that sometimes when I want to tap on one hex piece I tap on another hex piece because I don't know where the border of the hex piece is. It would be cool if they put some type of highlight thing so I could see the hexagon shape for the piece that you tap on.

The game itself in its current form is still so good. I will probably never uninstall this game from my phone.

Good job developers for making a good game!
Very enjoyable
I find it soothing on a spiritual level to see order emerge from apparent randomness. This is different from any other game I currently have, and I enjoy it very much. It seems well designed. There are a couple of icons in the menu that I don't know the meaning of (explanatory words would be helpful), but that hasn't stopped me from loving the game.
Good mind game that's also calming!
It's a good game to play, I got it yesterday and am on level 130 (but I had a long plane flight so I had some time to spare). Now it's pretty hard at times so sometimes it's frustrating when you are trying to finish the loose ends but overall a good app. No annoying ads and it has a calming look to it.
Get Infinity Loop Hex from App Store
What is your opinion about Infinity Loop Hex
Bitcoin
Ethereum
MetaMask (ETH)
Xrp
Polkadot
Binance coin
Stellar
Dogecoin
Tron
Elrond
Donate Bitcoin to this address
Scan the QR code or copy the address below into your wallet to send some Bitcoin
Donate Ethereum to this address
Scan the QR code or copy the address below into your wallet to send some Ethereum
Donate Xrp to this address
Scan the QR code or copy the address below into your wallet to send some Xrp
Donate Polkadot to this address
Scan the QR code or copy the address below into your wallet to send some Polkadot
Donate Binance coin to this address
Scan the QR code or copy the address below into your wallet to send some Binance coin
Donate Stellar to this address
Scan the QR code or copy the address below into your wallet to send some Stellar
Donate Dogecoin to this address
Scan the QR code or copy the address below into your wallet to send some Dogecoin
Donate Tron to this address
Scan the QR code or copy the address below into your wallet to send some Tron
Donate Elrond to this address
Scan the QR code or copy the address below into your wallet to send some Elrond