(Game) Differences – Find & Spot them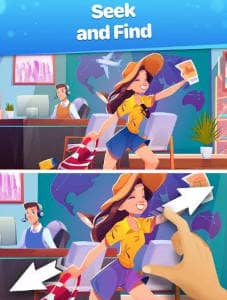 Game Differences :
Spot all the differences between two pictures! Focus on the details and train your brain!
Test your detection and concentration skills to see how many differences you can find in two seemingly identical images.
Game Features :
Compare two pictures to uncover all the difference
Find the different object and tap on it
Try to find all differences in time
Enlarge the picture to see it better
Use hints if you need a clue
Enjoy tons of levels!
How many differences can you find? Take the challenge now!
Additional Information :
Size 141.7 MB
Requires iOS 11.0 or later.
User Reviews :
Ten differences…
I've played this game for a few years now, at times it was pretty boring…some levels were pretty easy and solving some within 2-3 seconds…while other required the minutes or more. What was frustrating were the ads, and about after 3 moths I ponied up and bought this game…some of the more challenging games are food levels and actual photographs…

This game loaded ok, sometimes around level 10,000 the game started taking a little longer…iPad Pro 2nd gen….when I purchased my 2020 iPsd Pro 12.9", this game really flew when opening and between levels….then after about 6 months the game loading crawled along and levels slowed as well…

This afternoon I noticed on my 12.9" iPad Pro took forever to open, I even shut the iPad down completely and that didn't even to any good…I checked for updates and there didn't seem to be anything new, the app was up to date as far as I was concerned…then awhile later I opened the app and it took awhile, and when it did I opened a level from where I left off…I was surprised to see that some levels had ten differences to find, what an improvement…opening the app seemed a bit faster as well as the levels…on the iPad 12.9" I am up to levels in the 15,000 area…yes, I play it daily.
Developer Response ,
Hi!Thanks a lot for your feedback. We are testing now new modes with more differences, we hope you will enjoy them! If you are facing any problems, please contact via the "Help" section in the app or us at support@easybrain.com. We will try our best to help you out.
Very nice game
The game is very good and funny. But the same add of 30 seconds after every level of 1 minute and a half is too much. I wouldn't mind seeing the same add every 3 levels or different shorter adds after every game.

As for the game: this developer is a good developer. Great game and graphics.

Edit: although it is true that most of the adds can be skipped by clicking on a cross that appears after some time, as the developer kindly suggested in their reply to me, there is one add (that coincidentally was the only one that appeared to me at the beginning) which hides this cross. The add is for a Solitaire game in the Vungle add network. I know now that the developers are not to blame here, but they should try to get this add removed (it was my first approach to your game and almost made me delete it). Now I am at level 108 and I still love this game: beautiful drawings!! And the game is simple and to the point. You truly did an awesome game!! Congratulations and thank you for your efforts!
Developer Response ,
Hi! Thank you so much for your positive review, we are very happy to know you are satisfied with the game. Could you please give us the screenshots of these unskippable Ad using the "Help" section inside the app, or at support@easybrain.com? We will appeal a complaint to an advertiser.
My review
I really like the game and it just so challenging and that's why I love it because I love challenging stuff 8͟8͟%͟ of my apps are challenging games but, when I don't know if you guys feel this too but whenever I play this I just can't find some stuff that I need to find to complete the challenge and I love the game and all like I love everything about it But the one thing I love the game but I don't play it much because of how difficult it gets for me and my eyesight is kind of bad so hm I was thinking you can probably make like different levels like easy hard and medium? And like pick which type of challenge you want to do? But you please do what you wanna do cause I don't want to control you guys go for just a game and I love the game but I just saying just for people who have bad eyesight like me can probably make a easy level for them just to help but just saying you don't have to like I said earlier I don't want to control you guys just over a really fun game and I want to make sure you guys think it's fun because I already think it's fun but my eyesight is actually good just a little bit bad it's not fully bad but yeah well thank you for making this game
Developer Response ,
Hi, thanks for sharing your opinion. We will certainly take your suggestion into consideration, thank you again! Please stay tuned for our future updates!
Get Differences from App Store
What is your opinion about Differences
Bitcoin
Ethereum
MetaMask (ETH)
Xrp
Polkadot
Binance coin
Stellar
Dogecoin
Tron
Elrond
Donate Bitcoin to this address
Scan the QR code or copy the address below into your wallet to send some Bitcoin
Donate Ethereum to this address
Scan the QR code or copy the address below into your wallet to send some Ethereum
Donate Xrp to this address
Scan the QR code or copy the address below into your wallet to send some Xrp
Donate Polkadot to this address
Scan the QR code or copy the address below into your wallet to send some Polkadot
Donate Binance coin to this address
Scan the QR code or copy the address below into your wallet to send some Binance coin
Donate Stellar to this address
Scan the QR code or copy the address below into your wallet to send some Stellar
Donate Dogecoin to this address
Scan the QR code or copy the address below into your wallet to send some Dogecoin
Donate Tron to this address
Scan the QR code or copy the address below into your wallet to send some Tron
Donate Elrond to this address
Scan the QR code or copy the address below into your wallet to send some Elrond