(App) Papa Johns Pizza & Delivery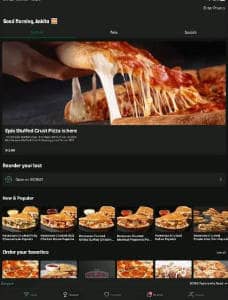 App Description :
Introducing No Contact ordering! Delivery orders can select No Contact Delivery option for a virtual handoff instead.
The Papa Johns App makes ordering your favorite pizza online even easier. You can earn free food, find Papa Johns locations near you, get special online offers, and track your delivery order right to your door.
App Features :
Earn Free Food
Earn Papa Rewards points and redeem your Papa Dough towards any menu item (account login required).
Special Delivery Offers
Get offers from your neighborhood Papa Johns. Craving a slice of pizza? Turn on push notifications to make sure you never miss an online offer for your next mobile order and delivery.
Favorites and Past Orders
Save time on your next food delivery with your Pizza faves and past orders. Quickly reorder from your favorites, or from any order in the past 90 days, with an account.
Find a Papa Johns Pizza Restaurant Near You
Enter your zip code or city to find your local Papa Johns for online orders, pizza delivery or carryout.
Pay Your Way
Choose from cash, credit card or Apple Pay.
Order Food Ahead
Use Future Ordering for your next Papa Johns order. Order tomorrow's lunch or this weekend's party spread online today. Choose when you'd like your food to be delivered or ready for pick-up.
Papa Track Your Pizza
Track your food delivery order from dough to door. Get push notifications when your order is on its way.
For use at U.S. locations only. Have questions or comments about this app? Contact us at www.papajohns.com/contact-us/
Additional Information :
Size 70.5 MB
Requires iOS 13.0 or later.
User Reviews :
Papa's in the house!
Great pizza! Convenient app! Amazing specials like BOGOs and discounts! Only two things that need work. 1) Fix the bug that duplicates my saved delivery addresses. I have 10 or so of my apartment and at least 5 of my family's address. They show up as something like Apartment1, Apartment2, Apartment3, etc. I can't customize or delete any of them. 2) Add more payment options like Venmo and other similar services! Add options for splitting the bill. As a college student, I can't tell you how many times I've had to foot the bill up front and then try to figure out how to split the cost among 10 other people. Plus, actually getting people to pay me back is a chore in of itself. Maybe add a built-in calculator. That would at least make it a little bit more social, prompting customers to get pizza with friends. Just spit-ballin here.

Update: Bugs have been fixed. No more duplicate addresses. I love Papa John's and I love using this app! Fast food joints trying to kick start their app should take notes.
Amazing pizza but mediocre app
I love this place's pizza and have for well over half of my life. The more I use this app the more these issues irritate me… and I'm not going into everything I like about this app, just what I dislike this time around. It irritates the snot out of me having to feel guilted into tipping a damned driver BEFORE I receive my food. Because I have seen the difference in how things are handled with a tip included or excluded and trust me, either you tip before or you really regret it later.

10 cents for Parmesan packets and crushed red pepper? I don't mean to seem like such a penny pincher, but this crap adds up SO FAST and before you knew it, those two simple pizzas you were craving turned into a $60 order!! But it is really lame that they charge for these now when there are other ways of getting money from people…, JUST ask the developers at Niantic and Pokémon Go; they have many many underhanded ways of milking money from us while acting like everything is business as usual..

Their soda selection is underwhelming, but not as underwhelming as their barely mediocre rewards program. Mind you, Jamba Juice has everyone beat with the most lackluster rewards program I'm a part of, but this one is close when it comes to being humored that your spending actually elevates you rapidly to your free stuff. Yeah
Good but could be better
It could be more intuitive, I didn't see how to leave a tip the first time I used it. If you ordered a custom pizza recently you should be able to select that from the first option of standard pizzas without having to create it each time (even list those first.) this past order I wasn't able to find a size selection for the pizza, not sure if thats a new thing or what. I can't imagine they don't have small or extra-large pizzas anymore… It'd be really nice if they just offered meal deals like two large two-topping and … for $. Over the phone I always get a two-medium or two-large special with a side. Maybe there could be an option to get limited time offers (that are actually a deal) to order within an hour etc. that could be sent in the evenings if you haven't ordered or received an offer in at least a week, or before big games etc. Once you get to know how to use the app it is good but not great but it's still better than calling in an order. — If I wasn't lazy I'd call and see what the deals are though.
Get Papa Johns Pizza from App Store
What is your opinion about Papa Johns Pizza
Bitcoin
Ethereum
MetaMask (ETH)
Xrp
Polkadot
Binance coin
Stellar
Dogecoin
Tron
Elrond
Donate Bitcoin to this address
Scan the QR code or copy the address below into your wallet to send some Bitcoin
Donate Ethereum to this address
Scan the QR code or copy the address below into your wallet to send some Ethereum
Donate Xrp to this address
Scan the QR code or copy the address below into your wallet to send some Xrp
Donate Polkadot to this address
Scan the QR code or copy the address below into your wallet to send some Polkadot
Donate Binance coin to this address
Scan the QR code or copy the address below into your wallet to send some Binance coin
Donate Stellar to this address
Scan the QR code or copy the address below into your wallet to send some Stellar
Donate Dogecoin to this address
Scan the QR code or copy the address below into your wallet to send some Dogecoin
Donate Tron to this address
Scan the QR code or copy the address below into your wallet to send some Tron
Donate Elrond to this address
Scan the QR code or copy the address below into your wallet to send some Elrond