(Game) AdVenture Capitalist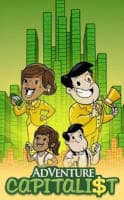 Game Description :
Play the world's greatest money making idle game! Ever dreamed of owning your own business? Being the master of your own destiny? Becoming a capitalist tycoon? Do you just dream about money, money and MONEY, even when you sleep? Then AdVenture Capitalist is the idle clicker for you!
Game Features :
FROM RAGS TO RICHES
Start from the humble roots of running a lone lemonade stand to becoming the CEO of a cash printing, money making multinational conglomerate.
SPECULATE TO ACCUMULATE
Sick of clicking buttons? Expand your capitalist empire when you hire managers to automate and boost your profits. The only way to go is UP UP UP!
DRESS UP LIKE A MILLION DOLLAR TROOPER
Deck out your Capitalist in custom outfits and accessories that not only look super duper, but also boost your businesses.
INVEST YOUR WAY TO SUCCESS
Attract eager Angel Investors to amplify your money-making potential. Each Angel earns you a boost to your profits. Every penny counts!
JOIN THE SPACE RACE!
Unlock AdVentures to the Moon and Mars and discover new investments, upgrades, managers, and items in space.
COMPETE IN LIMITED TIME EVENTS
Investors have the opportunity to play Limited Time Events which are on a regular rotation to earn rewards helping you become an octillionaire! Climb the leaderboard and collect event-specific Managers for even more Rewards in:
The Root of all Evil
Saturday Morning Fever!
Live Your Profits
Live Rich & Profit
Cashella
For the Love of Money
The Excellent AdVenture
Insert Coins to Continue
Cashalot
1% Land
Merry Merger
Black & Blue Friday
A Nightmare of Easy Street
A Capitalist Carol
New You Resolutions
Profitabowl
Cakeday
THE SHOP
Catch up to or pull ahead of competition, Investor, by visiting the store: Purchase more Gold, Time Warps, or specific Managers to help boost your finances. Your one stop shop for everything a fancy Investor could ever want while building an exorbitantly wealthy empire
WATCH THE NUMBERS ROLL IN
Get on with your day and make money while you eat, drink, or sleep. It's impossible to lose when you live the idle dream!
Your AdVenture of a lifetime starts today!
But don't just take it from us — here's what your fellow investors have to say:
AdVenture Capitalist exudes a campy self-awareness of capitalism's most obvious flaws while simultaneously encouraging total indulgence in them. – The Washington Post
Mathematics plus economics all in one. – GeekDad
THIS GAME IS BOTH FUN AND… relaxing. It runs when I'm not playing so I never have to worry about playing it all the time. It runs when I'm not playing or sleeping! It's crazy, I love that game so much that I am kinda addicted. – A fellow Capitalist
Having problems or want to share a great idea? We would love to hear from you!
bit.ly/AdCapSupport or contact us in game by clicking Menu > Connect > Help & FAQ
Become an Investor now:
Facebook: www.facebook.com/AdCapHH/
Twitter: twitter.com/AdVenture_CapHH
Instagram: www.instagram.com/adventurecapitalist_hh/
YouTube: www.youtube.com/c/AdVentureCapitalist
Reddit: www.reddit.com/r/AdventureCapitalist/
AdVenture Capitalist is free to download and play, but it also allows you to purchase virtual items with real money inside the game. You can disable in-app purchases in your device's settings.
Playing AdVenture Capitalist requires an internet connection. AdVenture Capitalist includes advertising for third parties, some of which may be targeted to your interests. You may choose to control targeted advertising by using your mobile device settings (e.g. by re-setting your device's advertising identifier and/or opting out of interest based ads).
Terms of Use: hyperhippogames.com/terms-of-use/
Privacy Policy: hyperhippogames.com/privacy/
Additional Information :
Size 711.1 MB
Requires iOS 10.0 or later.
User Reviews :
Absolutely amazing!!!! Well worth it!! 🙂
Absolutely worth it!!!!!

A lot of games nowadays on a mobile platform have a strong side for "pay to play" gamers and although you can stand well in them, you don't go far without micro transactions and even then it's not enough.

This game however, you can climb insanely with your ingame wealth and as others have stated, you can watch ads by choice and the revenue and rewards in exchange are far beyond worth it as it can double your offline earnings, double your current profits if online and the speed of them, and it occasionally gives you offers for the purchasable items (i.e. gold, timepacks, etc.) for free just for watching ads. It's a smart and clever way that helps the developers make revenue and rewards the players heavily in return.

For its playability? I've been on all three planets already and I see why people would find the repetitiveness of it, but there's always an event that comes up with a wealth-filled reward system as well, and the game in a general if you have patience and not the attention span of a fly can be highly entertaining, and you can feel like you're rich, too.

So, I find this game absolutely worth it, and if you've read this, go out there you dandy Capitalists and make some money already!!! Well worth the 5 Stars!!
Amazing and easy-to-play
Now a lot of reviews I find to be, for the most part, fake. Robots saying how amazing this game or that game is and whatnot. But I can assure you that I'm not a robot And if I'm going to be completely honest, I've never really been a fan of games like this. Some of you from the early 2010s will remember a popular game called "Cookie Clicker" And it was fun, but got boring after awhile. Even games similar to that on mobile were kind of just, bland. And then I saw an ad for this. I thought to myself "ugh, not another one of those pesky ads," and I was about to click the big x in the corner. But it seemed kind of interesting so I stayed to the end. At the end was a demo, and for a second I forgot it was an ad, cause I literally finished the demo, which was about 2 minutes. Afterwards I got the app and I'm just having so much fun. It's awesome how it goes on in the background, like if I'm in the middle of playing and then my roommate reminds me to study, I can easily put down my phone. It's addicting, but not in the sense that you'll constantly be playing. Because it's an AFK kind of game, I can stop playing whenever my friend or someone else tells me to do something. Awesome game, easy to play and everything. It's all the awesomeness of every mobile game put into one, convenient structure.
Get AdVenture Capitalist from App Store
What is your opinion about AdVenture Capitalist
Bitcoin
Ethereum
MetaMask (ETH)
Xrp
Polkadot
Binance coin
Stellar
Dogecoin
Tron
Elrond
Donate Bitcoin to this address
Scan the QR code or copy the address below into your wallet to send some Bitcoin
Donate Ethereum to this address
Scan the QR code or copy the address below into your wallet to send some Ethereum
Donate Xrp to this address
Scan the QR code or copy the address below into your wallet to send some Xrp
Donate Polkadot to this address
Scan the QR code or copy the address below into your wallet to send some Polkadot
Donate Binance coin to this address
Scan the QR code or copy the address below into your wallet to send some Binance coin
Donate Stellar to this address
Scan the QR code or copy the address below into your wallet to send some Stellar
Donate Dogecoin to this address
Scan the QR code or copy the address below into your wallet to send some Dogecoin
Donate Tron to this address
Scan the QR code or copy the address below into your wallet to send some Tron
Donate Elrond to this address
Scan the QR code or copy the address below into your wallet to send some Elrond