(App) Panera Bread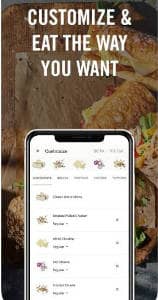 App Description :
Unlimited premium coffee! Get your MyPanera+ Coffee subscription today. Order ahead on the Panera app.
Never wait in line again. With the Panera Bread app, it's easy to order your favorites made just the way you like them, even when you're on the go.
App Features :
Digital Gift Cards are now available for purchase in the Panera App. Choose an amount and a date to send to recipients.
Order for Curbside, Rapid-Pick Up®, or Delivery and get your food when and where you want it.
Reorder your recent Rapid-Pick Up or Delivery orders using the Rapid Reorder feature.
Customize your meal to make it just the way you like it — with this or without that.
Track your contactless Delivery order in real time, from the cafe directly to your door. $1 delivery on any order.
Join MyPanera and start earning rewards right away. Review your personalized rewards any time.
Additional Information :
Size 148.6 MB
Requires iOS 13.0 or later.
User Reviews :
Only One Thing Needs Changing
I love this app with one exception. It only asks for the description of one car. You need to be able to put in the description of all the cars in your household or of two cars at the very least. Then it needs to ask you to select which car you are in BEFORE you place your order. If you try to change the car after you place your order, then it is too late. When you get to the restaurant, it is hard to get the staff to answer the phone to tell them that you are in a different car. I've watched a staff member holding my food, look for the wrong car, and turn around to go back in the restaurant. We constantly have to change the car description, and even with that, we rarely go in the right car because different family members go to pick up the food. Very frustrating! Everything else about the Ap is great. Ordering and customizing the food is easier than ordering in person, and paying for the food is so convenient. I never have to dig out my credit card. Fix the thing about the cars, and it will be the best Ap on my phone.
Panera app vs. Starbucks app
For the starbucks app, I click 3 buttons: the sandwich I want, the drink I want, and checkout. The process to order is like 15 seconds. The panera app asks all these unnecessary questions like "do you want to go to the store you always go to?" And "do you want your food now or 2 weeks from now?" The total time to checkout is longer than how long I flip through shows on netflix before deciding to watch the office for the 10th time.

They're really trying to get ppl to be regular shoppers with their coffee program but then when you add a coffee with 1 syrup flavor, the app says that the reward can't be applied at all. I don't mind the $.69 fee for caramel syrup but it really confused me the first time I ordered when the pop up said the free coffee wasn't applied. I had to find out in my second order exactly what was going on.

Last thing, the Starbucks app knows why you are on the app. The buttons are large and use color and location queues so you can see exactly where to go without thinking/reading. But when you log onto Panera, the way it's laid out with breakfast near the bottom, it's like the app's first question is "wait who are you again?"'not the best for subconscious brand loyalty I'm sure.
Thank you Panera!
The Panera by my house in Des Plaines was closed after the pandemic hit. We were really disappointed because between breakfast, lunch and dinner, Panera had become a staple of our weekly routine. You provide a healthy, affordable solution with quick meals for my wife, my son and me at an extremely hectic time in our lives!!! Recently a new Panera has opened even closer to our house. We were ecstatic to learn about it, however this cafe uses door dash for delivery. My wife just gave birth to a beautiful baby girl, but with Covid and her pregnancy and everything else we have not been picking up or dining in anywhere. The delivery from Door dash has been frustrating to say the least, but Panera's dedication to maintaining high standards, fair pricing, delicious food and high standard of customer care has kept us coming back. My daughter was born 2 days ago and in our first night home we decided to order comfort food from our local Panera. While door dash forgot our beverages, the manager at the cafe presented me with my options that were more than fair. Thank you Panera!!
My favorite
My review would get 5 stars if Panera would stop taking away the Thai chicken salad, and also if the location in my city didn't become god awful all of a sudden, but they deserve a little praise. This is my favorite place ever, so I know one store doesn't speak for all Panera's, I just can't get over what it once was. The one in my city must just have bad ingredients or something, because it's not even close to what I'm used to. I could convince myself to pay for this over priced food when it was good, but now that my favorite salad to eat this time of year is gone and the place almost has more of a fast food feel (my food is always thrown together and the quality is long gone), it's hard to keep frequenting this location. Anyways, Panera gets my 4 star review this time because I signed up for the "free" coffee subscription, which was great, and they ACTUALLY EMAILED me when my subscription was about to renew. Nothing's worse than being low on funds and seeing some random subscription come out of your account. Thankfully, Panera has a heart and was so kind as to notify me before that happened. So I canceled and now all is well! Love u guys <3 bring back Thai chicken salad. now.
Get Panera Bread from App Store
What is your opinion about Panera Bread
Bitcoin
Ethereum
MetaMask (ETH)
Xrp
Polkadot
Binance coin
Stellar
Dogecoin
Tron
Elrond
Donate Bitcoin to this address
Scan the QR code or copy the address below into your wallet to send some Bitcoin
Donate Ethereum to this address
Scan the QR code or copy the address below into your wallet to send some Ethereum
Donate Xrp to this address
Scan the QR code or copy the address below into your wallet to send some Xrp
Donate Polkadot to this address
Scan the QR code or copy the address below into your wallet to send some Polkadot
Donate Binance coin to this address
Scan the QR code or copy the address below into your wallet to send some Binance coin
Donate Stellar to this address
Scan the QR code or copy the address below into your wallet to send some Stellar
Donate Dogecoin to this address
Scan the QR code or copy the address below into your wallet to send some Dogecoin
Donate Tron to this address
Scan the QR code or copy the address below into your wallet to send some Tron
Donate Elrond to this address
Scan the QR code or copy the address below into your wallet to send some Elrond