(Game) Sudoku Plus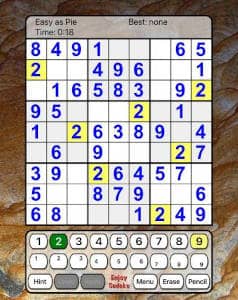 Game Description :
With unlimited play at seventeen difficulty levels, novices and experienced players alike will appreciate 🙂 Sudoku +. Our tutorial, extensive feature set, and advanced hint system offer something for every player. The more you play, the more you will enjoy it!
Our multi-stage hint system starts with a gentle reminder to get you back on track, and works up to an illustration of the exact technique to use and how it applies to the current board. Our hints ease those frustrating moments and teach you how to be a better player.
Game Features :
Puzzle generator for unlimited play
Scan puzzles from books/newspaper using camera
17 difficulty levels, something for everyone
Tutorial teaches you new techniques
Large, high contrast digits are easier to read
Enter games from the newspaper
Solver helps you with games from the newspaper
Advanced techniques at the higher levels, including X-Wings, sashimi fish, and XY-Chains
User interface optimized for fewer touches
Choice of six color schemes
Never covers up the board while you are playing
Infinite undo/redo
Undo to the last solvable position
Board solvable indicator
Automatic or manual pencil marks
Save your game while you try alternatives
Automatically saves your game when you get a phone call, switch applications, or lock the phone
Highlighting helps you discover patterns
Game clock; compares your time to other players
Avoids graphic frills that distract from play
Choice of digit styles, including Kanji and Hanzi
All games are true Sudoku, with symmetry and a single solution that can be discovered by logic alone. If you doubt that a puzzle can be solved by logic, simply have the hint system explain it to you step by step.
If you enjoy Sudoku, this is the app for you!
Additional Information :
Size 5.3 MB
Requires iOS 12.0 or later.
User Reviews :
Free version is so good I had to upgrade
I've been playing this for a while. I have another free version on my phone, and it has two big drawbacks: 1) lately it is inundated with ads, and 2) if I'm stuck, I can reveal the answer but I don't learn anything.

This version is great because if I'm stuck, there are tutorials, which get more and more in-depth. For a while I didn't understand about the "fatal combination" or whatever it's called — what it is, there are some number patterns that would allow for two correct solutions. The pure Sudoku always has a solution and only one solution. So in addition to not having two of the same number in a row, column or rectangle, I also can't have a situation where there's more than one possibility. I'm learning. (Slowly). The tutorials proceed slowly, so if I get it sooner, I can return to the game sooner.
Best Sudoku training game ever
I rarely write reviews but this game deserves one. I've tried lots of others in the app store just to get some variety but this is the best one, hands down. The range of difficulty is amazing, I can dial in exactly how hard I want it to be – some patterns are too hard or time consuming for my preference so I can dial it down but still keep it challenging. The tutorials are excellent, the way it compares your time against other players is great, and the puzzles themselves are top-notch. Can't say enough good things about this game. If I had to find an area of improvement it would be the graphics – they're functional but not as nice as some other games out there. But they're not too bad and there are some customization options which are nice. Great game and kudos to the developers!
Best iOS Sudoku – only one missing feature
Probably the best & most complete Sudoku app on iOS. I love the many difficulty levels and the built-in training & hint system as well as the ability to create puzzles from the camera and photo library. The only missing feature is having "central" pencil marks in addition to the standard corner marks. I like using the Snyder (corner) notation to keep track of when there are exactly two possible positions for a number in a square, but I would also like to note where an individual cell has restricted possible solutions. The only app I am aware of that does this is "Classic Sudoku" by Cracking the Cryptic. I wish :)Sudoku+ had this feature – then it would be the only Sudoku app I need!
Get Sudoku Plus from App Store
What is your opinion about Sudoku Plus
Bitcoin
Ethereum
MetaMask (ETH)
Xrp
Polkadot
Binance coin
Stellar
Dogecoin
Tron
Elrond
Donate Bitcoin to this address
Scan the QR code or copy the address below into your wallet to send some Bitcoin
Donate Ethereum to this address
Scan the QR code or copy the address below into your wallet to send some Ethereum
Donate Xrp to this address
Scan the QR code or copy the address below into your wallet to send some Xrp
Donate Polkadot to this address
Scan the QR code or copy the address below into your wallet to send some Polkadot
Donate Binance coin to this address
Scan the QR code or copy the address below into your wallet to send some Binance coin
Donate Stellar to this address
Scan the QR code or copy the address below into your wallet to send some Stellar
Donate Dogecoin to this address
Scan the QR code or copy the address below into your wallet to send some Dogecoin
Donate Tron to this address
Scan the QR code or copy the address below into your wallet to send some Tron
Donate Elrond to this address
Scan the QR code or copy the address below into your wallet to send some Elrond