(Game) MONOPOLY Solitaire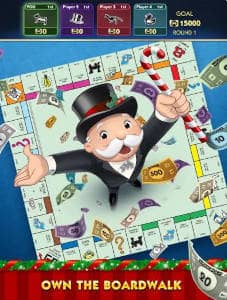 Game Description :
Classic Solitaire meets MONOPOLY in this new mash-up brought to you by Hasbro and the original creators of Solitaire! Now is your chance to play these two classic games for FREE and become a MONOPOLY millionaire.
Easy to play but impossible to put down, MONOPOLY Solitaire is a relaxing card game with an exciting twist. Earn MONOPOLY Bucks and roll the dice as you play each solitaire hand. Work your way along the Boardwalk, collecting properties and building houses and hotels as you go. You'll use your hard-earned cash from playing solitaire! Puzzle your way through each solitaire challenge to earn more rolls and get ahead of your opponents. Collect rent from all your properties and ace the game by being the richest landlord on the Boardwalk!
Play solitaire and the MONOPOLY board game in a way you've never experienced before! Your opponent got ahead of you and purchased your favorite property? No problem, you'll have a chance to take over the property and build your MONOPOLY empire! Fast gameplay is guaranteed and you never need to worry about running out of time to finish the game. Play the game anywhere and anytime you want.
Enjoy one of the most iconic board games from Hasbro coupled with the most popular solitaire game from MobilityWare. Are you ready to challenge yourself and become the richest landlord in the world of MONOPOLY? Join us and download MONOPOLY Solitaire today!
Game Features :
Enjoy all your favorites from the MONOPOLY GAME BOARD, but be careful..Jail is around the corner!
Use STRATEGY to master the boardwalk.
Enjoy ENDLESS SOLITAIRE levels!
PASS GO to collect Rent, you win more each time you pass!
Test your luck with the CHANCE CARDS. Can you change your fate?
EARN MONOPOLY BUCKS and MONOPOLY moves by completing solitaire deals. You can play as many solitaire games as you want!
COLLECT PROPERTIES, buy HOUSES and HOTELS and EARN RENT to win the game! Just like the MONOPOLY game you remember.
Play the game WHENEVER YOU WANT as a single player.
Download and play the game for free!
The MONOPOLY name and logo, the distinctive design of the game board, the four corner squares, the MR. MONOPOLY name and character, as well as each of the distinctive elements of the board, cards, and the playing pieces are trademarks of Hasbro for its property trading game and game equipment used with permission. MONOPOLY © 1935, 2021 Hasbro. All Rights Reserved. Licensed by Hasbro.
Additional Information :
Size 498.9 MB
Requires iOS 11.0 or later.
User Reviews :
Addicting!
To say this game is addicting is an understatement!! I stumbled across this game yesterday and have not been able to put it down since!! I am already on level 25…that should tell you something. I got my entire family addicted to this game now too! The only thing I'd say that would make this game better is if we could find a way to play online against friends or family. Otherwise, the game is phenomenal with the graphics to the sound effects and the ease of playing.

Highly addicting and extremely fun and is absolutely free!!!
I'm not mad, I'm just disappointed.
It's not the worst game, but it's hardly a winner. I've spent multiple games only landing on the community/chance space and going to jail or continuously rolling doubles and going to jail. I've also had experiences of getting out of jail only to, you guessed it, go back to jail several times in a row. Hard to win when you don't even land on properties. I would say plan on going to jail at least once a game if not multiple times. To get out of jail takes rolls, if you have any left. I'm not sure what the rule of thumb is for it as I've had it take 2 rolls, 1 roll and another time it just locked up my remaining rolls.

There is only one game mode. Would be nice to be able to play past 10,000pts. 10,000 goes fast especially if you own all 4 train stations. The "Free Parking" space is literally worthless. Nothing ever happens when you land on it.

Lately, the game has been extra glitchy (more than normal) and either crashes or freezes my phone. Not really worth the hassle anymore. The game definitely needs some work.
Everything you'd expect it to be, except for lack of content
I don't write reviews. Ever. But I've loved monopoly since before I even started kindergarten, and solitaire has been a long time favorite of mine since middle school (thanks to every time the wifi would cut out at home and my computer addicted little self would play solitaire).

This game is exactly how it seems. You play solitaire, build up coins to buy property, but the biggest difference is the fact that the game consists of literally just getting coins and buying property or taking it from others. Extremely rudimentary.

The lack of content is realistically my biggest complaint. There is only one game mode. As you build up exp you unlock opponents and little characters for yourself but there isn't any online play, and there are no options as far as being able to edit game settings. It's literally the same thing every single time, and if you aren't a decently big fan of either solitaire or monopoly this may not be the game for you because I can see and have experienced how easy it is to get bored with this game.

I keep coming back, yes, but that's because I love both games. I get bored in the moment but the amount of fun I have playing this game in and of itself is worth coming back even if I just needed a day long break or something.
Get MONOPOLY Solitaire from Play Store
What is your opinion about MONOPOLY Solitaire
Bitcoin
Ethereum
MetaMask (ETH)
Xrp
Polkadot
Binance coin
Stellar
Dogecoin
Tron
Elrond
Donate Bitcoin to this address
Scan the QR code or copy the address below into your wallet to send some Bitcoin
Donate Ethereum to this address
Scan the QR code or copy the address below into your wallet to send some Ethereum
Donate Xrp to this address
Scan the QR code or copy the address below into your wallet to send some Xrp
Donate Polkadot to this address
Scan the QR code or copy the address below into your wallet to send some Polkadot
Donate Binance coin to this address
Scan the QR code or copy the address below into your wallet to send some Binance coin
Donate Stellar to this address
Scan the QR code or copy the address below into your wallet to send some Stellar
Donate Dogecoin to this address
Scan the QR code or copy the address below into your wallet to send some Dogecoin
Donate Tron to this address
Scan the QR code or copy the address below into your wallet to send some Tron
Donate Elrond to this address
Scan the QR code or copy the address below into your wallet to send some Elrond