(App) IHOP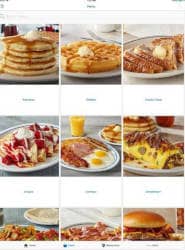 App Description :
Hungry? You've come to the right place.
App Features :
IHOP is the home of world famous buttermilk pancakes and a variety of craveable breakfast, lunch and dinner favorites beloved by people of all ages. Browse the menu, find locations and order online with IHOP n' Go®. All together with a smile!
Additional Information :
Size 98.5 MB
Requires iOS 14.1 or later.
User Reviews :
Easy App ordering Finally!
We had months of trying to order with the app and always getting an error message and not able to place an online order through the app or from the website. We googled the error and found out that everybody else had trouble with online ordering when it came to checking out. Needless to say we just cook breakfast at home every time which I prefer. Today my husband said hey let's go to IHOP, I didn't feel like being out amongst others still during this time of Covid so I thought I'd try the app again. Looks like it's finally been addressed and ordering this morning was a breeze!
No options to add notes, thus bringing me food I didn't want after their CS messed up
Being a creature of habit, when my SO suggested getting IHOP I was all in favor (since I already knew what I always got) but this time (my 1 & only time to try your breakfast delivery) I never got my order.

You see I have this problemwith certain textures (ex moistness versus dryness which is like swallowing medicine without a drink), so no matter what I am getting anywhere I ALWAYS have to get (or have) extra sauce/ condiment/ etc. so since they didn't have a spot for a note on the order I wasn't able to submit one and so I decided to call the location it said I was ordering from. Also, just in case, I decided to chat with the delivery company (I have screenshots and such showing all the details) to get them to double check…after half an hour of the phone ringing & ringing but never picking up (& yes I did call back) me repeatedly giving the right info over chat & them repeatedly saying I didn't order through them, they finally found it…right after the driver had picked up the food…VERY CONVENIENT…I even explicitly said if I wasn't able to get the sauce I didn't want it, but 5-10 minutes later food shows up exactly as I knew would come dry & inedible. So I wasted all that time, had to work with a company with shady business practices, never got someone on the phone from the location I was ordering from & got inedible food & CHARGED FOR IT.

Never eating here again!!!
Needs improvement
My husband is a developer for a national company, and for that reason I've become more familiar with how apps SHOULD work. This app needs improvement and it seems rather obvious someone wanted it released before it was ready, before it had been properly tested, and before all necessary information was included. My personal 'gripe' is that I have an iPhone X and the final order check out screen has the exit box at the far top left corner, above where it ought be, so it's impossible to use. In order to re-enter the app, I have to hard close it and reopen it to reset the screen. This should not be necessary, as it seems to indicate the developer unnecessarily messed with the size coding for the iPhone X template provided by Apple. In this day and age, where everyone is used to apps working nearly flawlessly, I give IHOP props for finally entering the tech world, but thumbs down for execution. Someone doesn't quite know what they're doing here, and is not taking notes from other higher functioning apps. Get a new developer or kick this one in the pants and tell them to get it right. If a novice can see the issues here… I worry that someone more seasoned has missed these things and still chose to roll it out.
Good App, Could be great with some improvements
I really like the idea of being able to place my pickup order through the app. When we call our order in, they can never hear us well on the phone and our order ALWAYS ends up being wrong when we arrive. With the app at least it's put in plain writing with less room for error if they read and follow it correctly. My major issue with the app is that you can't relay special requests to the restaurant like you could in person or even over the phone. For example, I always request shelled eggs, scrambled lightly. There is nowhere in the app to specify this request. A comment or special request section might be helpful to accomplish this. The other issue that I have is that our local IHOP's have specials that we can get if we order in person or via phone. The app doesn't reflect that pricing, you have to pay the full price. If we are ordering menu items with no special requests, it is otherwise a really convenient app to have!
No Grits on the menu
The only issue I have is that they have grits but not on the app menu so I have to call the location and ask to add grits to my order the store manager said that I need to complain so here's my complaint. Not all management will accommodate unless specified also there isn't a note box so send notes of that kind of communication either. However despite my complaint Raytown IHOP on 350Hwy is the best they are patient with customers and the food is always hot and delicious keep up the amazing work and thanks for all you do in during this crazy Pandemic it's greatly appreciated!!
Get IHOP from App Store
What is your opinion about IHOP
Bitcoin
Ethereum
MetaMask (ETH)
Xrp
Polkadot
Binance coin
Stellar
Dogecoin
Tron
Elrond
Donate Bitcoin to this address
Scan the QR code or copy the address below into your wallet to send some Bitcoin
Donate Ethereum to this address
Scan the QR code or copy the address below into your wallet to send some Ethereum
Donate Xrp to this address
Scan the QR code or copy the address below into your wallet to send some Xrp
Donate Polkadot to this address
Scan the QR code or copy the address below into your wallet to send some Polkadot
Donate Binance coin to this address
Scan the QR code or copy the address below into your wallet to send some Binance coin
Donate Stellar to this address
Scan the QR code or copy the address below into your wallet to send some Stellar
Donate Dogecoin to this address
Scan the QR code or copy the address below into your wallet to send some Dogecoin
Donate Tron to this address
Scan the QR code or copy the address below into your wallet to send some Tron
Donate Elrond to this address
Scan the QR code or copy the address below into your wallet to send some Elrond