(Game) Line Puzzle – Pipe Art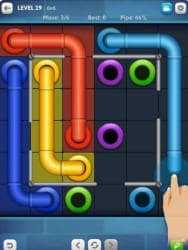 Game Description :
A real-life take on the classic Pipes aka Plumber puzzle game!
Connect pipes of the same color to make vibrant shapes and patterns.
Line Puzzle: Pipe Art is a Connect Line puzzle game that'll keep your mind entertained for hours!
HOW TO PLAY
Connect matching colors with a pipeline
Pair all colored pipes, and cover the entire board with lines to solve the puzzle.
Pipes can't overlap!
Game Features :
NO WI-FI? NO PROBLEM! Enjoy line puzzle anytime, anywhere!
FREE TO PLAY game with simple premises, yet with challenging to master levels!
NO penalties or time limits; You can enjoy Line Puzzle: Pipe Art at your own pace!
Fun sound effects and colorful graphics
Over 1,000 LEVELS!
NOTES
Line Puzzle: Pipe Art is available on mobile phones & tablet PCs.
Line Puzzle: Pipe Art contains ads like banner, interstitial, video and house ads.
Line Puzzle: Pipe Art is free to play, but you can purchase In-app items like AD FREE and Hints.
E-MAIL
contactus[at]bitmango.com
Like us on FACEBOOK
www.facebook.com/BitMangoGames
Privacy Policy
www.bitmango.com/privacy-policy/
Connect pipes to let the water flow free!
Additional Information :
Size 244.4 MB
Requires iOS 11.0 or later.
User Reviews :
HERE'S MY UPDATE…
DEVELOPER,SIR…

YOU HEARD *THE PEOPLE*! So, PLEASE…be kind,& simply devise a way to make it our choice,whether or not, to utilize a timer,PLEASE!! Cause *YOU*…truly, have one of the MOST ENJOYABLE games IN THE APP STORE!! Please…DON'T…DRIVE AWAY those who totally it,& you for all your hard work to bring it to its wondrous fruition,for the RELAXING ENJOYMENT of us ALL!! MANY, if not-ALL…usually wait to play your spectacular creation in the evening,after work,after our evening meal,after our beautiful,but somewhat boisterous children are cuddled down for the night…essentially,right before bedtime. Those times we're looking to be winding down towards the end of the day. NOT, REVVING UP, towards FAST & FURIOUS!! So, please, reconsider a *Timer Option*? Also,for those of us (ME,included) who've actually *COMPLETED-ALL* of the *ORIGINAL* puzzle set…were we supposed to *get any NEW* puzzles,outside of just the new ones in the *bonus* column? Also, I still haven't found out where the daily is, since the new updates. Can we also be allowed to go back & finish what wasn't done,in the daily? For me…I was in an accident,& was in the hospital and rehab…for months. I've been trying to catch up since I got out, but the game kept closing me out after only a few tries. It's also been glitching,to the point of when I try to get help,it would close me out. Please advise. Thank you! Regards.
Developer Response ,
Hello, thank you for updating your review! We've removed the time limit as you've required. Therefore, please update your app to the latest version. Thank you!
Pipe art
I downloaded this app to my iPhone at least two years ago, maybe more. I really enjoyed playing it for all this time because early on I signed up to get the "no ads" version. I found the ads very intrusive and it was worth the fee. Now my phone has died and I need to play the app on my iPad, which is under the same Apple ID as my phone. Guess what?The very intrusive ads are back. I contacted the developer to get this changed, and the response I got was really no help. I was given three choices, none of which worked. The last was to get my receipt from Apple and they provided me a link to do it. However that link brings back receipts for the current calendar year only. So I'm rating this app lower, even though it's a fun game, because the developer doesn't seem to care at all about their subscribers or keep any records about who has sent them money. Bad business practice.
Developer Response ,
Thank you for the review.

Please understand that we don't have direct access to purchases because purchases are made through Apple store. Only Apple has the records.

If you don't mind, please contact us again via in-game message.

Thank you.
Great relaxing game i recommend!
i put 5 stars, but i JUST got this game. but i still really recommend this game to relax and stuff. my grandfather has this game too and i played this on his phone , and decided to start playing on my ipad and phone and get it for myself! this is a really super simple, easy , fun, calming, relaxing, cool, and also challenging …(at the end) game. I really like it! ok. so no one has to agree with MY opinion because i would like any type of opinion, i used to have this game though, but i accidentally deleted it,… some how and actually i just changed it to four stars because i remembered that… when you get the game again if you deleted this game… it starts all of your levels ( even the ones you've finished) all back over again. and that is very annoying because the levels at the beginning are easier than the ones around the end and you have already gotten to that point … so i also recommend you not to delete the app and reinstall it. ( unless you want to get very annoyed )

the end.
Developer Response ,
Hello,

We are sorry to hear that we have not reached your expectations.

Unfortunately, the data sync feature is currently not available for this game. If you have changed the device or reinstalled the app, your previous progress cannot be restored.

We will pass on your comments to our developers directly so that the syncing feature can be added in future updates.

Once again, we sincerely apologize for the inconvenience you have experienced.
Get Line Puzzle from App Store
What is your opinion about Line Puzzle
Bitcoin
Ethereum
MetaMask (ETH)
Xrp
Polkadot
Binance coin
Stellar
Dogecoin
Tron
Elrond
Donate Bitcoin to this address
Scan the QR code or copy the address below into your wallet to send some Bitcoin
Donate Ethereum to this address
Scan the QR code or copy the address below into your wallet to send some Ethereum
Donate Xrp to this address
Scan the QR code or copy the address below into your wallet to send some Xrp
Donate Polkadot to this address
Scan the QR code or copy the address below into your wallet to send some Polkadot
Donate Binance coin to this address
Scan the QR code or copy the address below into your wallet to send some Binance coin
Donate Stellar to this address
Scan the QR code or copy the address below into your wallet to send some Stellar
Donate Dogecoin to this address
Scan the QR code or copy the address below into your wallet to send some Dogecoin
Donate Tron to this address
Scan the QR code or copy the address below into your wallet to send some Tron
Donate Elrond to this address
Scan the QR code or copy the address below into your wallet to send some Elrond