(Game) Art Puzzle – Calm Picture Games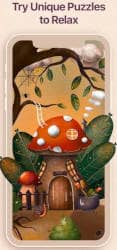 Game Description :
Meet Art Puzzle, a brand new stress-relieving game by Easybrain. It's a unique place where coloring books meet jigsaw puzzles! Relax and engage your mind with breathtaking stories coming to life.
In Art Puzzle, you solve puzzles by fitting together pieces of a drawing and watching them build into a colorful animated painting. It's a completely new gaming experience of a classic coloring game.
Every puzzle has been specially created for Art Puzzle. Each puzzle is a unique multilayered piece of art. Many different artists have created fascinating paintings in which you can immerse yourself. Enjoy an incredible world of amazing stories. All pictures are hand-drawn with original styles and techniques. Explore hundreds of amazing pictures and brighten your mood!
Game Features :
Enjoy a fun twist on jigsaw puzzles and coloring books.
Every picture comes to life as the puzzle animates when completed.
Each game level is a little more challenging but very fun and relaxing.
Tons of fascinating hand-drawn pictures from different artists, each with their own original style and technique.
Stuck on a puzzle? Watch helpful hints that easily guide you to finish.
Create fun beautiful artwork as you challenge your mind and relax at the same time. Now, let's get started with your first art puzzle!
Additional Information :
Size 159.1 MB
Requires iOS 11.0 or later.
User Reviews :
Beautiful game but…. Update!!
I left my original complaint to show what the issue was and that, unlike so many other apps, the developers responded kindly and the problem I was having was fixed! So thank you! Was a two star review, but now it's five.

I LOVE the different pictures and how they become animated once you put it all together! Very enjoyable until you have to sit through an ad. I understand completely that if I'm not willing to pay for the ad-free upgrade, I will see ads. What I don't understand is algorithms and computer technologies that, when I report the ad that I find offensive and stressful (something that defeats the purpose of a "relaxing" puzzle) it then becomes the only ad I see! I even deleted the app and Re-downloaded it, and the first ad right outta the shoot was the demon, buxom, way-too- animated, anime babes! I get it: prudes and close-minded puritans needn't bother. After receiving this message from so many sources, I just need to stop trying to participate. You win. At least, on this platform.  But the completed postcards really are beautiful in this unique puzzle game.
Developer Response ,
Hi! Thanks for your feedback. We are sorry to hear that! If you consider some ads inappropriate, please take a screenshot of this ad and send it to us through the "Help" section in the app's settings or at support@easybrain.com. We will do everything to reveal the advertiser and appeal a complaint if necessary.
Beautiful app, but……..
There are so many good things about this app. It's unique, the puzzles are unusual and beautiful, and I love the different themes and the animation at the end, which is a beautiful reward for completing the puzzle. BUT…….what I don't like are the ads that interrupt the puzzle several times before the it has been completed. I don't have a problem with ads per se. I understand that they are necessary unless you pay for the puzzle. But it's intrusive to interrupt a puzzle several times before it's completed. This is not an issue with the iPad version. Also, if you want a hint in the iPad version, THAT'S when you watch a brief ad, and that's it. You can do this many times. I don't mind ads in that instance. And in the iPhone version, I'm limited to only being able to get one hint, and then it says I can no longer get hints. That's just unacceptable. I'm now stuck in a Daily Challenge puzzle that has so much crammed in to it that I can't even see the puzzle line clues, so there is no way to complete the puzzle without the availability of a hint. I may just have to delete the app from my iPhone and only play it on my iPad. Please consider mirroring the iPad set up. That would make the Phone version of the puzzle perfect, and earn it a five star review from me!
Developer Response ,
Hi! Thanks for posting a review, and we are sorry for ads. We will improve in the future and we will try to keep the ads from interfering. Also, note that there is an option in the Settings menu to remove ads from the app once and for good.

Please contact us at support[at]easybrain.com or through the "Help" section in the app's settings regarding the problem with hints. We'll do our best to help!
Get Art Puzzle from App Store
What is your opinion about Art Puzzle
Bitcoin
Ethereum
MetaMask (ETH)
Xrp
Polkadot
Binance coin
Stellar
Dogecoin
Tron
Elrond
Donate Bitcoin to this address
Scan the QR code or copy the address below into your wallet to send some Bitcoin
Donate Ethereum to this address
Scan the QR code or copy the address below into your wallet to send some Ethereum
Donate Xrp to this address
Scan the QR code or copy the address below into your wallet to send some Xrp
Donate Polkadot to this address
Scan the QR code or copy the address below into your wallet to send some Polkadot
Donate Binance coin to this address
Scan the QR code or copy the address below into your wallet to send some Binance coin
Donate Stellar to this address
Scan the QR code or copy the address below into your wallet to send some Stellar
Donate Dogecoin to this address
Scan the QR code or copy the address below into your wallet to send some Dogecoin
Donate Tron to this address
Scan the QR code or copy the address below into your wallet to send some Tron
Donate Elrond to this address
Scan the QR code or copy the address below into your wallet to send some Elrond