(Game) Wordzee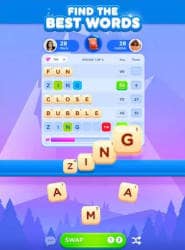 Game Description :
You can train your brain as you make words, play with friends, and compete in different word games and word game modes in new Wordzee.
Show off your puzzle solving, spelling, and anagram word skills as you search for the best scoring word combination in this exciting, free, new, word game.
Wordzee is a new twist in word puzzle, anagram, and crossword games! It is free to play, and there are so many new words to make and ways to play!
Roll your word tiles like dice, build words and play them on the board to get the highest score as you connect with friends in thrilling matches. Play classic matches in order to try and win against other players by building the biggest word score and making a Wordzee! Can you fill all of the rows on the board with words of the correct length to get a huge Wordzee point boost to your score?
Game Features :
START PLAYING
Your new word puzzle game playing experience starts here! Start a new game with friends or family members who love word puzzles, dice games, and crossword puzzles.
Or you can start a classic match with a new opponent.
Shuffle the word tiles to find the highest scoring word on the board and play your move. Then it's time for your opponent to try and find their best word to play. Why not start another game with a friend while they are playing!
PLAY WORDZEE AT FULL SPEED
Choose an instant game so you can play Wordzee in a quick game mode. Make words from the anagrams and play your tiles to get high scores with no waiting between rounds
IMPROVE YOUR SKILLS IN THE WORDZEE SOLO MODE CHALLENGES
Flex your word finding muscles in Journeys. Specially themed rounds let you explore and play your way to the top of the word map. Can your anagram and word puzzle skills get your word brain moving enough so you can complete the journey?
Play the High Score challenge and build the highest scoring words in a round to win exciting rewards. Play your best words to take your word puzzle game skills to the next level.
Can you make it to the top in the Showdown mode? Supersized tile values let you build huge scores against Kevin the Wordzee mascot. Use your word puzzle skills and play to win!
Totaliser lets you build your score the more you play. The game is to carry on playing great words to get high scores, build totals, and win rewards!
CUSTOMIZE YOUR TILE STYLE
Show off your word game style and skills as you unlock special letter tiles like the cute teddy bear, sushi, or watermelon
Special seasonal tiles mean your word games always look good
Love word puzzles and word games? Love Wordzee? Like us on Facebook or follow us on Twitter to stay up-to-date on MAG word game news, special contests, polls and lots of other fun stuff.
www.facebook.com/wordzeegame
www.twitter.com/wordzeegame
www.instagram.com/wordzeegame
Wordzee has been lovingly created by MAG Interactive, where we take fun seriously. We've made word games, puzzle games and fun social games on mobile for 10 years. Download Wordzee now!
Good Times!
The Wordzee game is free to play. In-app purchases are available for additional content and in-game currency.
Additional Information :
Size 674 MB
Requires iOS 11.0 or later.
User Reviews :
Updating Previous Review
I had left a one star review about a week ago after contacting tech support (a month ago) to no avail about the disadvantage of not having the option to watch ads for extra letter exchanges like my opponents do. Just as I was ready to quit after a rare two day absence, I played today and the ad option is back. The only reason I'm not leaving 5 stars is because I'm cautiously optimistic it will not happen again.

On another note, as to the reviews about all the scammers who try to chat, I used to have that problem at an epic level on another game until I informed the scammers that I worked for the FBI Cybercrime Division and I played to uncover and prosecute scammers particularly from Nigeria…."hello dear, yes dear, are you married dear…" Actually, in reality it is my fiancé who works with the FBI. At any rate, I do believe they share this info among their fellow scammers who they feel is an easy target because I have not had problems on ANY games anymore. My suggestion is if you don't want to block your chat feature from others, be very direct and tell them you are affiliated with cybercrime/security and report IP addresses and fraudulent accounts. It would also help if users could pull up a larger version of a players profile pic so they could run an image search on the web which will possibly show who the account holder really is.
Developer Response ,
Hello there! We'd like to help you out with your game. Send us a line at wordzee-support@maginteractive.se so we can take a closer look. Hear from you soon!
Wordzee
I love this game I would give it five stars except for a couple of little things. I've been playing this game for quite a while I was already playing when you switch things around and now you get card packs to get tiles. I have been waiting a very long time to get the dragon egg tile and the spell book tile. I have not been able to get anything for the wand for the spell book or the sword for the dragon egg. I have bought several card packs but still don't have it I need to get either of those tiles. It's not gonna stop me from playing the game the game is great. My other little pet peeve is the daily challenge. First you got a tile when you did seven days in a row which is good for a start to get people interested. The next one was for 30 days which I think is perfect every 30 days to get a new tile but once I finish the 30 days I found that I have to go another 150 days to get another tile that's crazy every 30 days would be perfect. If you fix those little things my review would go up to the fifth star because I think this is a fabulous game
Developer Response ,
Hello! Please contact our support team using the following email address wordzee-support[at]maginteractive.se. We will then investigate this situation further. Have a great day!
Get Wordzee from App Store
What is your opinion about Wordzee
Bitcoin
Ethereum
MetaMask (ETH)
Xrp
Polkadot
Binance coin
Stellar
Dogecoin
Tron
Elrond
Donate Bitcoin to this address
Scan the QR code or copy the address below into your wallet to send some Bitcoin
Donate Ethereum to this address
Scan the QR code or copy the address below into your wallet to send some Ethereum
Donate Xrp to this address
Scan the QR code or copy the address below into your wallet to send some Xrp
Donate Polkadot to this address
Scan the QR code or copy the address below into your wallet to send some Polkadot
Donate Binance coin to this address
Scan the QR code or copy the address below into your wallet to send some Binance coin
Donate Stellar to this address
Scan the QR code or copy the address below into your wallet to send some Stellar
Donate Dogecoin to this address
Scan the QR code or copy the address below into your wallet to send some Dogecoin
Donate Tron to this address
Scan the QR code or copy the address below into your wallet to send some Tron
Donate Elrond to this address
Scan the QR code or copy the address below into your wallet to send some Elrond