(App) Zaxby – Fingers & Wings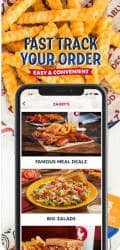 App Description :
Craving Zaxby's Indescribably good® food? We've got the app to give your taste buds what they demand —fast.
The new Zaxby's app puts all the chicken fingers, wings, sandwiches, Zalads®, and crinkle fries your hungry heart desires right at your fingertips. Just select the closest Zaxby's restaurant, place your order, and prepare yourself for some seriously tasty takeout. It makes enjoying Zaxby's incredibly cravelicious™ food fast and easy. Ain't technology delicious?
App Features :
Skip the wait! Place your order and we'll have it ready when you arrive.
Order in a snap! Create a Zax Fanz Club account, and we'll save your favorite order!
See your Zax Rewards! View and select the rewards you want to redeem.
Load funds onto your account! A quicker way to pay for your favorites in-store or online!
Digitize Your Physical Gift Card! Use your Gift Card funds to order ahead!
Feeding a crowd? Our platters and catering options have got you covered!
Additional Information :
Size 116.6 MB
Requires iOS 13.0 or later.
User Reviews :
Not sure why they offer an APP…
I downloaded the App last fall when Zaxby's places the little signs by the register that says "download the app & get rewarded". I love most of my other reward apps & use them often. So I was excited to try this one. I have been SO disappointed: it's basically useless. In a 3 month timeframe I made multiple purchases (I even used the scan & pay option) – and I received ZERO rewards! Nothing. I asked multiple employees if the App was working yet or if they could help me figure out there were never any rewards. The employees have no clue. They indicated that it works for others… ok. I have emailed customer service (they indicated that no rewards are being offered – which sounds kind of odd, but it does equate to the rewards that I've received). Today I received a text asking me to " Zaxby's: Find out about rewards and special offers in the Zaxby's app. Download yours today." & an email advertising "the App Fans Appreciate!/Get Rewards & Special Offers"… I downloaded the App that I previously deleted… & of course, it shows no rewards. Good grief – I should have known better!!!
Blank stares from employees with mobile order
I guess I'm an eternal optimist, but I thought "oh well, just because all these other people had issues with mobile orders on the app doesn't mean I will." I was sadly mistaken. I placed an order via the app, arrived at the restaurant, came inside and sat down. I watched as a couple walked in, placed their order with the cashier, and then received their food before my order was called. Annoyed, I walked up to the counter and asked the status of my mobile order. The cashier had no idea Zaxby's even had an app, let alone if an order was pending. She turned and asked the kitchen manager(?). The manager kept asking if I had a "confirmation number", which is not displayed on the app screen. Then another member of the kitchen staff walked around to the other side of the kitchen and found that my order had been displayed on a different kitchen screen for 11 minutes, unnoticed. I finally got my food made after all this. Terrible experience. I likely will not use the app again for a long time, if ever.
Updated**** Needs to work out a few kinks
This app is pretty slow. I love being able to order my food ahead of time, but the app is a pain when trying to edit or remove an item. It's almost like it gets overwhelmed and wants to shut down. I try to ensure I know exactly what I want when I add an item to the cart. If not, it's much faster and easier to cancel the order and start from scratch.

Update:

This app has enhanced dramatically since I wrote my initial review. My only complaint this time is that I can't, AT ALL find the "Curbside pickup" option where I park and the Zaxby's team members bring it to my car. Each time I have to place the order and then call them to let them know that I 'forgot' to select the curbside pickup option when in actuality I'm unable to find it in the app. I'd love if someone could walk me through it lol. I usually don't have problems finding additions like this, but for the life of me I can't locate it anywhere! Outside of that, I'm thrilled that Zaxby's app development team fixed the glitches that caused the app to run painfully slow. Keep up the great work!
Developer Response ,
Hi there! Thank you for bringing this to our attention! This is certainly something our Support Team would love to take a closer look at. Please reach out to zaxbys[at]thelevelup.com, we are available to help at any time
Get Zaxby from App Store
What is your opinion about Zaxby
Bitcoin
Ethereum
MetaMask (ETH)
Xrp
Polkadot
Binance coin
Stellar
Dogecoin
Tron
Elrond
Donate Bitcoin to this address
Scan the QR code or copy the address below into your wallet to send some Bitcoin
Donate Ethereum to this address
Scan the QR code or copy the address below into your wallet to send some Ethereum
Donate Xrp to this address
Scan the QR code or copy the address below into your wallet to send some Xrp
Donate Polkadot to this address
Scan the QR code or copy the address below into your wallet to send some Polkadot
Donate Binance coin to this address
Scan the QR code or copy the address below into your wallet to send some Binance coin
Donate Stellar to this address
Scan the QR code or copy the address below into your wallet to send some Stellar
Donate Dogecoin to this address
Scan the QR code or copy the address below into your wallet to send some Dogecoin
Donate Tron to this address
Scan the QR code or copy the address below into your wallet to send some Tron
Donate Elrond to this address
Scan the QR code or copy the address below into your wallet to send some Elrond