(Game) Sandwich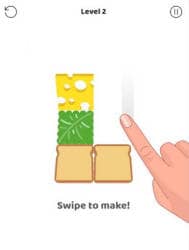 Game Description :
In this new, delicious puzzle game it's your job to combine bread with lettuce, tomato, salmon, cheese, onion, and many more toppings. Unlock more ingredients as you go along and the levels get harder! Are you a true sandwich master?
Game Features :
Full of tricky levels, this game is set to eradicate your boredom. Oddly satisfying and deliciously entertaining! How high can you stack your sandwich?
Ready, set, go! Make delicious sandwiches by folding toppings on top of each other, and serve it on a platter to eat!
Additional Information :
Size 178.6 MB
Requires iOS 11.0 or later.
User Reviews :
LOVE this!!
Let me first if say that I love this game already. A lot. I don't write reviews a lot, but I've been looking for a game like this for a while!! It has the obvious puzzle aspect, and I love that feeling when completing a puzzle.. but for me one of my favorite parts aside from that is the sounds they put into it. The little details… I'm on the autism spectrum, and noises and tactile things have always fascinated me SO much, and after completing a level, I love how you can "eat" the sandwich, and it makes the noise like your eating it. All of it is just, very satisfying to me, very part of it. Which makes me want to keep playing even if it was just for that. I'm not someone who dissects a game a lot except for things like this. But to me this game couldn't get any better. I can also already see that the levels will build up in difficulty more and more, so if you like having to think about your next move in something, it's also a great way to do that in my opinion! As to the developers.. thanks!!!
Amazing but too easy…
This game was very well designed, but, there was 1one thing off, and that was…the too easy part of it, in the adds it looks way more challenging, but once you get it it is really easy and boring, and I hate how to get a new food to put on your sandwich you have to watch a video, because I mean we worked our way to get to that and now you want us to watch a video for a new nice feeling because it was boring and too easy. It just really annoys me, and I am not that big of a fan of these kinda apps, so it really means something if I like this which I do, so it would be amazing if you could just fix the boring part of it and maybe make the levels a bit more challenging…? If you could that would be most amazing, oh and I would just like to say I really love once you make the sandwich and get to eat it, that was really cool, so what I am trying to say is, this app is way too easy and boring so please try and make the levels more challenging, that would be really cool if you could! I need to comment about the ingredients, they look so good i was almost about to lick my screen ( jk if I did that would be weird…very weird lol )
Fun but easy
I have seen ads for this game for months and finally downloaded it today! It is really fun and addictive to just flip the food around! Just keeping the bread on the outside. I'm not sure why the coin system is the way that it is.. I can receive 15-21 coins per completed level at random. One puzzle had more ingredients for the sandwich and I only got 15 coins!! Where as 10 levels next, I had a sandwich with 7 ingredients and got 21 coins!!??? WOW!!! And I don't know what the deal is with the little houses you get to build. They bring in money eventually. It was really cute building up to them and all… but, like I said, it is really easy. I have all of the ingredients I could have (except for the instagram one), and I'm at level 200. This is from playing this game today and only today.

If this game could have it kind of set up like Candy Crush, that would be awesome or limit the number of flips for the food to make it more challenging!! Compete with other players!! Why do I have to wait on "the next town" "coming soon" when I have no more progressions as of now!?!?

But overall it is a nice game to kill time with.
Get Sandwich from App Store
What is your opinion about Sandwich
Bitcoin
Ethereum
MetaMask (ETH)
Xrp
Polkadot
Binance coin
Stellar
Dogecoin
Tron
Elrond
Donate Bitcoin to this address
Scan the QR code or copy the address below into your wallet to send some Bitcoin
Donate Ethereum to this address
Scan the QR code or copy the address below into your wallet to send some Ethereum
Donate Xrp to this address
Scan the QR code or copy the address below into your wallet to send some Xrp
Donate Polkadot to this address
Scan the QR code or copy the address below into your wallet to send some Polkadot
Donate Binance coin to this address
Scan the QR code or copy the address below into your wallet to send some Binance coin
Donate Stellar to this address
Scan the QR code or copy the address below into your wallet to send some Stellar
Donate Dogecoin to this address
Scan the QR code or copy the address below into your wallet to send some Dogecoin
Donate Tron to this address
Scan the QR code or copy the address below into your wallet to send some Tron
Donate Elrond to this address
Scan the QR code or copy the address below into your wallet to send some Elrond