(App) Yummly
 iphoneapps info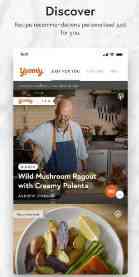 App Description :
Yummly is your smart cooking sidekick, offering personalized guidance every step of the way. From recipe recommendations just for you, to handy tools and helpful videos, Yummly has everything you need to improve life in the kitchen. Experience what millions are enjoying on the web, free on your iPhone, iPad and iPod touch.
App Features :
The App at a Glance:
2 million+ recipes from the best of the best
Discover recipes from Yummly's test kitchen and other top recipe sites and food blogs like Allrecipes, Epicurious, Food52, Smitten Kitchen, and more.
Personalized to your tastes & dietary needs
Tell Yummly your diets, allergies, tastes, and preferences and they'll only serve up recipes that match. As you use Yummly, like magic, it learns about what you like. The more you Yum, the better it gets!
Step-by-step guided recipes
Let Yummly do the thinking for you with step-by-step recipes, including video tutorials, timers, and more handy tools to make cooking a breeze.
Collect, save, and organize your favorites
Saving your favorite recipes couldn't be easier. With the tap of a "Yum" button, your faves are stashed for safekeeping in a digital recipe box. Once saved, create collections for easy organization and viewing when cooking and grocery shopping.
What's in your fridge?
Discover recipes to make right now with what you have on hand. Simply enter the ingredients you wish to use and Yummly will provide you recipes that match.
Recipe scheduling for easy meal planning
Schedule a recipe to the exact time you want to eat and it's instantly added to your calendar. You'll even get a gentle nudge when it's time to start cooking.
Add entire recipes to your grocery list
With one click you can add a full recipe to your shopping list. Yummly automatically categorizes your list by both aisles and recipes to make your trip to the grocery store a snap.
Special features:
Track the nutrition and servings of what you eat with Yummly's integration with Apple Health App on each recipe page.
Add the Yummly widget to get the single-most perfect recipe option for any moment of the day on your homescreen. You can access this from the Today screen.
CA residents – Do Not Sell My Personal Information: www.yummly.com/do-not-sell-my-info
Additional Information :
Size 198.3 MB
Requires iOS 13.0 or later.
User Reviews :
When you're searching for great recipes, the World Wide Web can be a daunting place. Thankfully, Yummly makes it less so. The app searches small blogs and big cooking sites alike for the best recipes and presents you with a very personalized feed.
Great source for wide variety of recipes!
My sister and I are fanatics for cooking and absolutely love to find new ideas to try out. Her and I have been using Yummly for probably, 5-7 years? It's been a good long while! Some recipes still need a judgement call on them as they need to be edited some for errors – some are exact copies of others – and some are just completely far from a recipe (open can of soup, add water and cook on stove till warm). Then there are the majority that are good recipes and ideas. My sister and I have made countless recipes from this app and will for as long as there is this app probably just simply because it is a fun pass time of ours to just go recipe window licking and just make a weekly or monthly planner of meals from time to time…

We hardly ever follow a recipe exactly lol but we follow a recipe mostly especially the first time to see what they cook, then if it is liked or "just needs a touch of" – I keep it for the "family cookbook" which is a planner binder of recipes that members of the family has liked. This application has really helped me enjoy an escape and my family has really enjoyed majority of the meals. The only thing I would suggest is a team of "cooks" to review the recipes to weed out ones that are a waste of time like the can of soup recipes and such that really don't belong here. The instructions are on the back of the bag or cans…
I love this app!!!
The design of this app is awesome. It manages to pull recipes from many sources smoothly, and it's great about searching specific ingredients/certain types of meals. It consolidates all the recipe info in a clean, straightforward way, so when you spot something you want to try you can quickly see nutritional info, ingredients, prep time etc. from the app, without having to scroll through the actual site the recipe was posted on trying to find all that information (if you choose to make the meal you will THEN go to the full recipe site for the directions, but it's still from within the app). It lets you create different lists, which I really like, and you can even tell it to create shopping lists for you based on the recipe you've picked. You can also tell it what ingredients you have on hand and it'll will give you recipes that you can make using those ingredients, or what time you plan on eating something. It will give you reminders on when to start prepping the meal if you give it a time. So cool.

Seriously, this thing is great. I love it.
Get Yummly from App Store
What is your opinion about Yummly
Bitcoin
Ethereum
MetaMask (ETH)
Xrp
Polkadot
Binance coin
Stellar
Dogecoin
Tron
Elrond
Donate Bitcoin to this address
Scan the QR code or copy the address below into your wallet to send some Bitcoin
Donate Ethereum to this address
Scan the QR code or copy the address below into your wallet to send some Ethereum
Donate Xrp to this address
Scan the QR code or copy the address below into your wallet to send some Xrp
Donate Polkadot to this address
Scan the QR code or copy the address below into your wallet to send some Polkadot
Donate Binance coin to this address
Scan the QR code or copy the address below into your wallet to send some Binance coin
Donate Stellar to this address
Scan the QR code or copy the address below into your wallet to send some Stellar
Donate Dogecoin to this address
Scan the QR code or copy the address below into your wallet to send some Dogecoin
Donate Tron to this address
Scan the QR code or copy the address below into your wallet to send some Tron
Donate Elrond to this address
Scan the QR code or copy the address below into your wallet to send some Elrond