(Game) Antitype
 free games for iphone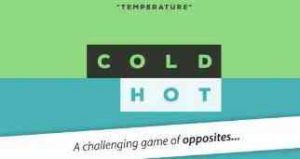 Game Description :
Antitype is a game all about opposites. With a clue and your knowledge of the alphabet, you'll change opposing letters to decipher each pair of opposite words.
Game Features :
400 free levels range from simple to extremely difficult
Synonym & Homophone level packs with 400 additional levels
100 ultra-challenging antonym levels in the new Antonyms X level pack
Save by purchasing level pack bundles or unlock the game with the Unlimited Pass!
Plan your moves wisely – every level can be solved!
Hints provide you ability to get a head start on challenging levels
Each level is uniquely shuffled so every attempt has its own solution
Sync progress across all your iOS devices
Beautifully-clean, colorful aesthetic
Minimalist in style, yet full of complexity
Quick gameplay – play for a minute, an hour or more!
Additional Information :
Size 30.4 MB
Requires iOS 10.0 or later.
User Reviews :
Clues could be improved (still fun tho!)
I really enjoy this game—it's casual enough to play when you have a few odd minutes to kill, and it gives your brain a workout!

My only complaint/suggestion is that some of the clues are really not good. I know figuring out the antonyms is a big part of the game, but it's frustrating to not be able to beat a level because the clue is off. Because of this I've lost interest for a few weeks at a time.

I think the problem is that the syntax of the clues isn't as consistent or intuitive as it could be.

I would suggest patterning the clues after crossword clues: one thing they do is give hints as to what part of speech you are looking for.

For example, on level 274 the clue is "amount change", and the answers are "increase" and "reduce".

The clue implies (to crossword solvers at least) that the antonyms will be nouns, because the clue itself is a noun phrase; however "reduce" isn't a noun. This discrepancy makes the clue misleading.

Making the parts of speech uniform would improve this clue. The clue say "change amount", which implies action aka verbs.

OR "reduce" could be switched to "reduction", so everything would be a noun.

(Thanks for putting up with the novel)
FIX SCREEN PLACEMENT FOR XR
I reinstalled this game to realize that it is now free and has ads… I thought it was fine until I realized that the developers must not care about their fans who paid money to download the game because I hit restore purchases thinking it would remove ads for being a previous owner before it became free but no now I have ads to deal with.

Still a very creative game that used to be super fun… without ads that is
Frequent ads ruin it
The gameplay is clever and innovative. Too bad this developer has hit us with one of the worst things you can do to a game: play video ads really often (every couple of levels) with audio that does not respect the in-game sound setting (which I almost always have off) and no way to buy an ad-free upgrade. That's three strikes, you're out. The only surer way for a developer to lose my support is to fail to respond to support requests (which I haven't had to do with this game yet, as it works just fine)—that's a one-strike out. Two stars because I do enjoy the concept, but no more than that until the developer frees us from obnoxious ads.
Developer Response ,
Hi there, thanks for the feedback – there's now a remove ads option as well as purchasing any level pack or bundle removes ads 😉 Hope you'll give the game another try!
I guess I must be an idiot
I know the answer to the question, but touching the letters that don't belong makes it worse…… I didn't get past the first one. So I guess I must be real stupid!! Even tried it with touching the letters that belonged…. nope…. so it doesn't matter if you know the answer….. it's completely about if you know the right box to touch, and I've done it 10 times now and I obviously don't know which box to touch…..

This game has nothing to do with knowing the answer it's knowing the correct box to touch…..total waste of 2 bucks!!!

Because it only makes you feel bad about yourself for not knowing the correct box…..

I thought games were supposed to be fun…… not this one!!
This is a Great Game!
I love this game. I like its design and how simple it is and how often I find myself calling myself a big "GOOF!" Very fun and I would recommend it. Very relaxing too and I bet it would make somebody with OCD's day so much better. The cool thing is that you dont buy it and have fun for the first 5 five minutes but then end up deleting it like Kechapps games. Great game, is a must install
Get Antitype from App Store
What is your opinion about Antitype
Bitcoin
Ethereum
MetaMask (ETH)
Xrp
Polkadot
Binance coin
Stellar
Dogecoin
Tron
Elrond
Donate Bitcoin to this address
Scan the QR code or copy the address below into your wallet to send some Bitcoin
Donate Ethereum to this address
Scan the QR code or copy the address below into your wallet to send some Ethereum
Donate Xrp to this address
Scan the QR code or copy the address below into your wallet to send some Xrp
Donate Polkadot to this address
Scan the QR code or copy the address below into your wallet to send some Polkadot
Donate Binance coin to this address
Scan the QR code or copy the address below into your wallet to send some Binance coin
Donate Stellar to this address
Scan the QR code or copy the address below into your wallet to send some Stellar
Donate Dogecoin to this address
Scan the QR code or copy the address below into your wallet to send some Dogecoin
Donate Tron to this address
Scan the QR code or copy the address below into your wallet to send some Tron
Donate Elrond to this address
Scan the QR code or copy the address below into your wallet to send some Elrond