Puff Up game by Voodoo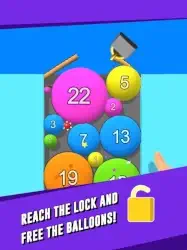 Game Description :
Do you like bubble shooter, 2048 and match 3 puzzle games? YES, Puff up is made for you! Inflate balloons, shoot them and avoid spikes or they will pop! Use your brain to win the game and break the chains!
Game Features :
How to play this balloon puzzle game?
1) Tap and hold to grow balloons and make them as big as possible. No need to match balloons by number like for 2048 games, it's way easier.
2) Perfectly time the release of your balloon and avoid obstacles, or your ballooons will pop!
3) No brain, no game! Play smart to reach the correct number and break the chain!
Can you solve all the puzzles?
We have created numerous levels and obstacles to make the game more fun, and to let you rise up to the challenge. If you're too quick, you may be hit by spikes, lasers and other obstacles. Beware and remember that it's a puzzle game!
Enjoy mini games
We have built 13 bonus mini games that will make you relax or rise to the challenge!
Make your balloons unique!
Unlock numerous skins in the game by solving puzzles and winning games: shapes and colour effects are waiting for you! Can you collect em all?
Challenge your friends
Can you reach the highest score and finish the game? Check the leaderboard and beat your friends score!"
Terms & Conditions : www.voodoo.io/terms/
Privacy Policy : www.voodoo.io/privacy/
Additional Information :
Age Rating 12+
Size 289.1 MB
Requires iOS 13.0 or later.
User Reviews :
Great game!
Fun and casual game. It IS worth buying the no ads thing, because there are quite a few ads that can disrupt the flow of the game. It is well made despite the glitches that occur, namely on things where normally you would watch an ad to unlock something but have already bought no ads so it just doesn't do anything. There are a lot of details and noticeable work that was put in and I appreciate that like if you have a big balloon pop it makes a larger paint splat of that color. Looking forward to continue playing!
Fun game but infuriating
The Ads during the game and after every little section is super annoying. Like, it still would be too much if they were just after every section but it's also in the middle of your gameplay, so you can be puffing up a balloon and an ad will come. Plus, this game doesn't let you play without wifi so you can't get rid of ads or if you're just somewhere with no wifi you can't play.

I say infuriating because the billions of Ads made this game extremely laggy to the point where my phone just completely froze for a good minute and everything i tried to do like turning it on, swiping things, turning it off, was delayed by 10 seconds.

It's a really fun concept but the Ads are just wayy too much, you can really tell they're trying to make you buy the no Ads game pass. I don't recommend downloading this game at all. The bad overweighs the good by a long shot.
Good concept, but has problems
I really do like this game, but it has some things to resolve for sure. The game has lots of ads, as many of these do, but the issue comes in when they put ads during levels. Between levels is fine, I can deal with that, but during the levels it disrupts the flow of play and makes the controls very glitchy afterwards. Speaking of the controls, they're relatively easy to manage, but I would have liked some more clear explanation of what I could do in the game. All together it manages to do its job relatively well, and it was fun to try, but it has to fix the glitches and ad placement to make it really playable.
Why internet?
I'm not a hater but why do you have to have internet just to play the game?? Like all the other VooDoo games, they don't require internet. But this game makes you have internet for just existing. The game is fun and the idea of trying to make a large balloon to get to another area and/or level is fun and cool and genius. But why make people have internet on just for a laggy ad that makes you restart the game. Voodoo would probably make more fans and/or money without having to have internet just to play. Like I said the game is fun, friendly and is sometimes challenging. Oh I forgot, the limited moves that you have is more fun. Have a blessed day!
Get Puff Up from App Store
What is your opinion about Puff Up
Bitcoin
Ethereum
MetaMask (ETH)
Xrp
Polkadot
Binance coin
Stellar
Dogecoin
Tron
Elrond
Donate Bitcoin to this address
Scan the QR code or copy the address below into your wallet to send some Bitcoin
Donate Ethereum to this address
Scan the QR code or copy the address below into your wallet to send some Ethereum
Donate Xrp to this address
Scan the QR code or copy the address below into your wallet to send some Xrp
Donate Polkadot to this address
Scan the QR code or copy the address below into your wallet to send some Polkadot
Donate Binance coin to this address
Scan the QR code or copy the address below into your wallet to send some Binance coin
Donate Stellar to this address
Scan the QR code or copy the address below into your wallet to send some Stellar
Donate Dogecoin to this address
Scan the QR code or copy the address below into your wallet to send some Dogecoin
Donate Tron to this address
Scan the QR code or copy the address below into your wallet to send some Tron
Donate Elrond to this address
Scan the QR code or copy the address below into your wallet to send some Elrond