(Game) Jigsaw Puzzles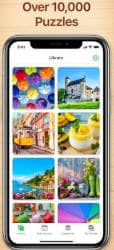 Game Description :
Get an engaging experience with one of the world's most-downloaded jigsaw puzzle games from a top developer! Jigsaw Puzzles is an addictive, easy to play game with over 13,000 FREE cute HD pictures. No points, no gimmicks, and no missing pieces, simply enjoy hours of fun putting puzzles together to calm down and relax.
Created by game experts and played by millions of puzzle lovers worldwide, Jigsaw Puzzles helps you exercise your short-term memory and concentration, while passing the time with real puzzles and without taking up as much room.
Game Features :
Tons of free beautiful, high quality pictures. Choose from a variety of categories such as Colors, Flowers, Nature, Animals, Art, Landmarks, Hard Puzzles and others
Daily free puzzle. Get a new puzzle every day and collect them all!
Coins for exclusive content. Get coins by completing jigsaw puzzles. Spend them to get exclusive puzzles and collections!
Seasonal events. Take part in game events and collect unique postcards
Mystery puzzles. Challenge yourself to reveal what is hidden in a picture
Daily updated gallery. You'll never run out of free puzzles
Helpful hints. Use Hint to match the next piece to the puzzle if you are stuck
Up to 400 puzzle pieces. The more pieces, the harder your game becomes
Rotation mode. Turn on rotation, make the game more tricky
Custom backgrounds. Choose your favorite appearance to play with more pleasure.
Make every day relaxing and fun putting puzzle pieces together!
Additional Information :
Size 181.3 MB
Requires iOS 11.0 or later.
User Reviews :
Puzzled by Disappointments
I love the volume and categories of puzzles. Fun to play. Great selections. What I hate is the platform on which game is played. First, There should be a stationary board and one that fills screen. This one floats, changes sizes, but does not fill an adequate work space; cannot set size easily. Second, puzzle pieces are located at bottom, making it more difficult to move pieces. Best location is right side panel. Third, puzzle pieces are hard to move about as if they get stuck, very small, often get lost outside of board panel and don't always return to location banner. Fourth, ads hide the escape route. Some lead into another ad if you try to escape; some are timed and force you to watch without an exit and others have a minuscule "x" hidden in a corner but barely visible and difficult to touch. Finally, when puzzle is complete, one would like to see the finished product as a clear depiction of original scene but not presented in puzzle form. A little reward for the completion. Update: I had already tried the suggestions made by developer. I found little or no better help in using those strategies. I would like this great app to offer a board that is as functional as the one provided in the Jigsaw HD app. This app offers too much opportunity not to have the best board or the greatest experience.
Developer Response ,
Hi! Thanks for your feedback.

We've released a new version recently. With the new interface, your game board will be locked by default. You also won't lose any pieces with the new version: now you'll be able to place them only within the game board area. We'd be happy if you could try it and share your opinion!

We also consider adding the other options that you've suggested in the future releases.

As for the ads, please note that you should be able to skip them after 5 seconds from the beginning of the video without any difficulties. If you face any problems with closing or skipping the ad, we'd kindly ask you to take a screenshot of this ad and send it to us through the "Help" section in the app. This will let us work with our ad networks and block the problem ad.

Thank you very much for your cooperation!
Absolutely THE Best Puzzle App!!!
It doesn't matter if you've never had the patience for jigsaw puzzles or you're a jigsaw puzzle aficionado this is the BEST puzzle app you'll ever find!

You decide the level of difficulty from 9 pieces to 400 pieces. This has been ideal for me since I was concerned I'd get discouraged, but thankfully I was able to start easy and increase the number of pieces at my pace.

Plus, if you're a "south-paw" not to worry as lefty's haven't been forgotten with this app. 🙂

There's a plethora of beautiful puzzles to choose from: adorable puzzles that children will love, nature puzzles, landmarks from around the world, wildlife galore in their natural habitats. As well as abstracts, flowers, birds, patriotic, oils & watercolor paintings, themed collections, pets, and anything & everything else you can possibly imagine. Oh, I almost forgot to mention – there's the "Puzzle of the Day" for those of us who sometimes enjoy being surprised and/or challenged with puzzles we may normally not have chosen ourselves.

Last, but certainly not least, did I mention how wonderful the customer service is? Well, let me tell you if you have a question, a suggestion, or a request (which is what I had since I love puzzles of cars) you'll be sure to receive a reply faster than you can say, "Wow, this is seriously an awesome app!"
Developer Response ,
Hi! Thank you for the super positive review! We work hard to meet expectations like yours and we are happy to hear you enjoy our product. Keep it up!
Get Jigsaw Puzzles from App Store
What is your opinion about Jigsaw Puzzles
Bitcoin
Ethereum
MetaMask (ETH)
Xrp
Polkadot
Binance coin
Stellar
Dogecoin
Tron
Elrond
Donate Bitcoin to this address
Scan the QR code or copy the address below into your wallet to send some Bitcoin
Donate Ethereum to this address
Scan the QR code or copy the address below into your wallet to send some Ethereum
Donate Xrp to this address
Scan the QR code or copy the address below into your wallet to send some Xrp
Donate Polkadot to this address
Scan the QR code or copy the address below into your wallet to send some Polkadot
Donate Binance coin to this address
Scan the QR code or copy the address below into your wallet to send some Binance coin
Donate Stellar to this address
Scan the QR code or copy the address below into your wallet to send some Stellar
Donate Dogecoin to this address
Scan the QR code or copy the address below into your wallet to send some Dogecoin
Donate Tron to this address
Scan the QR code or copy the address below into your wallet to send some Tron
Donate Elrond to this address
Scan the QR code or copy the address below into your wallet to send some Elrond