(App) Uber Eats – Food Delivery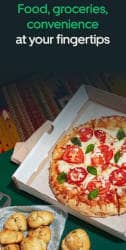 App Description :
Find Food Delivery On Your Budget
Hungry? Find the food you crave and order from restaurants easily with the Uber Eats app. Track your food order in real-time. Get your food delivered by delivery people using the Uber Eats app.
App Features :
FIND YOUR FAVORITE RESTAURANTS
Browse nearby restaurants and search for food by cuisine, restaurant name, dish or meal. Choose from a variety of food to order: Pizza. Burritos. Burgers. Sushi. Chinese food. Skip the line and reservations. Order food using the Uber Eats app now.
SIMPLE ORDERING
Pick your food order from any menu and add it to your cart with a few taps. That's it.
Order food to be delivered by delivery people as soon as possible.
Or, schedule your food order in advance for a delivery person to pick it up later. Your choice!
PICKUP OR DELIVERY
Now you can also order food ahead for Pickup instead of just ordering delivery. Select Pickup, add food items to your cart and go to the restaurant to get your food. Or, choose the new no-contact delivery option and request your order be left at your doorstep.
EASY PAYMENT
Pay easily with a credit card or Uber Cash. Add a different card easily.
Enter a Uber Eats promo code to redeem a discount on your food order.
Tip easily in the app. No cash needed for tipping.
REAL-TIME ORDER TRACKING
Track your food order on a map as it heads your way.
See the estimated delivery time to your address.
Get notified when your order arrives.
RESTAURANTS INCLUDE:
McDonald's, Subway, Popeyes Louisiana Kitchen, Starbuck's, Five Guys, Panda Express, Denny's, Jersey Mike's Subs, T.G.I. Friday's, Hooters, Sonic, Red Lobster. Firehouse Subs, Moe's Southwest Grill, BurgerFi, Tropical Smoothie Cafe, Boston Market, Qdoba, Steak 'n Shake, The Halal Guys, Anthony's Coal Fired Pizza, Tijuana Flats, Church's Chicken, White Castle, McAlister's Deli, Jack in the Box, On The Border, Fatburger, Romano's Macaroni Grill, Famous Dave's BBQ, and more.
AVAILABLE INTERNATIONALLY
Join the thousands of others in your city who use the Uber Eats app to order from their favorites restaurants and schedule delivery
Uber Eats is currently available in cities and metro areas including Adelaide, Amsterdam, Atlanta, Auckland, Austin, Baltimore, Brussels, Cape Town, Chicago, Dallas, Denver, Hong Kong, Johannesburg, Glasgow, London, Los Angeles, Madrid, Melbourne, Mexico City, Miami, Milan, Nashville, New Orleans, New York, Ottawa, Paris, Philadelphia, Rio de Janeiro, San Diego, San Francisco, Sao Paulo, Seattle, Stockholm, Sydney, Taipei, Tokyo, Toronto, Warsaw, and Washington DC. Uber Eats helps you find food delivery around the world. Order delivery in Australia, Belgium, Brazil, Canada, Colombia, France, Japan, Mexico, New Zealand, Poland, Russia, South Africa, Spain, Taiwan, United Arab Emirates, United Kingdom, United States, and more.
Visit ubereats.com for more details!
Additional Information :
Size 300.8 MB
Requires iOS 13.7 or later.
User Reviews :
Uber eats review
Horrible service today. I don't know how you could offer such horrible service knowing how important this day is for most Americans. I'm in the hospital with my wife who just gave birth to my boy Ethan. I'm under slept I'm under feed so I figured I ordered food off Uber eats. I ordered food first from el monaquito I believe was the name who cancelled my order but not before taking my money out of my account which I probably won't get back until after New Year. To make matters worse I order a second time to a different restaurant which they charged me again and after waiting for the food for nearly 2 hours they cancel the order like are you guys kidding me and guess what they already charged me so now I'm down 100 dollars like what if that was all I had so what I don't eat today and trying to contact Uber eats we'll forget it it's close to impossible. I feel cheated. Uber eats this is unacceptable. Get it together look online never will you find me ranting on online on any other business prior till today but no one has ever made me this angry because at least those businesses have the decency to take responsibility for there mistakes and acknowledge there mistakes and improve. You guys hold our money and reverse the charge which we don't get back until weeks later at times. You owe me interest if you borrow someone else's money as you've done mine you should pay interest on it.
Uber eats is the best
So honestly I've been using Uber eats for a good while now and I can say that it is amazing! So many places to try out and I love it's membership. Uber One is very reliable and totally worth the price because delivery fees and service fees be but yea definitely worth it and lots of things you can redeem your points off. Personally I think that Uber eats should expand your area by at least an extra mile since the max is like 4.5 miles or 5 miles, something like that. There is a chick fil a nearby but it's a drive and Uber eats declared it's too far to deliver to so I was bummed out. Another thing is that Uber eats have way more deals and coupons then any other service! It makes no sense how every 2-4 days there sending coupons to my email which I'm thankful for cause I guess that's the best way to lure in customers. Finally there customer support is sooo nice and kind. I once ordered Uber eats late at night and I asked for a specific order but McDonald's gave me the wrong order so I contacted Uber eats and they gave me a complete refund of my order and gave me a 13$ tip. All I can say is that Uber eats really cares for its customers if there customer service is fast, drivers are fast, and usually the food is fast as well. PS: Uber eats is wayyy better then DoorDash, there service I'm not gonna talk about
What is your opinion about Uber Eats
Bitcoin
Ethereum
MetaMask (ETH)
Xrp
Polkadot
Binance coin
Stellar
Dogecoin
Tron
Elrond
Donate Bitcoin to this address
Scan the QR code or copy the address below into your wallet to send some Bitcoin
Donate Ethereum to this address
Scan the QR code or copy the address below into your wallet to send some Ethereum
Donate Xrp to this address
Scan the QR code or copy the address below into your wallet to send some Xrp
Donate Polkadot to this address
Scan the QR code or copy the address below into your wallet to send some Polkadot
Donate Binance coin to this address
Scan the QR code or copy the address below into your wallet to send some Binance coin
Donate Stellar to this address
Scan the QR code or copy the address below into your wallet to send some Stellar
Donate Dogecoin to this address
Scan the QR code or copy the address below into your wallet to send some Dogecoin
Donate Tron to this address
Scan the QR code or copy the address below into your wallet to send some Tron
Donate Elrond to this address
Scan the QR code or copy the address below into your wallet to send some Elrond