(Game) Parking Jam 3D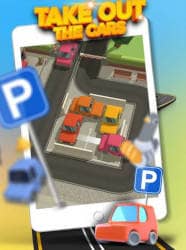 Game Description :
Parking Jam 3D is one of the most downloaded Puzzle Board games with more than 50,000,000 installs.
Parking Jam is a fun and addictive puzzle board game. It's more than just parking – it's a fun driving experience that'll take you to another level!
Jams in parking lots, challenging parking situations, angry grannies and much more. Experience one of the best parking board games, get rewarded and unlock skins, solve puzzles which get harder each level, choose which car to move so you can find smooth exits without hitting anything and anyone, build up properties, rent them and get "idle money" from them, complete levels without getting stuck, and more! Just make sure you don't mess with Grandma…
In this funny and colorful game, you challenge your logic skills, critical thinking, and timing precision.
Game Features :
WITH PARKING JAM 3D YOU CAN
PLAY the full Puzzle Board game experience offline and on the go.
SWIPE to accept challenges, complete different levels and maps.
GET more cars, skins and scenes.
BUILD UP idle rental properties.
EARN money by completing levels and collecting the rent.
UNBLOCK the parking jam.
WHY PLAY PARKING JAM 3D?
RELIEVE your stress. Get out of the parking lot or just hit the cars without filing a claim or paying for repairs!
LEVELS which get harder every time and require skills and critical thinking to be beaten.
CUSTOMIZE cars by getting rewarded after challenging new levels and unlocking skins.
CONSTRUCT HOUSES and collect the rent.
LEARN how to unpark smoothly without hitting anything, just choose the right car to move.
LAUGH WITH GRANNY observing how this little old lady ain't fooling anybody. She's a beast – flipping cars and throwing them in your face!
ABOUT PARKING JAM 3D
Slam the brakes! You're in a Parking Jam!
It is time to leave the parking lot, but why are everyone else's cars in the way? You need to move them … but hold on! It needs to be done in the right order, because these tight parking lots have tons of obstacles! Solve this tricky parking puzzle and get all the cars on the road!
In this fun and colorful game, you challenge your logic skills, critical thinking, and timing precision. It's super satisfying to flip the cars on the road or into each other, if you pick them in the wrong order.
But the best is to try to hit granny: don't even think about it!
What are you waiting for? Challenge your brain with this tricky game right now!
From the studio that brought you other free games like Pull the Pin, Paint Puzzle, Sandwich!, Clash of Blocks, Paint The Cube and more!
TALK TO US
Get your Parking Jam on:
Web: popcore.com/
Facebook: www.facebook.com/Parking-Jam-3D-100829671743322/
Instagram: www.instagram.com/popcore
TikTok: www.tiktok.com/@popcore
Twitter: twitter.com/PopcoreOfficial
Youtube: www.youtube.com/channel/UCq1BDUD72Rv7dXov7WtR9Og
Terms & Privacy
popcore.com/privacy
DOWNLOAD AND PLAY NOW – Join this fun and addictive puzzle board game and clear up the parking jam today!
Additional Information :
Size329.9 MB
Requires iOS 11.0 or later.
User Reviews :
Decent Game, I like it!
I'm a senior citizen and like to play games to pass the time. I see a lot of complaints about the ads on some of the reviews. I paid to remove the ads after I had played the game long enough to know I would not be deleting it right away. There are still options to watch ads for skins, but I never do it because I don't care about them. The only time I watch an ad is when I want to, so at least it's not forced. Yes, the regular levels are easy enough for a four year old, but the challenges are a bit more difficult. And there is always the option to play the hard levels but I don't do that either because they are timed, and it's aggravating! This is my go to game when I've exhausted my brain cells on all the other games I play and just want something to do without thinking too hard. I have to agree with others about the building development though. It makes no sense, and is so boring to say the least. There are a few glitches, but not enough to make me quit yet.
What's wrong with this app?
Now when I press on your icon it starts to load up but when the line is completed my screen goes back to my home page so I can't play at all!! Is that your answer to my plea for help? Thanks a lot ! I really did like your game. I was looking forward to playing the big parking jams which I never got to, even after playing over 800 levels!!!!!!!!! Now I guess since you won't or can't fix it I'll have to delete the game I liked best!!!!!!!!!!!!!!!!!

This is the second time I'm writing a review! The same goes as in the first! I press on your icon and the white line shows up when it stops the game doesn't show up my home page does!!!

I did delete your game because of all the glitches now with the second game the glitches are happening again!!!!!! CAN YOU PLEASE FIX THIS GAME FOR ME SO I CAN PLAY AGAIN. I've been try for a few days now and haven't been able to!!!!!!!! OR I'LL HAVE TO GET RID OF IT FOR GOOD!!!!!!!!!!

I don't want to but if you don't fix it I won't have a choice. It upsets me to the point that my blood pressure goes up! That I can't play it!!!!!!!!
Get Parking Jam 3D from App Store
What is your opinion about Parking Jam 3D
Bitcoin
Ethereum
MetaMask (ETH)
Xrp
Polkadot
Binance coin
Stellar
Dogecoin
Tron
Elrond
Donate Bitcoin to this address
Scan the QR code or copy the address below into your wallet to send some Bitcoin
Donate Ethereum to this address
Scan the QR code or copy the address below into your wallet to send some Ethereum
Donate Xrp to this address
Scan the QR code or copy the address below into your wallet to send some Xrp
Donate Polkadot to this address
Scan the QR code or copy the address below into your wallet to send some Polkadot
Donate Binance coin to this address
Scan the QR code or copy the address below into your wallet to send some Binance coin
Donate Stellar to this address
Scan the QR code or copy the address below into your wallet to send some Stellar
Donate Dogecoin to this address
Scan the QR code or copy the address below into your wallet to send some Dogecoin
Donate Tron to this address
Scan the QR code or copy the address below into your wallet to send some Tron
Donate Elrond to this address
Scan the QR code or copy the address below into your wallet to send some Elrond