(App) Taco Bell – Order Fast Food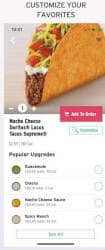 App Description :
With the Taco Bell App, you can order and pay ahead, skip our line, get access to new deals and offers, and more.
App Features :
1. REDEEM REWARDS & OFFERS – Get exclusive rewards and offers only available on the app.
2. MOBILE ORDER & PAY AHEAD – Place your order and pay ahead, select your pick-up method, let us know when you're here, and skip our line.
3. CUSTOMIZE FAVORITES – Satisfy your cravings any way you want by customizing your favorite items like tacos, burritos, and nachos.
4. EARN POINTS – Make your tacos count with our new beta rewards program. Download the Taco Bell app to start collecting points and earning rewards.
5. TRACK YOUR ORDER – See when your order is being made and ready for you to enjoy.
6. FAVORITE YOUR GO-TO MEAL – Save your go-to meal and quickly reorder your favorites.
Terms and conditions apply.
Additional Information :
Size 165.6 MB
Requires iOS 14.0 or later.
User Reviews :
Great Update, but beware!
Great Update: Being able to select Easy on the different toppings is very helpful and favorites has become much better. Also now you can select sauces, the workers don't always look at the receipt for sauces, but it's still early for the changes still and I'm sure some people might change there mind. Thanks for the awesome update. Great step forward!

Update: Finally got access to my account again after 9 weeks of not being able to get in. Only after writing the Beware on my review. So I had a week turn around on getting my account access back after giving a bad review.

Beware: I have been locked out of my account for 2 months now. Trying to get back in to it to no avail. I try the forgot password and it won't send me the email, yet they continually send me promotional emails. I had 2 rewards, but by now they are probably expired. The contact form for support never appears to work, for me at least. I don't get a confirmation that I submitted a support ticket or any notifications that I will be contacted. I can't resign up with Facebook or my email because they are both already being used. So, as I have said to support. I'm not buying anymore Taco Bell until I can have access to my account. I had all my favorites set up and I was happy. Now, my disappointment is immeasurable and my rest of the year has been ruined.
Developer Response ,
Thanks for the 5-star rating.
Horrible app! Horrible, embarrassing experience!
I have never had so many problems with an online app as I did with Taco Bell's app. On Thursday May 24th I made an online order for this store location 330 w northside dr Jackson ms. I submitted the order over thirty minutes before arriving to the location because I made a stop prior to arriving. The money for my order was taken from my account and when I got to the window I was yelled at and told that I could not have my food (that I had paid for) that they didn't see any order or money. They yelled at me and made me leave the drive thru. They told me they have nothing to do with the "raggedy" app. I left and went down the road to call the customer service number for a resolution . The rep answers the phone sounding sleepy and nonchalant. She told me there was nothing she could do. It was the apps fault . That I have to wait 3 business days before I can be refunded. I called again today , Tuesday ! And was told that a refund has been requested that now I need to wait 6-10 business days for the app to refund me! I will never use this App again in my life . Thanks Taco Bell for what has been the worst fast food experience of my life ! Delete this app ! Everyone do not use it !! I promise you'll run into an issue .
Developer Response ,
That sounds like a terrible experience, and we apologize that our app was at the root of it. Please message the Taco Bell page on Facebook, or tweet us @tacobell.
Way, way better now. Solid app.
I wrote a snarky review about how much the app would lock up, and how buggy the checkout process was. I'm really glad to see that the new version of the app is *far* superior on both fronts!

I still have to knock a star off for the fact that certain screens—especially the Customize screens—can appear to fail when you open them. They are actually just loading, and dutifully populate the views after they're done, but they are not reporting any status or progress and it makes it feel like the app is frozen or has hit an error, which isn't great.

Also, this is just an opinion, but I think it's odd that ordering for in-store pickup indicates that they start preparing the order right away, but ordering for drive-thru indicates that they wait for me to be on-site and check in before the order is prepared. It seems like I'd always want to choose in-store pickup, so they can prepare it while I'm driving there, or at least have advance notice of the order to save a little time on both sides, and I'm confused why the drive-thru doesn't use the same logic… Maybe the higher likelihood of being forced to wait for a long drive-thru line…? Only one transaction-spot to receive the food in the drive-thru, versus potentially multiple points in-store? I assume it was a deliberate choice. Just interesting, I guess. Other apps use GPS to detect when you're nearly at the restaurant for that kind of thing, could be a good feature.
Get Taco Bell from App Store
What is your opinion about Taco Bell
Bitcoin
Ethereum
MetaMask (ETH)
Xrp
Polkadot
Binance coin
Stellar
Dogecoin
Tron
Elrond
Donate Bitcoin to this address
Scan the QR code or copy the address below into your wallet to send some Bitcoin
Donate Ethereum to this address
Scan the QR code or copy the address below into your wallet to send some Ethereum
Donate Xrp to this address
Scan the QR code or copy the address below into your wallet to send some Xrp
Donate Polkadot to this address
Scan the QR code or copy the address below into your wallet to send some Polkadot
Donate Binance coin to this address
Scan the QR code or copy the address below into your wallet to send some Binance coin
Donate Stellar to this address
Scan the QR code or copy the address below into your wallet to send some Stellar
Donate Dogecoin to this address
Scan the QR code or copy the address below into your wallet to send some Dogecoin
Donate Tron to this address
Scan the QR code or copy the address below into your wallet to send some Tron
Donate Elrond to this address
Scan the QR code or copy the address below into your wallet to send some Elrond