(App) Starbucks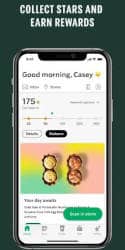 App Description :
The Starbucks® app is a convenient way to order ahead for pickup, scan and pay in-store and customize your favorites. Rewards are built right in, so you'll earn Stars towards free drinks and food on your purchases.
App Features :
Mobile Order & Pay
Customize and place your order, then pick up from a nearby participating store without waiting in line. Reorder quickly with Siri.
Pay in Store
Save time and earn Rewards when you pay with the Starbucks® app at many stores in the U.S.
Earn Stars & Redeem Rewards
Join Starbucks® Rewards and unlock exclusive benefits while earning Stars with almost every purchase. Redeem Stars for free drinks, food and more. Starbucks® Rewards members can look forward to a birthday treat plus complimentary coffee and tea refills.*
Earn Stars even quicker with Double Star Days, Bonus Star challenges and Member exclusive games. No matter how you pay, you can earn Stars on your order. Up to 3 Stars/$1 with Starbucks Rewards Visa Card, 2 Stars/$1 with a Starbucks Card, and 1 Star/$1 with cash, credit/debit and PayPal. Some restrictions apply.
Send a Gift
Say thanks with a digital Starbucks Card in the app or iMessage. It's easy to redeem a digital card from email or in the Starbucks® app.
Manage Starbucks Cards
Check your Starbucks Card balance, add money, view past purchases and transfer balances between cards.
Find a Store
See stores near you, get directions, hours and view store amenities before you make the trip.
Tip Your Barista
Leave a tip on purchases made with the app at many stores in the U.S.
*At participating stores. Restrictions apply. See starbucks.com/rewards for details.
Additional Information :
Size 113.4 MB
Requires iOS 13.6 or later.
User Reviews :
Love it – minus a few things
Overall the app is great and runs smoothly, never had an issue ordering ahead of time with it and my orders are always prepared quickly at the Caldwell location in Idaho. As far as that goes I don't like that I can't order oat milk on the app as a substitute so when I want it I have to order in store. Also I think pricing should be addressed on adding syrup pumps counts when customizing an order. I'm sure it's always been like that but just my opinion, If a standard is 4 pumps for a Grande and you customize and take away a pump to add 1 pump of a different flavor I don't see why that should cost an extra .50 cents. I think the cost for adding syrups should be based on how many pumps you add after the standard count. Anyways I love that app and I love the rewards you offer and doubling on points is extra nice as well. The Caldwell Location is AMAZING and all the staff is extremely kind and friendly always greeting me as I walk in and always saying goodbye as I walk out and thanking me for coming in. My drinks are always finished well before the expected pick up time. Keep it up!! You've made a regular customer for years to come.
App update lost some helpful features
The mobile app is so useful, however, the last update seemed to have gotten rid of some features I found helpful. For one, I don't like that now when you go Into the history, it no longer shows the date and time of your purchase, so if you need to take a screenshot of your "receipt" it does not include the complete purchase info, which renders it less useful. It shows a receipt number, which is not useful to me, and it is inconvenient to have to screenshot both the history list AND the purchase itself. Why did you get rid of this? Why fix what wasn't broken? Also, you have removed the date info for the Starbucks cards. It was helpful to have the info on the start dates of my cards to differentiate the cards, especially the similar ones. It used to have that info before. It also is frustrating when the app does not let you choose the store you want and sometimes suggests some faraway store. It would be helpful if it also told you reasons why you are unable to use the app – ie, store shut off mobile orders, store is closing, etc. Otherwise, you think it's your phone or app and you waste a lot of time. I also would like that the app kept the history details for the "free" items, because just because it's free, doesn't mean you don't want to record WHAT you had. But, for the most part, I like using the app.
App is useful but not perfect
There's tons of great things about the app but I'll just say why I gave it a 4. Most of us are using the app because we want to grab and go. With that being said, it would be nice if the store information was updated more frequently. I ordered from the app because the store had drive thru pickup and in store pick up. I never do drive thru pick up because it is always so crowded, hence why I use the app. At this particular store, both options were available but when arriving there was a sign at the door saying in store was closed and to pick up mobile orders at drive thru. This pretty much makes the app useless. Please update info for store because I can always go to a different Starbucks to pickup my order.

There also needs to be another method for mobile pickup. When arriving to pickup order, you have to wait for a barista to go to that area to be noticed, sometimes waiting for awhile. It's not there fault at all, but I think there needs to be an efficient way to do this. I notice that when I mobile order ahead of time, the customers that order inside the store get their drinks first. Not sure how that adds up.

The app is great though but it's useless if some of these inefficiencies continue.
Get Starbucks from App Store
What is your opinion about Starbucks
Bitcoin
Ethereum
MetaMask (ETH)
Xrp
Polkadot
Binance coin
Stellar
Dogecoin
Tron
Elrond
Donate Bitcoin to this address
Scan the QR code or copy the address below into your wallet to send some Bitcoin
Donate Ethereum to this address
Scan the QR code or copy the address below into your wallet to send some Ethereum
Donate Xrp to this address
Scan the QR code or copy the address below into your wallet to send some Xrp
Donate Polkadot to this address
Scan the QR code or copy the address below into your wallet to send some Polkadot
Donate Binance coin to this address
Scan the QR code or copy the address below into your wallet to send some Binance coin
Donate Stellar to this address
Scan the QR code or copy the address below into your wallet to send some Stellar
Donate Dogecoin to this address
Scan the QR code or copy the address below into your wallet to send some Dogecoin
Donate Tron to this address
Scan the QR code or copy the address below into your wallet to send some Tron
Donate Elrond to this address
Scan the QR code or copy the address below into your wallet to send some Elrond