(Game) Dice Dreams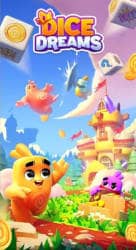 Game Description :
Welcome to Dice Dreams!
Join your Facebook friends and players around the world – Roll the Dice on the magical board, Steal Coins, Attack your friends, build your Epic Kingdom and Embark on an adventurous journey!
Roll the dice on Dice dreams, Build your magical kingdom and become the Dice King!
Start your board game adventure and join your friends in this dice quest.
With every roll of the dice, you can earn free coins and expand your kingdom. Every dice roll starts a new dice adventure filled with fun and excitement!
The Legend Behind The Dice:
Bob, the first of his name, returned to his kingdom after a journey visiting the Piggy King, only to find that his beloved home had been attacked.
Brave Bob decided to roll the dice and clash his enemies head on. He gathered his fellow peons, and together they went on a dice adventure to rebuild his kingdom, get revenge, and once again become the dice king of the hyper magical dice board.
Will you help Bob and his friends on their dice quest to regain their throne as the Dice Dreams King? Will you travel through Peon Islands, Piggy lands, and other dream boards, and bring them back to glory? Will you? pleeeease?
Game Features :
Roll and Win:
Roll the dice on the dice board, Win Golden Coins & collect gems to build your kingdom!
Establish yourself as the Dice King.
With the lucky dice, you can attack your friends and expand your kingdom!
The Peon kingdom is waiting for you.
Attack and Steal from other Kingdoms
Attack your friends – just aim your slingshot, fire and loot away!
Earn Gold Coins through stealing from other kingdoms and making their treasure YOUR TREASURE!
Get revenge on those who attacked your Kingdom.
Get ready for an epic time on Dice Dreams: the multiplayer social dice game that lets you build boards, attack your friends and brag about it!
Play for FREE with your friends.
Join the free action with players around the world and play with your social network.
Steal from your friends' boards & show them who's the Dice Dream king.
Invite your Facebook friends to join the epic fun!
Dice Dreams is free on all devices with in-app purchases.
Follow Dice Dreams on Facebook for exclusive offers and bonuses!
www.facebook.com/DiceDreams/
Are you having problems?
Please contact via email us at support[at]superplay.co
Additional Information :
Size 241.7 MB
Requires iOS 10.0 or later.
User Reviews :
Five stars for the game Zero for the details
You need to be able to delete ppl they will attack destroy and worst part if you're a private person like myself I'm totally not ok or comfortable adding just any ransoms too my Facebook to have full access then If that's not bad enough they will act like they're adding you to trade stickers help each other complete sets ha ha Jokes!! The literally nine out of ten have no intent too send or trade just expect handouts (which is cool to help especially when you have TONS of duplicates that you can't like other apps trade for dice or cards smh) However they'll just add you then attack n destroy your entire village and continue everyday after doing it. Making it almost impossible to finish or complete your kingdoms please DEVELOPERS whom ever it may concern or reads this that has the power to change these simple things that would improve the game 100% don't comment a generic copied n pasted comment too this please just do something make the necessary changes please thank you in advance I Pray!!
Developer Response ,
Thanks so much for the feedback. it really helps us continuously improve! We've made sure it is forwarded to the teams behind Dice Dreams If you ever need anything, please don't hesitate to contact us through the game: Menu – Settings – Contact Us Dice Dreams™ Team
Improve game
I really love this game and I've been playing it for a while it's fun to play I've had a few people that I invited join which I only got my rewards for my first one and not the other two. I agree with one of the other reviews that it's hard to compete with some of them to win any prizes because they buy days they cheat there's always a bunch of them on there that say they can get free days from somewhere so when they're getting all those free days we don't have a chance in the tournament I can hit a tournament when adjust starts get my first rolls and somebody's already at the top with 1000 so not fair to some of us that don't buy stuff. I've had a bunch of things that I haven't gotten my rewards for and I'veSent emails and never got any of my rewards I got a couple of responses in my email but no rewards to make up for what I lost. There's got to be someway to make it so that we can get more days quicker After spending 25 million coins today I got absolutely nothing nothing no new regular sticker no gold sticker no nothing it's ridiculous that you have to spend that much and you get nothing you guys need to do something better to make this game a little better for some people
Developer Response ,
Hey there! We are so sorry to hear you had this experience with the game. We want to be sure our Support Team knows all about this, so we can get everything back to normal. You can reach us through the game: Menu – Settings – Contact Us. – Dice Dreams™ Team.
Get Dice Dreams from App Store
What is your opinion about Dice Dreams
Bitcoin
Ethereum
MetaMask (ETH)
Xrp
Polkadot
Binance coin
Stellar
Dogecoin
Tron
Elrond
Donate Bitcoin to this address
Scan the QR code or copy the address below into your wallet to send some Bitcoin
Donate Ethereum to this address
Scan the QR code or copy the address below into your wallet to send some Ethereum
Donate Xrp to this address
Scan the QR code or copy the address below into your wallet to send some Xrp
Donate Polkadot to this address
Scan the QR code or copy the address below into your wallet to send some Polkadot
Donate Binance coin to this address
Scan the QR code or copy the address below into your wallet to send some Binance coin
Donate Stellar to this address
Scan the QR code or copy the address below into your wallet to send some Stellar
Donate Dogecoin to this address
Scan the QR code or copy the address below into your wallet to send some Dogecoin
Donate Tron to this address
Scan the QR code or copy the address below into your wallet to send some Tron
Donate Elrond to this address
Scan the QR code or copy the address below into your wallet to send some Elrond