(App) MOD Pizza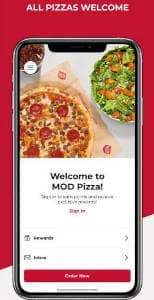 App Description :
The MOD® app is your ticket to earning points and getting rewarded just for being MOD. For every $1 you spend, you'll earn 1 point toward a great reward.
App Features :
You can also order ahead and breeze past the line, locate your nearest MOD store or get special offers sent straight to your phone.
Conditions here: modpizza.com/rewards
Currently available at participating locations. Full list available at modpizza.com/rewards.
Additional Information :
Size 45.5 MB
Requires iOS 13.0 or later.
User Reviews :
Burlington is amazing. Never had a bad experience, have been going there since they opened. I sometimes can't access my history when ordering online, which is a bummer, especially when I am driving.

Anacortes is another story. I live in Anacortes and was so excited when they opened. Unfortunately, I try to avoid that store because there is 0 modness. Not friendly, they are 4/4 screwing up my online order. I feel like I am putting them out when I order something and they look like they would rather be anyplace but there. Manager is not professional, even in the relaxed mod way. She does not want to do the best she can to make the customers experience good, she passes that down to the people who work for her.
Much better
The Mod app was pretty problematic before and I've messaged the company a few times when I've had issues with it. Recent update has cured a lot of my ails. It's not quite as intuitive as I'd like and I've encountered a few buggy things, but I love that if I want to edit something now, it still keeps my previous selections so I'm just adjusting and not totally rebuilding the pizza. I also don't get errors where I can't generate an order from history or favorites anymore if something is out of stock. It's still a little buggy here where the same item isn't always recognized, but at least now it just omits the items with problems not the whole order. Building an order for a family of 6 is really tedious and time consuming if you're starting from scratch every time.

I don't like how there's some back and forth between food menu and app control menu and it's cleared my order out on occasion when I've tried to adjust the location, but at least reordering from history works now so it's not as big it a deal.

Appreciate that the devs are listening to feedback and making it more user friendly. We love the pizza and love that it's much cleaner ingredients than your standard chain pizza places.
Pretty good, but could use some additional features
App UI is pretty easy to navigate, especially when ordering food. Also, having access to my rewards and being able to add rewards to my account by scanning my receipt is great. However, there are two things I've come across that I wish was implemented in this app.

First, it would be great to have the ability to add and store gift card credit on my account in the app. Then, when I go to pay for an order, I can use what's left on my gift card first and then move to another payment. To further explain, my issue was my gift card couldn't cover the entire cost of my order. This in turn prevented me from using my gift card to pay for my order in the app, so I'll have to wait until I go into a store or make my order total in the app be less than the value of my gift card.

Second, when I select "reorder" from my order history, I would like the ability to easily change what store I am sending my order to on the resulting page. Right now, it seems to default to the last place you made the original order from and it won't let you change it.
More customization options needed.
I love MOD Pizza and love the fact that they have upped their vegan game by adding a vegan pizza to the menu the Willow Vegan! This app is pretty good but definitely needs some more detailed customization options. For example it would be lovely to select light or extra for a topping. Additionally on the restaurant side they should be able to provide customers with more information about their location. Due to the recent staffing shortages not only have hours changed but some days our local Mod Pizza, has in person orders only and other days online only but the app doesn't make that clear.
Get MOD Pizza from App Store
What is your opinion about MOD Pizza
Bitcoin
Ethereum
MetaMask (ETH)
Xrp
Polkadot
Binance coin
Stellar
Dogecoin
Tron
Elrond
Donate Bitcoin to this address
Scan the QR code or copy the address below into your wallet to send some Bitcoin
Donate Ethereum to this address
Scan the QR code or copy the address below into your wallet to send some Ethereum
Donate Xrp to this address
Scan the QR code or copy the address below into your wallet to send some Xrp
Donate Polkadot to this address
Scan the QR code or copy the address below into your wallet to send some Polkadot
Donate Binance coin to this address
Scan the QR code or copy the address below into your wallet to send some Binance coin
Donate Stellar to this address
Scan the QR code or copy the address below into your wallet to send some Stellar
Donate Dogecoin to this address
Scan the QR code or copy the address below into your wallet to send some Dogecoin
Donate Tron to this address
Scan the QR code or copy the address below into your wallet to send some Tron
Donate Elrond to this address
Scan the QR code or copy the address below into your wallet to send some Elrond