(Game) Stick Warriors – God Infinity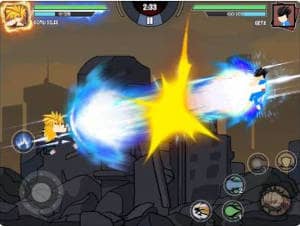 Game Description :
Stick Warriors – Super Dragon Shadow Fight – The best action games and top 1 feature arcade games on mobile.
If you love Stick Warriors – Super Dragon Shadow Fight fighting type of game then this game is the right choice for you with its great graphics and challenging gameplay.
Stick Warriors – Super Dragon Shadow Fight dbz – Supreme was inspired by "Saiyanz battle Z" promises to do the most exciting games in this genre.
Join our game Stick Warriors – Super Dragon Shadow Fight, feel all skill and combo – which you have just read comic as ki, kamehameha. Join the tournament, be the champion and the god of super saiyan.
Enjoy the ultimate attacks of warriors, such as kemeha, dragon recall, energy ball m and death balls, a fighting game is here waiting for you, good luck in the Most Unexceptional pixel z S champion game.
HOW TO PLAY
Stick Warriors has the most basic control ever! you just need to dodge, jump, power your ki, become ultra instinct and Z warriors super Hero fight against invaders. Use ultimate power, ultra shooting ball skill will be kill all invaders in shadow.
Game Features :
4 Game modes: Versus mode, Story mode, Tournament mode and Training mode
Versus mode: Face your favorite opponent head-on in an one-on-one battle. The winner will be decided after 3 rounds.
Story mode: Go on a life-long adventure to discover your true strength. Travel to all corners of the world and scream your battle cry. Become the hero as you mean to be.
Tournament: 16 finest warriors were chosen to fight in the tournament. Defeat any person may come in your way to reach the ultimate glory as the new champion.
Training mode: Prepare yourself for a new journey. Here, you can practice fighting skills and try out new characters. There's no limit on time so you can fight with the dummy as long as you want.
46 stick fighter characters SSJ with unique fight dbz styles.
Upgrade and unlock over 46 unique special moves for each fighter.
Stick Hero Fighter super saiyan has the most basic control ever!
Ultra instinct characters.
Easy and Simple to play.
Cool transform Saiyanz.
Collect these kinds of super fighters: dragon ssj2, z ssj3, ssj4, ultra instinct (ui), xeno… to become strongest stick warrior.
CONTROL
KI Blast, Counter Skill, Power, Attach, Move, Teleport, Block.
Power + Attach: super attach.
Power + KI Blast: Ki Beam, Final Flash, Death Beam.
Special skill: Energy Ball, Dragon Strike, Death Ball, Big Bang Attack.
Download Stick Warriors – Super Dragon Shadow Fight game for free and Protect your Earth and Universe from the big villains now. Control your heroes to destroy all enemies, all villains.
Keep in touch with us if you like our game and do not forget to comment about Stick Fighting game. We would love to hear from you!
Additional Information :
Size 251.1 MB
Requires iOS 10.0 or later.
User Reviews :
Plz read this. About Online and more characters. (Rock lee and saitama)
I love this game so much. I don't think i ever wrote a review in my life. This is hands down my favorite mobile game. Great job for the developers. I definitely recommend this game if you like intense fights and anime in general. But there is one thing, i feel like you should add more characters from different animes and not just dbz and naruto. You could definitely add more characters from those animes but add characters from other animes too. Like maybe from One piece or One punch Man or Attack on titan. And you should be able to play online with your friends. Like multiplayer if you know what i mean. Me and my friend have this game and we both want to play together but we can't. If you add this feature, and more characters from different animes, your game will be trending and even better. I have great ideas and i would love to give them to personally maybe through email. So if you gave me your email, that would be much appreciated. Please consider this, Thank you. Amazing job.
Games great but…
Alright so this game is great, l mean really really awesome. But l recommend a few things. The first thing I recommend is adding new characters into the game, for example in this game l would really like adding some Avatar: The Last Air Bender characters or some Legend Of Korra characters. Maybe even some Hunter x Hunter characters. That would be pretty cool! Plus then your game would be targeted by some Nickelodeon fans which leads to a bigger player-base. So its a win win. Also, l think it would be pretty cool for some more moves. For example, a chakra punch could be cool. The controls overall are great but the control that l think would work for this move would be the chakra build up or mania build up move with the punch move combined. Also, maybe add some new maps into the game. And make some maps where we can walk on water or something because l think the game makes the players fly to much. Overall this game is awesome. I got bored of some of the other stickman games but when l found this one, I never stopped playing. Matter a fact im currently playing the game. I hope l can get some replies to this review, and even some characters and moves added! Im editing this review because i've made some models in case you want to use them in your game. There Legend Of Korra models and l made a Avatar: The Last Air Bender model as well. Reply if you want them in your game even though you didn't ask!
Developer Response ,
Please update the latest version 6.2 to play online in pvp mode. Feel free to let us know your ideas to improve the game via email: skysoftone2018@gmail.com. Thank you for your feedback.
Get Stick Warriors from App Store
What is your opinion about Stick Warriors
Bitcoin
Ethereum
MetaMask (ETH)
Xrp
Polkadot
Binance coin
Stellar
Dogecoin
Tron
Elrond
Donate Bitcoin to this address
Scan the QR code or copy the address below into your wallet to send some Bitcoin
Donate Ethereum to this address
Scan the QR code or copy the address below into your wallet to send some Ethereum
Donate Xrp to this address
Scan the QR code or copy the address below into your wallet to send some Xrp
Donate Polkadot to this address
Scan the QR code or copy the address below into your wallet to send some Polkadot
Donate Binance coin to this address
Scan the QR code or copy the address below into your wallet to send some Binance coin
Donate Stellar to this address
Scan the QR code or copy the address below into your wallet to send some Stellar
Donate Dogecoin to this address
Scan the QR code or copy the address below into your wallet to send some Dogecoin
Donate Tron to this address
Scan the QR code or copy the address below into your wallet to send some Tron
Donate Elrond to this address
Scan the QR code or copy the address below into your wallet to send some Elrond