(Game) Dominoes Gold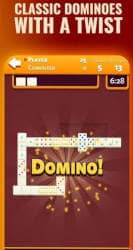 Game Description :
When you play, Dominoes Gold, you're play the classic board game dominos for real world prizes!
Challenge your opponent by playing identical games versus the computer. See who can defeat it by more. The winner earns real prizes!
Join the Skillz community and compete in domino tournaments for prizes! Best your opponents with the highest score before time runs out. Play the computer first in the classic domino game Fives then compare your score to an opponent. Whoever has the highest score in Fives will win real world prizes!
Game Features :
Classic Board Game with a Twist!
Competitive dominos games for prizes!
Insanely addicting domino games to train your skills
Fast-paced domino games played in real-time. Get the highest score before time runs out!
Competitive Dominoes Tournaments
Play tournaments of the popular dominoes game Fives against the computer
Compete in daily domino tournaments for a chance to win real prizes!
Compare your score against real dominoes players. Whoever has the highest score wins real world prizes!
Love the classic board game domino and the popular game Fives (also known as Muggins, All Fives, Five Up and Doer Di)? Then it's time for to take your domino skills to the next level with Dominoes Gold and compete in daily domino tournaments for real world prizes with Dominoes Gold!
Download today for free and join the dominos tournaments to win real prizes!
Additional Information :
Size 233.3 MB
Requires iOS 10.0 or later.
User Reviews :
GAME GOES EXACTLY AS DIRECTIONS SAY!!!
Awesome game! Then again, I live to play Dominoes, & YOU ARE MATCHED W/ the same exact opposite player, as your "quality" of playing!!!! So…you'll be matched w/ ppl IN YOUR PLAYING LEAGUE!!!!!

I love "SKILLZ," period!! B/c they DO AS THEY SAY!!! LIKE…YOUVE WON $$$- it's likely b/c it IS $ YOUVE added to play more w/! So, like  the saying goes…"IT REALLY DOES TAKE $…TOO MAKE $!!!!!!!!" EXACT FACT!!

So really- ZERO SKILLZ GAMES SHOULD HAVE A SINGLE REVIEW ABOUT THEM, "being confused??!!!!" (ofcourse over a buck!!).

~ESPECIALLY, WHEN THE DIRECTIONS W/ ANY & EVERY SKILLZ GAME, IS COMPLETELY THOROUGHLY!!!!!!!!!

Ya WANNA WIN $$$??? Then more than likely-depending on your caliber of playing and quality of playing, you are more than likely going to have to put money into the game in order to win money out of the game and that is not something you're gonna hear for the first time in your life I know!!!!!!!!

"Awesome, enjoyable, therapeutic-time gaming for MYSELF, I KNOW!!" Ea/ & EVERYDAY!!! SKILLZ has THE VERY BEST GAMES ON HERE- I especially LOVE how now, we get the actual SKILLZ App & can turn to that for LOTS of 411 on important facts going on in the differ. games!!! PLUS WE GOT 1 app w/ ALL OF SKILLZ GAMES IN 1 spot to choose what cha wanna play!!! I LOVE IT SKILLZ!! Keep UP the awesome WORK!!!
Change of opinion
I first only gave this game 3 stars but after a little practice and I got the hang of how the app operates better and when you reach out to support they are quick. Yes you can win money and you can lose it. I will say that sometimes the hands are ridiculous but over all it's one of the few games I play often. I suggest that they do something with the chat I can never find what they are talking back when the app displays message. Now the final Fifth star I gave the app is for how much better than other dominoe apps and it's good old fashion dominoes with no strange rules . You also get rewards in cash to play so enjoy it's getting better
Big Time Glitch
The reviews that are posted about people joining a game and leaving and re-joining and leaving and re-joining and then the game says that you forfeited is very real!! Beware for those of you that actually put your hard earned money on this game I just downloaded it played five games and out of those 5, 2of them were done like that by the other player and it said I forfeited. There's nothing you can do to stop it and the screen goes crazy repeating that same message and in the end although you did nothing wrong you lost. Luckily I hadn't bet any real money because I wanted to see how the game really operated before I would do that, and all I can say is, until they get that fixed no way. Also beware, for real dominoes players, there's only one way to play this game and that is with the spinner playing on all four sides pulling from the boneyard and getting points. Me personally I like to play for Domino forget them points I'll take the points you have left in your hand but the beginners way not for me I want a real challenge.
Get Dominoes Gold from App Store
What is your opinion about Dominoes Gold
Bitcoin
Ethereum
MetaMask (ETH)
Xrp
Polkadot
Binance coin
Stellar
Dogecoin
Tron
Elrond
Donate Bitcoin to this address
Scan the QR code or copy the address below into your wallet to send some Bitcoin
Donate Ethereum to this address
Scan the QR code or copy the address below into your wallet to send some Ethereum
Donate Xrp to this address
Scan the QR code or copy the address below into your wallet to send some Xrp
Donate Polkadot to this address
Scan the QR code or copy the address below into your wallet to send some Polkadot
Donate Binance coin to this address
Scan the QR code or copy the address below into your wallet to send some Binance coin
Donate Stellar to this address
Scan the QR code or copy the address below into your wallet to send some Stellar
Donate Dogecoin to this address
Scan the QR code or copy the address below into your wallet to send some Dogecoin
Donate Tron to this address
Scan the QR code or copy the address below into your wallet to send some Tron
Donate Elrond to this address
Scan the QR code or copy the address below into your wallet to send some Elrond