(App) Domino Pizza USA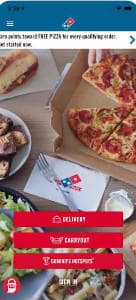 App Description :
Conveniently order Domino's Pizza from anywhere on your iPhone, iPad or iPod touch. Build your pizza just the way you like it or choose one of our specialty pizzas. Add items from the rest of our oven-baked menu including chicken, pasta, sandwiches, bread, drinks and desserts. And with the Domino's Tracker ® you can follow your order from the moment you place it until it's out for delivery or ready for pickup!
To install Domino's for Apple Watch: After installing Domino's for iPhone, open the Watch app on your iPhone, scroll down, and tap on the Domino's entry. Make sure "Show App on Apple Watch" is enabled.
Use the Domino's app to order pizza from locations in the United States, not including Puerto Rico. To place an order in Puerto Rico, visit www.DominosPR.com.
¡Pide Domino's en inglés o en español! Nuestra app se configura automáticamente con el idioma que has escogido para tu smartphone o tableta.
Utiliza la applicación de Domino's para ordenar en los Estados Unidos, no incluido Puerto Rico. Para ordernar en Puerto Rico, visita www.DominosPR.com.
App Features :
Create a Pizza Profile to easily access to your saved info and recent orders (not required)
Order faster than ever by creating an Easy Order!
Sign up for Domino's Piece of the Pie Rewards® and earn points toward free pizza!
Pay with cash, credit card, debit card or Domino's gift card. You'll also have access to the best pizza coupons and deals.
Use our voice ordering assistant, Dom, to add items to your cart and to select a coupon (iPhone only)
Use Apple Watch to track orders, or place an Easy Order or Recent Order right from your wrist!
Use Domino's Tracker notifications to follow your pizza order until it's out for delivery or ready for pickup!
Additional Information :
Size 183.1 MB
Requires iOS 12.1 or later.
User Reviews :
I love it!! – babysitter edition
Being able to look at the menu and order online makes things so much easier. I babysit 3 kids at a time and when I order pizza it's hard to pay attention to them or for whoever I talk to on the phone hear me. The app itself is organized and shows prices and coupons while you look through the menu. The food is also very good if you are one that gets full quickly. There is a huge selection of food to choose from and there is always a good coupon to use (my favorite is the 5.99 deal because the kids can get a pizza with 2 toppings they want. And then I can get either brownies for them or if I want a sandwich or salad instead of pizza I can get them- and it's a short price considered what I could pay at other pizza places). Another thing that is beneficial is how I don't have to stand by the door guessing the time they will be here. Instead they let me know when they left the store and the store is 10 min away so I know they will be here within 15 min. So I'll stay by the door for like 5 min instead of the whole 25-30 minutes. The app is very beneficial and helpful. So I def recommend this app, especially for my friends at a party or when babysitting
Please add garlic options to the app
I love the food and the app is a great help but I wish there was an option for pasta/ bread bowls, pizzas, bread knots, wings, etc. to have the options of garlic or no garlic. I rarely get the bread bowls because I have a garlic intolerance I'm not allergic but it's very very painful after eating it. I don't like having to place an order only to realize too late I have to call the store and ask them not to. I don't normally complain about anything with the food I really love it but it's very awkward and inconvenient to have to call just to avoid a mishap. I feel really bad about it because a lot of the people that work at Dominos are really hard workers and the branch we order from are some of the most kindest, hardworking, genuinely care about the customers and take pride in doing things right. A lot of people who work in the food industry do care about their customers or their work of their job and I feel that a lot go under appreciated. Thank you for making the app to make it easier to order and thank you to the workers for all your hard work. Especially during the pandemic.
How can pizza be this Good!?
I'll tell you how; You want a delivery driver that's willing to battle the unstable elements of blistering winds and sheer cold late at night against terrible drivers that impede their journey to deliver said treasure politely and elegantly at your door without breaking so much as a sweat to save your relationship when your significant other complains there's nothing to eat since you couldn't get the groceries and all the stores are closed? Yes you do. You DO want the blessings of humanity to ring your doorbell and support your relationship like Atlas holds up the world on his rippling shoulders all the while enjoying the very pizza you ordered in a cozy warm living room while the champions that brought upon a new form of nirvana accept your shillings and tip their cap looking over their shoulder dramatically in the night like Ryan Gosling in 'Drive'; KNOWING FULL WELL that they are the real heroes and live a life of danger and unprecedented hazards that live on the edge like a 1970s action flick with unnecessary explosions because not all heroes wear capes but all heroes have a uniforms. I PROPOSE A TOAST! TO THE TRUE CHAMPIONS OF FLAVOR ! HUZZAH BRAVE WINNERS! HUZZAH!!

– A pleased Customer
Get Domino Pizza USA from App Store
What is your opinion about Domino Pizza USA
Bitcoin
Ethereum
MetaMask (ETH)
Xrp
Polkadot
Binance coin
Stellar
Dogecoin
Tron
Elrond
Donate Bitcoin to this address
Scan the QR code or copy the address below into your wallet to send some Bitcoin
Donate Ethereum to this address
Scan the QR code or copy the address below into your wallet to send some Ethereum
Donate Xrp to this address
Scan the QR code or copy the address below into your wallet to send some Xrp
Donate Polkadot to this address
Scan the QR code or copy the address below into your wallet to send some Polkadot
Donate Binance coin to this address
Scan the QR code or copy the address below into your wallet to send some Binance coin
Donate Stellar to this address
Scan the QR code or copy the address below into your wallet to send some Stellar
Donate Dogecoin to this address
Scan the QR code or copy the address below into your wallet to send some Dogecoin
Donate Tron to this address
Scan the QR code or copy the address below into your wallet to send some Tron
Donate Elrond to this address
Scan the QR code or copy the address below into your wallet to send some Elrond