(Game) Sudoku – Brain Puzzle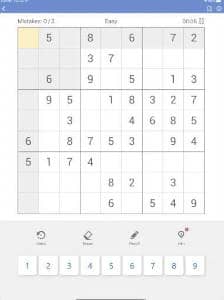 Game Description :
Sudoku Free Puzzle Game is a welcomed and addictive Brain Sudoku puzzle game on App Store. You can download Sudoku free app for your iPhone. You get 5000+ challenging Sudoku puzzles everyday to one true solution. Classic Sudoku the best puzzle game for your brain, logical thinking, memory, and A GOOD TIME KILLER!
Classic Sudoku is a logic-based number puzzle game and the goal is to place 1 to 9 digit numbers into each grid cell so that each number can only appear once in each row, each column and each mini-grid. With our Sudoku puzzle app, you can not only enjoy sudoku games anytime anywhere, but also learn Sudoku techniques from it.
Game Features :
1. Sudoku puzzles come in 4 difficulty levels – easy Sudoku, medium Sudoku, hard Sudoku and expert Sudoku! Perfect for Sudoku beginners and advanced players!
2. Daily Challenges – Complete Daily Challenges and collect trophies.
3. Pencil Mode – Turn on/ off pencil mode as you like.
4. Highlight Duplicates – to avoid repeating numbers in a row, column and block.
5. Intelligent Hints – guide you through the numbers when you get stuck
6. Themes – Choose the theme that makes it easier for your eyes.
7. Long press to fill quickly
On this Brain Sudoku free app, you are also able to
1. Turn on/off sound effects
2. Turn on/off Highlight identical numbers
3. Auto remove notes from all columns, rows and blocks once the number is placed
4. Unlimited undo & redo
5. Auto-save – Pause the game and resume the game without losing any progress
6. Sudoku online & Sudoku offline
You may also find the following Brain Sudoku features useful
1. You can share to your friends via Google+, Facebook, Twitter etc..
2. Use dark mode to protect your eyes
3. Turn on/off timer when you play the sudoku puzzle
4. 100 new sudoku puzzles every week.
5. New types of Sudoku puzzles, like Killer sudoku, letter Sudoku, will be available.
6. Good gameplay
7. Intuitive interface
8. Easy tools, easy control
9. Clear layout
Our free Sudoku puzzle app has intuitive interface, easy control, clear layout and well balanced difficulty levels for beginners and advanced players. It's not only a good time killer but also helps you think, makes you more logical and have better memory.
When you first open our Sudoku app, you see a guide tour teaching you how to play Sudoku and when you open the puzzle game app for the 100th time, you can see yourself a Sudoku master and a great Sudoku solver. You'd be able to play any web sudoku fast. Come to our Kingdom of Sudoku and keep your mind sharp.
If you have any idea for our Sudoku puzzle game app, or if you have any question about Sudoku and you want to discuss with us, please send us emails at support[at]dailyinnovation.biz We are always here for you.
EULA:  www.learnings.ai/tos.html
Privacy Policy:  www.learnings.ai/pp.html
Additional Information :
Size 216.7 MB

Requires iOS 10.0 or later.
User Reviews :
Love the game…
I love the game, but there is one thing that I would love for the app developers to consider. Since iOS 14 came out, I am able to use my Apple Pencil to draw the numbers in the boxes; however, the app doesn't recognize the number I am drawing in the box.

I have been trying to find a Sudoku app that lets me write in the numbers and have yet to find one. I would be soooo happy if they added this feature.

Either way, I give this app 5 stars. I've played Sudoku for a long time and I have no complaints about this app. If you love sudoku, I highly recommend you download this app. You will not be disappointed!!!
Favorite suduko
Your game was my favorite sudoku until for the last time , one of your advertisers hi-jacked my phone with a 30 second commercial after I had just watched a 30 second commercial. This was because I wanted to complete a game I had started. The way I see it…my phone, my rules. Your game your rules. You have advertisers that have an ad with a timer that stops when you click on "done" at the top of the page. I take a huge exception to that. They aren't my freaking kindergarten teacher. I'm sure I'm not the only person who has quit because of this and I won't be the last.

By the way, I already have the parking lot game and it is going too. This is simply a lack of respect and a waste of time to watch commercials on games I have.
Best Sudoku Online
I have used many apps to play Sudoku. I like this one the best. It is well laid out. It is also one of the few apps that has 16 x 16 versions. I enjoy that option. Also, the ads are very minimal, and they don't last 30 seconds as they do on other apps. Good job by the developers. My only reason for giving it 4 stars instead of 5 is that the game freezes often. It does not correct itself. You have to delete the app, then reload it. So if you are trying to keep points, this won't be the best app for you.
Get Sudoku from App Store
Leave your feedback regarding Sudoku
Bitcoin
Ethereum
MetaMask (ETH)
Xrp
Polkadot
Binance coin
Stellar
Dogecoin
Tron
Elrond
Donate Bitcoin to this address
Scan the QR code or copy the address below into your wallet to send some Bitcoin
Donate Ethereum to this address
Scan the QR code or copy the address below into your wallet to send some Ethereum
Donate Xrp to this address
Scan the QR code or copy the address below into your wallet to send some Xrp
Donate Polkadot to this address
Scan the QR code or copy the address below into your wallet to send some Polkadot
Donate Binance coin to this address
Scan the QR code or copy the address below into your wallet to send some Binance coin
Donate Stellar to this address
Scan the QR code or copy the address below into your wallet to send some Stellar
Donate Dogecoin to this address
Scan the QR code or copy the address below into your wallet to send some Dogecoin
Donate Tron to this address
Scan the QR code or copy the address below into your wallet to send some Tron
Donate Elrond to this address
Scan the QR code or copy the address below into your wallet to send some Elrond