(App) 7-Eleven – Rewards & Shopping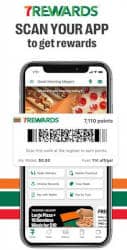 App Description :
Join. Earn. Get rewarded. Now get 2x points when you scan your app barcode, 5x points when you pay with 7-Eleven Wallet, or 10x points when you use Mobile Checkout!
App Features :
SHOP & EARN REWARDS
Get 2x rewards points on your everyday purchases when you scan your app barcode*, then browse our rewards menu and use points to get free food and drinks. Earn faster with bonus points offers and point streaks on select snacks, drinks, and products.
ORDER DELIVERY
Get food, alcohol, candy, snacks, drinks, ice cream, grocery, health needs and more delivered anywhere you are in about 30 minutes. 7NOW delivers over 3000+ items including Slurpee® and Big Gulp®, pizza and sandwiches, and even beer, wine, and liquor (where available, 21 years or older of course) across 43 major metro areas.
FUEL LOYALTY SAVINGS
Fill up on gas for less. On your first 7 trips you'll save 11¢/gal. After that you'll receive everyday savings of 3¢/gal*. Check the 'Find a store' section and the 7-Eleven app will filter fuel loyalty locations near you.
7-ELEVEN WALLET
It's easy to pay with your phone. The 7-Eleven Wallet makes checking out contactless, earns you 5x points and rewards you along the way. Get started when you load your Wallet with cash, credit, debit, 7-Eleven gift cards, Apple Pay® or Google Pay®.
MOBILE CHECKOUT – (AVAILABLE AT SELECT 7-ELEVEN LOCATIONS)
With our contactless checkout, you can shop and check out with your phone. It as easy as scan, pay, and go. Scan the items as you shop and skip the line when you are ready to checkout. You can even earn 10x points and get special offers with 7REWARDS and in-store promotions.
FIND DEALS
Get exclusive offers on your favorite products like pizza, coffee, ice cream, donuts, snacks, energy drinks and bottled water with deals for 7Rewards members.
NOW AVAILABLE AT STRIPES STORES
Start saving big and earning 7Rewards points on everything you buy at Stripes Stores. Redeem points for free food and drinks. Get tacos and family meals from Laredo Taco Company, beer, and groceries to go with curbside pickup at select stores.
GIVE FEEDBACK
We're here to make your day better. Please let us know if you think we're doing a good job or not. Submit feedback at any time in the app.
ABOUT 7-ELEVEN, INC.
Are you still reading this? Awesome. Most people stop when they get to the small print. But not you! You get to read the cool stuff. 7‑Eleven, Inc. is the premier name in the convenience-retailing industry. They don't like to brag, but they invented convenience stores. For real. Google it. Based in Irving, Texas, 7‑Eleven operates, franchises and/or licenses more than 72,800 stores in 17 countries, including 12,000 in North America. Known for its iconic brands such as Slurpee®, Big Bite® and Big Gulp®, 7‑Eleven has expanded into high-quality sandwiches, salads, side dishes, cut fruit and protein boxes, as well as pizza, chicken wings and mini beef tacos. Mmmmm, tacos. 7‑Eleven offers customers industry-leading private brand products under the 7-Select™ brand including healthy options, decadent treats and everyday favorites at an outstanding value. Customers can earn and redeem points on various items in stores nationwide through its 7Rewards® loyalty program with more than 40 million members, place an order in the 7NOW® delivery app in over 1,300 cities, or rely on 7‑Eleven for bill payment service, self-service lockers and other convenient services. Find out more online at www.7-Eleven.com, via the 7Rewards customer loyalty platform on the 7‑Eleven mobile app, or on social media at Facebook, Twitter and Instagram. Also, they trademarked the word "Brainfreeze." No lie. Thanks for sticking with this. You're unstoppable.
*Points exclude services, fuel and age restricted items including tobacco, lottery and alcohol.
Additional Information :
Size 245 MB
Requires iOS 11.0 or later.
User Reviews :
My 7-11
It's not located where I would like it to be but I can at least get my .03 discount on my gas and there big gulp machine is usually calibrated correctly. The girls and or women are always cheerful. The men behind the counter are a bit more reserved but they do their jobs well.

The main reason I go is to refuel at the best possible price in the area. The others are either Exxon related and no discount on their gas or their a regular 7-11 gas store but they feel they need to jack the price higher just because where they are located. It's a shame as I've spoken to other customers and they would prefer to go to those stores but during these time of gas price gouging. They have elected to gouge. It's their loss but I guess they feel they get enough business that they would rather gouge the customer than recognizing that they would likely make more money if they had fair pricing like my 7-11 on Sandbridge Rd. Virginia Beach,Va.

I hope you find this review of interest.
Very useful app
I love that the promotions on this app allow you to earn points without making a purchase, and that the app is easy to use in store and can be updated immediately. It's important to me that the rewards app be available in the future, so I would prefer if referral reward points be given when you refer someone and they make a verified purchase. I know most people but all of their stuff at full price and many people just aren't willing to download apps on their phone. One thing that bothers me is that once you verify your age, the pop up telling you to verify your age doesn't go away. It makes me worry that my age isn't verified, but when I click on it, it turns out that yes, in fact, my age is verified. I also dislike that 7/11 stores do not accept all cigarette coupons and that you must use digital coupons approved by 7/11. Many times I would prefer to use the paper coupons sent to me in the mail.
Get 7-Eleven from App Store
What is your opinion about 7-Eleven
Bitcoin
Ethereum
MetaMask (ETH)
Xrp
Polkadot
Binance coin
Stellar
Dogecoin
Tron
Elrond
Donate Bitcoin to this address
Scan the QR code or copy the address below into your wallet to send some Bitcoin
Donate Ethereum to this address
Scan the QR code or copy the address below into your wallet to send some Ethereum
Donate Xrp to this address
Scan the QR code or copy the address below into your wallet to send some Xrp
Donate Polkadot to this address
Scan the QR code or copy the address below into your wallet to send some Polkadot
Donate Binance coin to this address
Scan the QR code or copy the address below into your wallet to send some Binance coin
Donate Stellar to this address
Scan the QR code or copy the address below into your wallet to send some Stellar
Donate Dogecoin to this address
Scan the QR code or copy the address below into your wallet to send some Dogecoin
Donate Tron to this address
Scan the QR code or copy the address below into your wallet to send some Tron
Donate Elrond to this address
Scan the QR code or copy the address below into your wallet to send some Elrond