Whooo game by Yso Corp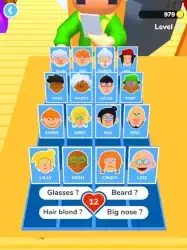 Game Description :
Does he have a mustache? Does he have blue eyes? Oh! I found him!
Game Features :
There are many characters but only one is right! Will you be able to unlock all cards?
You know this game, let's play with us in the solo mode or in the versus mode !
Additional Information :
Size 153.5 MB
Requires iOS 11.0 or later.
User Reviews :
It's ok…
There's way to many ads it's very annoying other than that the games pretty good but there is this one glitch like if you save yourself from losing than your card won't get off the screen in the begging than it will go away after the other person asks you a question and it's annoying because I can't see my cards and ask the other person question that will help me win because I won't know what they look like and there might be other glitches I'm not aware of but those are the problems I have had to deal with on this app so if you could fix these to this app would be amazing just stop putting so much ads and fix that glitch thank you and I really hope you fix this because I would enjoy this game much more. But I'm still gonna give it 5 stars because the games good and I trust that you can fix the glitch and maybe get rid of a bunch of ads thank you for reading all of this and have a nice day.
Kinda good kinda bad
Look there's too many ads and I don't like it because it's like this want to play for like two times I mean like two questions and add pops up after that another ad pops up after that another ad pops up and it starts to get annoying it keeps on happening and happening this my first ever review that I wrote on a game so be nice but here's the thing every single time I play this game and add pops up and then my partner has to be waiting and waiting and waiting and waiting like who want a game that has too many ads after two minutes an ad popped up two minutes add pops up two minutes add pops up I hate this game OK not trying to be rude but just need an update really need an update so I would like this game to have a update so that's why I deleted this game too many adds
It's ok
So I was looking for games and saw this one. People said their was to many ads but I checked it out anyway and the amount of ads was just insane Because as soon as my 10 was over there was an ad. It's so annoying and I'm sure I'm not the only one who thinks this is annoying please fix this amount of ads. Also I don't understand why they pick a character for you you do great if you got to pick the character. Also I don't understand why it starts you out with the finals when you just started the game I saw on the calendar and I don't know why they're awarding new characters to play against it's Random anyway so it won't matter. And game glitches it does this little free thing I'm not the only one experiencing this glitch and I really hope that they remove in the ads like put an ad every 7 to 20 games I also have some suggestions like Who are you can go against and which car to pick that would be awesome please read this review and fix this game Also I was gonna read this the floor but I just couldn't with the amount of ads in the glitch I really hope you
This is quite possibly the worst game I have ever played
if i could give this 0 stars, i would. Literally the first game, the literal introduction game, literally you get an ad after EVERY TURN, so imagine, 10 seconds, 5 second ad, 10 seconds, 5 second ad. Its horrible, ive seen games with ads, but this is quite possibly the worst one i have ever played. I downloaded it from an ad thinking "hm haven't played that in a while! i never have anyone to play with so this seems great" and then I go to play it and the game is very literally unplayable. not to mention the fact that you get super limited questions even if you want to ask a better question, so it limits everything making the game even less fun. I literally cannot believe that someone could think a game with this many ads is fun, its horrendous and I literally could not make it through the first intro game without deleting it because i had seen 5 ads and it had been less than a minute. Do not get this game unless you intend to give them money to get rid of ads, but with how stingy they are with getting money from those ads i wouldnt give them any money at all.
Get Whooo from App Store
What is your opinion about Whooo
Bitcoin
Ethereum
MetaMask (ETH)
Xrp
Polkadot
Binance coin
Stellar
Dogecoin
Tron
Elrond
Donate Bitcoin to this address
Scan the QR code or copy the address below into your wallet to send some Bitcoin
Donate Ethereum to this address
Scan the QR code or copy the address below into your wallet to send some Ethereum
Donate Xrp to this address
Scan the QR code or copy the address below into your wallet to send some Xrp
Donate Polkadot to this address
Scan the QR code or copy the address below into your wallet to send some Polkadot
Donate Binance coin to this address
Scan the QR code or copy the address below into your wallet to send some Binance coin
Donate Stellar to this address
Scan the QR code or copy the address below into your wallet to send some Stellar
Donate Dogecoin to this address
Scan the QR code or copy the address below into your wallet to send some Dogecoin
Donate Tron to this address
Scan the QR code or copy the address below into your wallet to send some Tron
Donate Elrond to this address
Scan the QR code or copy the address below into your wallet to send some Elrond