UnitedHealthcare app by United HealthCare Services, Inc.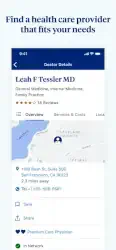 App Description :
Not all UHC plans are currently supported by the app, not all features are available for every plan
Managing health care on the go just got easier with the UnitedHealthcare app! It's designed to save you time by providing easy access to your information. Features available are based on your personal health plan and can include
App Features :
Find and Manage Providers:
Find doctors, specialists, or health care facilities with our guided and location-based search.
Save your favorite doctors or facilities for easy access.
Manage Claims:
Review your claims by member, provider, status, facility, service or date.
Review your claims payment breakdown and Explanation of Benefits.
ID Card:
Never lose your insurance card again! View and share your ID card.
View Cost Estimates:
Know how much you could pay for treatments and specialty services.
Reference Copays, deductibles, and out-of-pocket expenses:
View your copay, deductible, and out-of-pocket expenses.
View Account Balances:
Know your health reimbursement, flexible spending, and Optum Bank health savings account balances.
Easily Sign In
Use HealthSafe ID™ (a new, enhanced login that lets you access nearly all UnitedHealthcare digital tools with one username and password) to securely access your app.
Never forget your password again with Touch ID or Face ID.
Manage Your Health:
View personalized recommendations for preventative care
Track your steps and activity with the Apple HealthKit integration for select programs
Additional Information :
Size 144.3 MB
Requires iOS 14.0 or later.
User Reviews :
Great Health Related App
This is a great health related medical app that's extremely easy to use and a much better option than a box of papers you file away. It's convenient and you'll find that your medical information is simple a tap away, whenever you need it, anytime, anywhere. It helps you to stay on top of all your medical care and the costs. I appreciate the ability to be able to keep an eye on my share of cost, health related billing, and deductibles.

I only have one request in that it is nice that I am able to share your medical ID card as a pdf, but it would be much better if you allowed the medical ID card to be downloaded into my Apple Wallet along with my other cards. I have my prescription related card, along with my roadside assistance and groceries store cards, the time is now to allow the medical ID card to be utilized with the same convenience.

Nevertheless, the am ranking this app 4.5 out of 5 stars. Great work!!
Having problems with the card plus people not returning calls
I have had nothing but problems with my navigator returning phone calls since October or December 2021 it is now March 16, 2022 and I still haven't heard from her there's something wrong with your phone system so she says plus then I've tried to talk to supervisors they were supposed to call me back has not won did and then she didn't call me back after she said she would call me back at all I've tried to get back a hold of certain people can't get a hold of anyone and nothing has been done can you please call me today to get things taken care of thank you I appreciate it and I don't like this app I'm not sure how to really use it plus in January and I did not get my January $75 on my card and was promised because I got my card late I got my card on February 5, 2022 which was a Saturday and I was told and so was one of the customer service people or supervisor at UNITED Health Care to complete told that I would be getting an extension because I'm getting my card late and still I have not got that $75 for January February I didn't try to use the card and it wouldn't even work so now I got something else and I still don't have my card in the mail which is the card number I got now don't even know why what's going on so I need somebody call me thank you have a nice day
Great app till you actually need to do or look up something Specific
Love that I can see my claims and Rx from the past. But when you need to add notes to your prescriptions there's a glitch where the keyboard is in the way of the save button and there's no way of pulling the keyboard down out the way. And they removed the ability to search for a specific doctor by name to see if they are in your network. I had to search a LONG list of several hundred drs and they are listed in no particular order. Just random so you can't even scroll alphabetically. I swear I seen a dr was in network before contacting her to set up a surgery. But then when I contacted customer service to check on the pre-authorization and get an estimated out of pocket cost I was told she wasn't in my network and they couldn't give me an estimate. I went to try and find her in the search again but got tired of scrolling through hundreds of drs and without the ability to search by name it would have taken hours. Now I have learned if I find a dr in the list to take a screenshot of the list and their info. And since they changed things around it was hard to find the section that gives you an estimate out of pocket cost for procedures or for anything.
Convenient, easy-to-use and useful
The app allows you to view claims your providers have submitted to the insurer. Some of the claims are eye opening and will surprise you – such as how many claims a single visit might entail. You have the opportunity to mark-off which ones have been paid to assist the insurer to track whether your deductible has been reached. The app also allows you to quickly check which providers are in-network. Prescriptions on OptumRx are managed on a separate app. You can also save the contacts of your regular doctors for easy reference. It will also prompt you to look after your health by getting your blood pressure taken, getting a lipid panel or getting a flu shot. However, you do not put anything personal into the app. It does not collect your health data, so that's good from a privacy perspective, but if that's what you're looking for, you'll need another app.
Get UnitedHealthcare from App Store
What is your opinion about UnitedHealthcare
Bitcoin
Ethereum
MetaMask (ETH)
Xrp
Polkadot
Binance coin
Stellar
Dogecoin
Tron
Elrond
Donate Bitcoin to this address
Scan the QR code or copy the address below into your wallet to send some Bitcoin
Donate Ethereum to this address
Scan the QR code or copy the address below into your wallet to send some Ethereum
Donate Xrp to this address
Scan the QR code or copy the address below into your wallet to send some Xrp
Donate Polkadot to this address
Scan the QR code or copy the address below into your wallet to send some Polkadot
Donate Binance coin to this address
Scan the QR code or copy the address below into your wallet to send some Binance coin
Donate Stellar to this address
Scan the QR code or copy the address below into your wallet to send some Stellar
Donate Dogecoin to this address
Scan the QR code or copy the address below into your wallet to send some Dogecoin
Donate Tron to this address
Scan the QR code or copy the address below into your wallet to send some Tron
Donate Elrond to this address
Scan the QR code or copy the address below into your wallet to send some Elrond