Rummikub game by Kinkajoo Ltd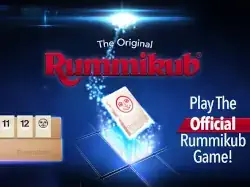 Game Description :
The original Rummikub FREE version (not Rummy nor Rummy Cube or Okey) is one of the most popular family games in the world.
The unique combination of tactical thinking, luck and tense competition has made this classic family game to one of the most successful games for the past 70 years! Arrange the tiles to create the smartest color and numbers combinations.
Will you be the first player to place all tiles and win the match?
Play the classic Rummikub game online with your friends, family or players from all around the World.
You can choose to connect with your Facebook account, Game Center or as a guest.
Collect a daily bonus and get rewarded for coming back everyday.
Game Features :
PLAY NOW
Play ONLINE with millions of Rummikub players from all around the world and try to win as many points as you can to become the Rummikub Master!
CUSTOM GAME
CREATE a public table with your own preferences; number of players, turn time and entry fee.
PRIVATE GAME
INVITE FRIENDS and family members to play!
Create private tables and choose your own personal game settings.
You can see which of your friends are online from your Facebook's friendlist and invite them to join you to play a fun classic Rummikub game.
We offer a few types of tables – for conservative, moderate and High Roller's players.
PRACTICE GAME
Play against computer players (also available OFFLINE). Define the turn time, opponents number and difficulty level.
Includes 10 supported languages – English, German, French, Dutch, Korean, Chinese, Spanish, Polish Portuguese and Turkish.
Experienced a problem? Got a suggestion? You can reach us at support[at]rummikub-apps.com
Additional Information :
Age Rating 4+
Size 269.4 MB
Requires iOS 11.0 or later.
User Reviews :
When it works it is ideal…however there are issues.
I actually purchased and set up a tablet for my grandmother for the sole purpose of being able to play this game with her grandchildren during this time since we are all socially distancing from her. Had it all set up and working and got one game in before we encountered the same issue that multiple other people in this thread have mentioned about a lack of connectivity. It is sporadic and unpredictable in when it can and can't connect. While I understand that servers face and incredible load during this time, it is difficult to do remote tech support for someone who has a very specific set of instructions to follow on how to play a game and now feels like they are just simply doing it wrong, when in fact it is a developer issue that I hope can be addressed in the near future.

I am understanding of the greater issues at hand in the world and won't let yet another negative element ruin this quarantine period, but I am greatly disappointed that something I looked forward to greatly improving this time only led to further complicating it. I wish that I had looked further into the fact that this has apparently been an ongoing issues for months and not wasted the time, money, and effort that I did. Just taking the time to share so that perhaps others will take that into consideration.
Stimulate your mind!!
The beauty of this app is that unlike the physical game, you get the chance to throw caution to the wind and try different melds & strategies. And if they don't work, just hit the undo button and try something else! I bumped up my practice sessions to allow 2 full minutes to play my tiles, and only wish you could increase it to 3 minutes or more. I also wish there was a way to slow down the laying of your opponents' tiles during practice sessions, and maybe even see your opponents' tiles, for better learning opportunities, even if it meant you would forgo any points being earned. Lastly, it would be great if the practice games had a "hint" option or maybe a "coach" mode so you could see if you have a viable move to make or not, something as simple as highlighting a playable tile. As you might guess, I'm using this app to make myself a better player when I play the physical game using tiles. One small complaint is that I've experienced an advertisement that I couldn't close so I've had to force close the app. But overall, great app!
Good game – customer support is fantastic
I love playing Rummikub with friends and I was very excited when I found this app. Because I like playing on my own time I choose the Practice game, which is against the computer rather than against live people. That way if I have to leave in the middle of a game or get interrupted I can close it and reopen it at my convenience. To play any game you need coins. I initially bought coins for $2.99, but even in the Practice mode you can earn more coins by watching videos or winning so many points. I don't feel that I will need to purchase coins again. Twice when something didn't work quite right I contacted Customer Support and both times got an immediate response and they quickly resolved the issue. Sometimes the game seems to lock up (where it's stuck on one of the players), but I usually exit the game and come back in and it gets resolved. This game is very close to the real thing, although when I play with friends we have stricter rules.
Get Rummikub from App Store
What is your opinion about Rummikub
Bitcoin
Ethereum
MetaMask (ETH)
Xrp
Polkadot
Binance coin
Stellar
Dogecoin
Tron
Elrond
Donate Bitcoin to this address
Scan the QR code or copy the address below into your wallet to send some Bitcoin
Donate Ethereum to this address
Scan the QR code or copy the address below into your wallet to send some Ethereum
Donate Xrp to this address
Scan the QR code or copy the address below into your wallet to send some Xrp
Donate Polkadot to this address
Scan the QR code or copy the address below into your wallet to send some Polkadot
Donate Binance coin to this address
Scan the QR code or copy the address below into your wallet to send some Binance coin
Donate Stellar to this address
Scan the QR code or copy the address below into your wallet to send some Stellar
Donate Dogecoin to this address
Scan the QR code or copy the address below into your wallet to send some Dogecoin
Donate Tron to this address
Scan the QR code or copy the address below into your wallet to send some Tron
Donate Elrond to this address
Scan the QR code or copy the address below into your wallet to send some Elrond