Paper Princess Dream Castle game by Libii Tech Limited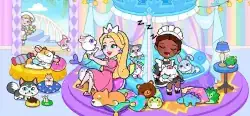 Game Description :
You are royally invited to Paper Princess' Dream Castle.
You are royally invited to Paper Princess' Dream Castle. Immerse yourself in a wonderful world where you can enjoy interactive activities with a dose of fun: explore the castle, dress up the princess for different occasions or even create your own designs. Cute magical pets will kick the fun up a notch.
Game Features :
Amazing scenes and interactive activities
Tons of fabulous outfits and items to blow your mind.
Dye and create your design. Unleash your imagination.
Enjoy hours of fun with lovely characters and pets.
Additional Information :
Age Rating4+
Size 254.5 MB
Requires iOS 11.0 or later.
User Reviews :
This game is fun but could there be more places
This game is great and I like playing it but could there be more places and be less ads when you're getting new areas please and this game is awesome
Not really fun
So I was playing my favorite game and then all these ads started popping up for this game Dream Castle I'm like this sounds really fun so like any other person would do I read the reviews and they all checked out I didn't know what they meant by not enough places so I got it and I first everything was going really really really fun but then I want it to go to that animal spa thingy and it said I have to pay for it so I'm like OK how much does this cost with the Halloween break thing 5.99 and I'm like OK OK pretty good but I don't think it's fair I didn't buy it because like money but I don't think it's fair because like even if I do buy it that's not a lot of places to go to please make more places also for people who don't want to buy it or don't have enough money to what are they supposed to do there's only one thing and maybe you should make like one world and then another world kind of like Toca Boca but not saying it's terrible but not saying it's the best so that's why I'm giving attitude because really I mean like even if I bought that thing that pass I wanna be able to literally do anything also like again for people who don't have the pass what are they supposed to do because they only have a pool world and a castle can you make more places for people who don't want to buy the pass also you don't have to do that but at least make more places for the pass
Please don't make us watch adds to unlock areas
Love it. Something is annoying though. And it's the fact that we have to watch adds for areas. All areas should be free, or I might not enjoy playing as much as I should.
So good
I like it and I love it because it's so fun and my sister and me loves it so and we buy the open all thing so it's now fun for everybody when they come to my house so I'm putting five stars
It's okay I recommend it to play
I like this game you can roplay so I recommend to play this game but the thing I hate is that they have say " Watch the scene " I'll watch it but 15 adds to watch it! I will have a waste of my time to watch 15 adds for it.
Great
When I was playing a game a add popped up and I was like oh my gosh I downloaded it asap and I thought it was like my town.I wish it had less adds to get new scenes
Looooove it
I love this game! But I do have one suggestion, there should be a button on the screen so it can turn to night and day at the players will.
You have to watch 15 ads just to get more land!!!!
OK when I started playing this game I thought everything was so fun but then when I wanted to go somewhere else I had to watch 15 ads just to get More land and I was so confused I understand ads are part of the game but seriously and it's not really funplease read this
Get Paper Princess Dream Castle from Play Store
Leave your feedback regarding Paper Princess Dream Castle
Bitcoin
Ethereum
MetaMask (ETH)
Xrp
Polkadot
Binance coin
Stellar
Dogecoin
Tron
Elrond
Donate Bitcoin to this address
Scan the QR code or copy the address below into your wallet to send some Bitcoin
Donate Ethereum to this address
Scan the QR code or copy the address below into your wallet to send some Ethereum
Donate Xrp to this address
Scan the QR code or copy the address below into your wallet to send some Xrp
Donate Polkadot to this address
Scan the QR code or copy the address below into your wallet to send some Polkadot
Donate Binance coin to this address
Scan the QR code or copy the address below into your wallet to send some Binance coin
Donate Stellar to this address
Scan the QR code or copy the address below into your wallet to send some Stellar
Donate Dogecoin to this address
Scan the QR code or copy the address below into your wallet to send some Dogecoin
Donate Tron to this address
Scan the QR code or copy the address below into your wallet to send some Tron
Donate Elrond to this address
Scan the QR code or copy the address below into your wallet to send some Elrond