Welltory – Heart Rate Monitor app by Welltory inc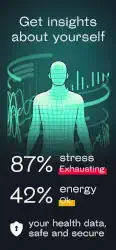 App Description :
Welltory is your personalized health assistant. Already loved by 5 million users. Featured by TechCrunch, Product Hunt, & Lifehacker.
Welltory lets you sync data from other apps & gadgets for more insights into your health and lifestyle. Measure heart rate variability by applying a finger to your phone's camera or by using the 'Mindfulness' program on your Apple Watch. We provide you with daily health metrics, workout and sleep analytics, blood pressure interpretations, and so much more.
Get the most out of your Apple Watch measurements: monitor your heart rate and get personalized health insights
App Features :
The Welltory app lets you keep all your health information securely in one place on your device.
Track everything from your health conditions to your lifestyle
140+ supported data sources to connect for day to day data monitoring
Syncs with wearables & trackers like FitBit, Garmin, MiFit, Polar, Oura, Withings
Syncs with apps for productivity, meditation, sleep, nutrition, smart events: Runkeeper, RescueTime, GeoSci, DarkSky, SleepCycle, Lifesum, Noom, Flo, IFTTT
Approach your training smarter
Optimize your workout performance
Avoid overtraining
Learn how specific training behaviors affect recovery
Smart guiding and support for easy and fun self-care
We'll send you daily life hacks to help you care for yourself bit by bit
Breathing exercises suggested when you need them most
Recommendations on how to cope with stress, panic attacks, and insomnia
Welltory analyzes heart rate variability — a solid health marker backed by over 25,000 studies on PubMed. We've collaborated with University College London, Texas University, and Arizona State University. Johns Hopkins University and Harvard Medical School quoted us in their research papers.
REVIEWS
Men's Health Magazine, 27/01/2020:
"Work Stress Could Be Killing Your Gains. Is work, not working out, the cause of gym burnout?
Keeping tabs on both mental and physical toll is crucial. The solution is heart-rate variability training. You can measure how well you've recovered from your last session. High variability signals that you're ready to push, low variability means a day of stretching and high-nutrient foods. If you want to make your training plan stick, track heart rate variability at home with Welltory. Best for beginners is the free version where you use your phone's camera to measure your HRV. The data is easy to read, displaying scores for mood, energy, and stress. You won't miss a beat.The American Heart Association recommends HRV assessment for ambulatory ECG, EKG or cardiogram interpretation".
PRICING & TERMS
Welltory is free to download and use. With the upgrade to Welltory Pro, there are two auto-renewing subscriptions:
$12.99 per month
$79.99 per year (only $6.67 a month)
Subscription automatically renews unless auto-renew is turned off at least 24-hours before the end of the current period
Account will be charged for renewal within 24-hours prior to the end of the current period, the cost will be identified
Subscriptions may be managed by the user and auto-renewal may be turned off in the user's Account Settings after purchase
Any unused portion of a free trial period, if offered, will be forfeited when the user purchases a subscription
Welltory integrates with the Apple Health app.
Terms of service:
welltory.com/terms/
Privacy policy:
welltory.com/privacy
We store your data in the cloud, honoring your privacy & safety.
contact[at]welltory.com
NOTE
Welltory can only measure your heart rate variability and detect heartbeats. We cannot measure any other vital signs through the phone camera.
We provide health recommendations based on a scientific approach. Should you however feel physically unwell, we suggest you consult your doctor.
Additional Information :
Size 193.1 MB
Requires iOS 14.0 or later.
User Reviews :
It is accurate when I have rested, not when really stressed
My life swirls with emotional stress which requires the help of a psychiatrist and a therapist and appropriate use of drugs. I do my sampling of heart rate variability four hours after an anti-anxiety pill and a nap. If I had done my daily sample just after I had been very stressed for three hours, the results would have been differed. I am encouraged to see results that show that with my support including medicines that I am resilient. This is consistent with my having survived three major physician errors involving the rupture of my appendix a week after my 75th birthday. I too am a physician but am a woman and I believe that this is why the three physicians ignored my telling them that I had just ruptured my appendix. They elected to wait 3days to do my surgery and stopped all my medicine even though I had arrived in the ER with a current list of my drugs. As a result, at the time of surgery I had a grand mal seizure, was mildly psychotic and dehydrated and had a bacterial abcess in my abcess in my appendix and small bowel. I had a blood stream infection. I survived and ultimately went home.

So I give this software a thoughtful excellent review for my first seven days. If you are not familiar with medical words and ways of thinking, the detailed information may be overwhelming at first. It is worth staying with the program and learning how to use it in your life. Bravo!
Developer Response,
Hi splitail,

Thank you for your detailed review and high rating. We are glad you enjoy the app and really appreciate your feedback. It's very important to track your wellbeing nowadays. Please, take care of yourself and stay safe.
"Sci-Fi" Update
I am an occasional user of this app. I was previously a subscriber who used it everyday – sometimes multiple times per day. That will not be happening again with the newest update. It is no longer user friendly. I have no idea where to find anything and there are no explanations as to what each button means. The app keeps bragging that I should be able to use my Apple Watch to take measurements – that's not working. I read the "help" section on how to connect my watch to the app and all it advises is to connect Apple Health. That's done. But still no luck. I turned on the "Breathe" feature and did that a couple times yesterday, and none of that information has been loaded into this app. The raw data is really the only thing I looked at on this app previously, and now all of that is gone…or impossible to find. The reason I am even bothering to write a review is because I received 15 notifications from this app between 2AM and 7AM last night. That is totally ridiculous! The notifications were the same three messages repeated five times. Truly annoying! I went into the app to change my notification settings and, of course, that couldn't be found. I think I am ready to delete this app completely even though I have data for almost 400 measurements saved.
Developer Response,
Hi! We apologize that you have to wait for your results to be processed, but we rolled out the new version only a day ago, and our servers are under a great load at the moment. We can assure you it's a temporary issue, and we're working on it right now.

We understand that with the new design, it may be hard at first to find the options you've got used to — but they are still there. All the raw data is displayed when you tap chart and liquid messages. At the same time, we are happy to offer new solutions by means of new features and integrations with new gadgets. The algorithms have been improved and include new functions now, completely new blood pressure analytics, breathing exercises, workout, sleep, and meditation reports.

You've pointed out some issues with Apple Watch synchronization.

Apple Watch is a great tool to make HRV measurements and synchronize data with Welltory to build unique correlations. It is true it is a feature packed device which needs certain adjustments. Please write to chat so that we could help to adjust night notifications.

We really hope that you will enjoy all the new features after you customize and use them for some time. We hope you'll give the new version a chance and use the data you've already accumulated to the fullest!
What is your opinion about Welltory
Bitcoin
Ethereum
MetaMask (ETH)
Xrp
Polkadot
Binance coin
Stellar
Dogecoin
Tron
Elrond
Donate Bitcoin to this address
Scan the QR code or copy the address below into your wallet to send some Bitcoin
Donate Ethereum to this address
Scan the QR code or copy the address below into your wallet to send some Ethereum
Donate Xrp to this address
Scan the QR code or copy the address below into your wallet to send some Xrp
Donate Polkadot to this address
Scan the QR code or copy the address below into your wallet to send some Polkadot
Donate Binance coin to this address
Scan the QR code or copy the address below into your wallet to send some Binance coin
Donate Stellar to this address
Scan the QR code or copy the address below into your wallet to send some Stellar
Donate Dogecoin to this address
Scan the QR code or copy the address below into your wallet to send some Dogecoin
Donate Tron to this address
Scan the QR code or copy the address below into your wallet to send some Tron
Donate Elrond to this address
Scan the QR code or copy the address below into your wallet to send some Elrond