White Tiles 4 – Piano Master 2 game by Brighthouse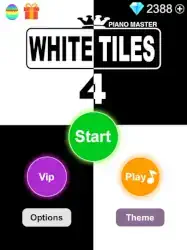 GameDescription :
White Tiles 4 has more than 300 awesome classic games in one App.
White Tiles 4 now has 300 awesome mini games. More games is coming.
White Tiles 4 is totally free forever.
The only thing you need to do is just Tap. Tap to start, tap to have fun
Game Features :
300 Awesome Games in 1 App.
Customize Your Own Games.
Music system
Theme system
More Instruments : Piano, Guitar, Drum, Dubstep
Amazing Color system
Easy to play for all ages.
An unparalleled gaming experience
Social Share Support.
We keep adding more addictive games in White Tiles 4. It's free forever. If you love our game, please rate it. Thank you!
Contact Us : wbxgames[at]gmail.com
Additional Information :
Age Rating 4+
Size 112.2 MB
Requires iOS 8.0 or later.
User Reviews :
Love it, but…..
Love it, – I love the app and the way it's set up. The thing is that the games start to get old after a while. I love that there are so many games to pick from and so many options. It's a great game and I think you should get it, try it out! There are so many different levels and ways to play just one game don't get those other apps just get the one! Also it has a setting where you can play the music. I think that's really fun. There are so so so many levels and there is also this thing where they combine different games for you and then you can play them! You can pick your faves, do the mixer or look at the top games! Also they give you gems every day so you can buy songs, backgrounds, and more games. I love White Tiles 4!

But….. – there are so many adds. There is an add every time I get on the app, every time I want to play a game a few times, and also to double up on the gems you get. Toooooo many adds. Also a suggestion, I think for the mixer you should be able to mix your own games.

Love the app but it still could get better.
Great, but needs work
First off: I love this game. I don't need to download millions of apps to get the great mini games. Overall, I definitely think that it is a great concept and really fun to play. However, there are a few problems that I would like to address. The first is the not strategically placed ads. Honestly, I'm okay with ads. I get their purpose and on a completely free game like this with so many benefits. I'm willing to wait to play the game. But most of the time, the ads are placed during a game, and that is extremely annoying, especially when you are doing well and it disrupts it. Secondly, it crashes frequently. I guess the abundant amount of games and the advertisements just make it crash on my phone, and it's annoying to have to exit out and in again. It might just be my phone, though, but I've been reading through the reviews and it appears as if it happens to other games. Although it has a few minor problems, I really enjoy this app and I recommend you to download it.
A Simple Fix + Organization Issue
I like this app because it's a condensed space to keep a lot of mini games. When problems occur, the programmers are normally quick with an update as well, and there are only a few problems I have found.

Flow mini game: some of the games are actually impossible to win. I don't mean the games are too hard, but sometimes one of the line-ends are blocked of by other ends and are unable to be connected to the other (I have a screenshot of this).

Organization: I find it very hard to find the games I'm looking for. A lot of the titles don't have anything to do with the actual mini game. The search bar also only works when typing the exact title, so it does not solve this problem. I'm not exactly sure how to fix this problem, maybe change titles to be more accurate (ex. the "Flappy" title is affective) or use more images on the tiles (ex. the "Color Crossy" tile). These are only correction suggestions, I do believe you will either chose to keep your app the way it is or find a solution. You are, of corse, the programmers after all.
Great, but one problem…
I think this app is so much fun! I love all the different games to play and my brother and I enjoy it a lot. Just one problem, for some reason the volume isn't working. When I play the piano, I can't hear what I'm playing. While I'm playing the games, I can't hear the music either. I think it's just me. I tried deleting the app and reinstalling it, but it's still not working. Again it's either just me, or y'all need to get this bug fixed. Also, there are so many adds. Look, I'm not one to complain about adds in games, I know it's for making money and all but these adds are out of control. Everyone is annoyed by this and in the middle of games I get adds and it's so annoying. But anyways other than that it's a pretty good game and a good concept with hanging lots of mini games so I don't need to download other games I just have all the games here. Thx if you read all this!
Get White Tiles 4 from App Store
What is your opinion about White Tiles 4
Bitcoin
Ethereum
MetaMask (ETH)
Xrp
Polkadot
Binance coin
Stellar
Dogecoin
Tron
Elrond
Donate Bitcoin to this address
Scan the QR code or copy the address below into your wallet to send some Bitcoin
Donate Ethereum to this address
Scan the QR code or copy the address below into your wallet to send some Ethereum
Donate Xrp to this address
Scan the QR code or copy the address below into your wallet to send some Xrp
Donate Polkadot to this address
Scan the QR code or copy the address below into your wallet to send some Polkadot
Donate Binance coin to this address
Scan the QR code or copy the address below into your wallet to send some Binance coin
Donate Stellar to this address
Scan the QR code or copy the address below into your wallet to send some Stellar
Donate Dogecoin to this address
Scan the QR code or copy the address below into your wallet to send some Dogecoin
Donate Tron to this address
Scan the QR code or copy the address below into your wallet to send some Tron
Donate Elrond to this address
Scan the QR code or copy the address below into your wallet to send some Elrond